Our hometown of Milwaukee is a vibrant and exciting city with a rich history and culture. And our favorite way for us to show off our city to friends and family is to take them on a city tour.  
For not being known as a tourist destination, Milwaukee surprisingly has some enjoyable city tours. And what makes most of these tours stand out is the passion for the city you can feel from the tour guides. Milwaukeans love their city, and it shows in the tours.
From walking to small bus tours, there are many options to experience the best of Milwaukee's sights, sounds, and flavors. So whether you're a first-time visitor or a long-time resident, there's a Milwaukee tour for you. 
To help you choose the right tour, we've compiled a list of our favorite tours we've gone on through the years of living in Milwaukee. We've included sightseeing tours and some of our favorite food, brewery, and distillery tours.
Best Milwaukee City Tours
If you are looking for an overview of the great city of Milwaukee, a city tour is what you are looking for. 
Our two favorite tours are Untapped Tours and the Historic Milwaukee Tours. 
Check them out below and see which one peaks your interest. 
Untapped Tours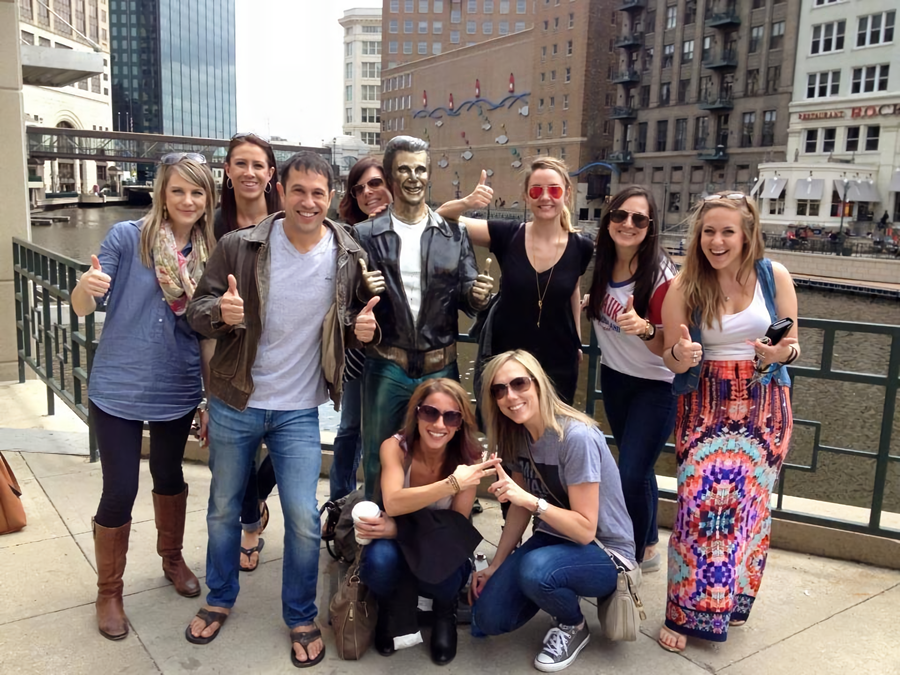 Type of Tour: Overview of Milwaukee history and its present
Length of Tour: 2 hours
Mode of Transportation: Bus with optional walking
Explore Milwaukee from a local perspective with a two-hour bus tour with multiple stops. 
The best thing about Untapped Tours is that the owner Mike typically runs the tour. Mike is a friendly and knowledgeable local who is so passionate about Milwaukee that he started Untapped Tours. And you can feel his excitement for the city on his tour. 
This tour provides historic and modern insights into the city of Milwaukee. It includes stops at some of Milwaukee's most iconic landmarks, such as the Milwaukee Art Museum, City Hall, and the famous Bronz Fonz.
This tour is perfect for visitors who want an overview of Milwaukee's rich culture and history from a guide who truly loves his city. The tour guide provides an educational and entertaining experience, making this tour an excellent option for anyone who wants to explore Milwaukee in a fun and unique way.
Historic Milwaukee Tours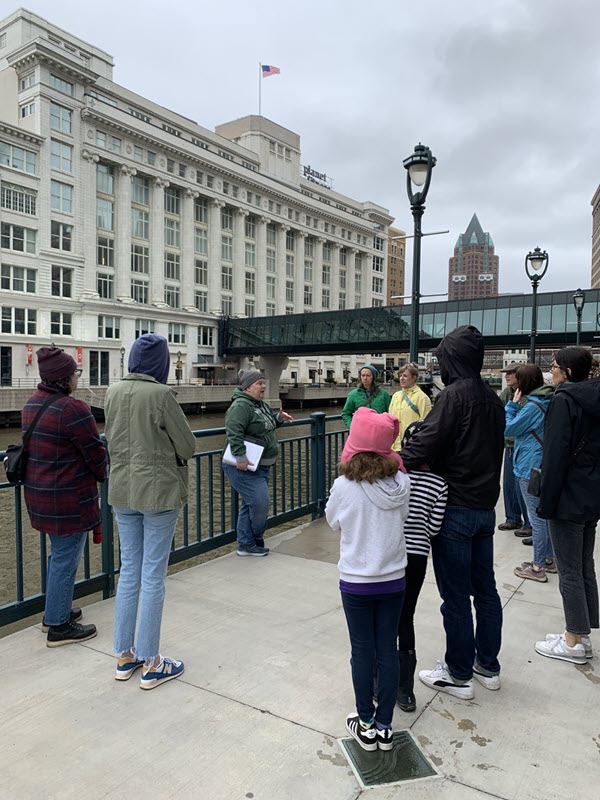 Type of Tour: Milwaukee History
Length of Tour: 2 hours
Mode of Transportation: Walking 
If you're a history enthusiast or love historic big-city architecture, you will want to take advantage of the walking tours offered by Historic Milwaukee. Led by highly trained volunteers who love Milwaukee and its history, these tours provide a unique and informative way to explore the city.
The main tour is the Downtown Tour which takes you through Milwaukee's most prestigious buildings. Starting at the Mackie Building and ending at the Milwaukee Art Museum, you'll learn about the history of Milwaukee through its buildings and riverfront.
If a walking tour isn't for you, they also offer a historical tour of downtown while you take a leisurely ride on the Hop, Milwaukee's street car. 
On weekends, they offer neighborhood-specific tours or themed tours that occur once a year. And for those visiting during the colder months, Historic Milwaukee offers Milwaukee StreetCar or Skywalk tours to avoid the elements. 
Overall, the tours offered by Historic Milwaukee are a great way to learn about Milwaukee's rich history and architecture.
More Milwaukee Content:
Cool Hotels You Must Stay at in Milwaukee
Best Cheap Eats in Milwaukee
Best Craft Breweries in Milwaukee
Best Milwaukee Food Tours
Secret Food Tours: Milwaukee
Type of Tour: History and Food
Length of Tour: 3.5 hours
Mode of Transportation: Walking
Secret Food Tours: Milwaukee is the perfect way to experience the best Milwaukee cuisine, beer, cheese, and meat!
Led by local guides passionate about sharing their love of Milwaukee, you'll learn about the 19th-century Germanic population that immigrated to the area. And then taste how they influenced the local cuisine enjoyed today.
The tour starts in the historic Third Ward and ends in East Town Downtown, with plenty of delicious stops. 
This tour is perfect for foodies and beer lovers alike. The best part? You'll enjoy enough samples to make up a full meal. And it's a great way to explore the city while satisfying your taste buds. 
Brady Street Lunch Tour
Type of Tour: History and Food
Length of Tour: 2.5 – 3 hours
Mode of Transportation: Walking (1.25 miles)
The Brady Street Lunch Tour is a must-try if you're looking for a unique way to experience Milwaukee's history and food scene. This 2.5 – 3 hour walking tour takes you through the charismatic enclave of Brady Street, initially settled by Italian and Polish immigrants.
As you stroll through the neighborhood, you'll learn about its fascinating history, including that the famous book, Psycho, was written on Brady Street. You'll also discover why many Milwaukee homes are called "Polish Flats."
But the real highlight of the tour is the cuisine. 
You'll get to indulge in authentic Italian dishes and sample the cuisine of the eclectic Brady Street. From old-school Italian eateries to new establishments revitalizing the community, you'll enjoy enough samples to add up to a full meal.
The Brady Street Lunch Tour is available on most Fridays, Saturdays, and Sundays, making it a perfect weekend activity for visitors and locals. So come hungry and ready to learn.
And let the knowledgeable tour guides take you on a culinary and historical journey through one of Milwaukee's hottest neighborhoods.
Best Iconic Milwaukee Tours
Harley-Davidson Museum
Type of Tour: History
Length of Tour: Guided tours are 1-2 hours
If you're looking for a truly unique and immersive experience in Milwaukee, the Harley-Davidson Museum is calling your name! 
You get to check out an incredible collection of Harley-Davidson® motorcycles (my favorite part) and memorabilia. And you'll also learn about the culture and history surrounding this iconic American brand. 
Don't worry if you're not a gearhead – the exhibits are engaging and interactive, with plenty of stories and displays that will captivate your imagination. The museum also offers audio tour option or you can join a guided tour for an even more immersive experience.
The H-D Museum is one of Milwaukee's top tourist destinations, with a beautiful 20-acre campus and various dining and shopping options. So if you're in the area, take advantage of this unforgettable experience!
Pabst Mansion
Type of Tour: Beer History and Architecture
Length of Tour: Guided tours are 1 hour
Want an immersive German Milwaukee experience? Then a tour of the Pabst Mansion is just what you are looking for.
The Pabst Mansion is a preserved 1890s Gilded Age Mansion and it's a must-visit for history and beer buffs. The mansion was once home to Captain Pabst, his wife and10 children (although only 5 made it to adulthood).
You can choose to do a guided 60-minute tour or a self-guided tour, but we recommend the guided tour. Why? Because the tour guides are passionate about the history, and they'll give you all the juicy details you wouldn't get on a self-guided tour.
The guided tour explores the first through third floors of the mansion and shares everything you could want to know about the Pabst Mansion, Pabst family, and details about the architecture and furnishings of the home.

Best Brewery/Beer Tours
Milwaukee is known as the "Brew City" for a reason – it has a long history of brewing great beer. And one of the best things to do while in the city is taking a brewery tour. 
Today, the city has a thriving craft beer scene with dozens of local breweries and taprooms. Here are our favorite brewery tours that we take with family and friends. 
Related Post: Best Milwaukee Brewery Tours
Lakefront Brewery Tour
Type of Tour: Brewery
Length of Tour: 45 min
Lakefront Brewery has been a Milwaukee craft brewing icon since 1987, offering consistently delicious brews and always having something for everyone (including those avoiding gluten). 
Founded by two brothers, Russ and Jim Klisch, who shared a love for good beer, Lakefront Brewery has remained one of the favorite breweries in Milwaukee.
Today, Lakefront Brewery offers a wide selection of year-round, seasonal, and limited-release beers in nearly every style imaginable, including gluten-free options. Their flagship beer, Riverwest Stein, is a popular choice found on tap at most bars in the city.
Take the brewery tour if you want to experience what Lakefront Brewery offers. This 45-minute tour perfectly combines facts, jokes, and beer. You'll get to sample four 8oz pours of Lakefront Brewery's finest brews and even take home a souvenir pint glass.
After the tour, head over to the beautiful beer hall to grab a bite to eat or hang out on the riverfront with a pint. 
Whether you're a beer connoisseur or simply looking to enjoy a good pint, the Lakefront Brewery Tour is not to be missed. Experience the history and taste the delicious brews that have made Lakefront Brewery a beloved institution in Brew City.
Miller Brewery Tour
Type of Tour: Brewery
Length of Tour: 1 hour
Touring a small craft brewery is one thing, but seeing the enormous scale of Miller Brewing in Milwaukee is an experience not to be missed. 
The Miller Brewery Tour takes you on an indoor/outdoor guided walking tour of over 165 years of brewing history. Just walking around Miller valley is sure to make your jaw drop. 
From the old-world charm of the Miller Inn to the high-tech modern brewing facilities, the Miller Brewery Tour is sure to leave you with a newfound appreciation for Milwaukee's beer scene.
You'll start your tour with a beer because that's what we do in Wisconsin. Then, you'll experience the famous underground Miller caves and historic Bavarian-style Miller Inn and the modern operations of the Brew House, Packaging, and Distribution Centers.
Water and soft drinks are also available for guests under 21 or upon request.
Best Place Beer History Tour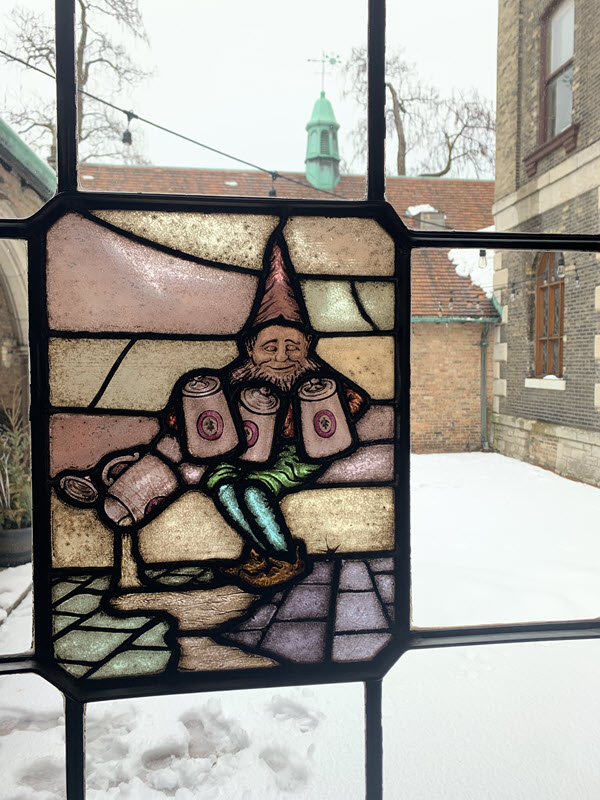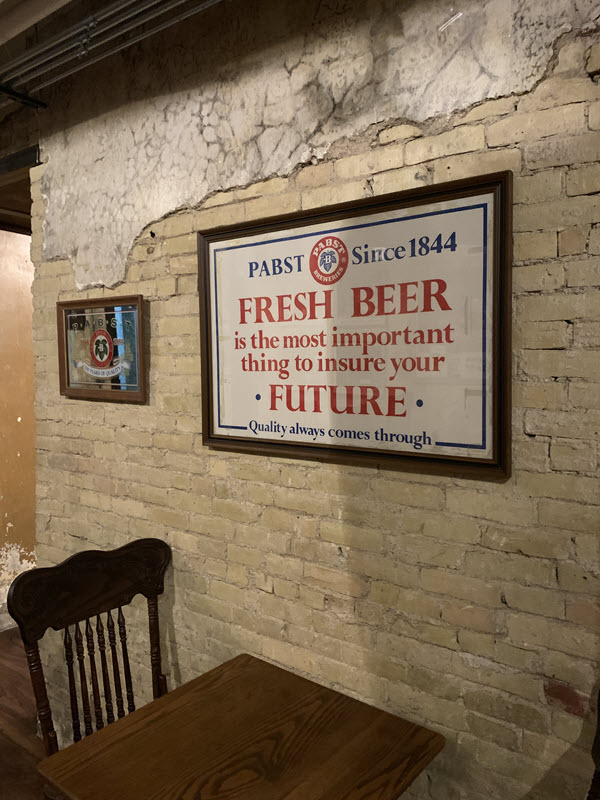 Type of Tour: Milwaukee Brewery History
Length of Tour: 1 – 1.5 hours
The Best Place Beer History Tour is the perfect way to combine your love of beer and history. Trust us; you won't be bored. 
The tour starts on the right foot with a refreshing beer or soda and a quick video on the history of Best Brewery, which later became the iconic Pabst brewery.
On the tour, you'll have a chance to explore some of the remaining buildings that once made up the Pabst Brewery complex. The team at Best Place has been working hard to restore some of the buildings left behind to rot when Pabst abruptly left Milwaukee. And let me say; they have done a beautiful job. 
And while in the main wedding hall, take advantage of your chance to sit at Captain Pabst's desk – we won't judge if you feel like a captain yourself.
The tour guides are the show's real stars, with their witty humor and passion for the story of Pabst beer. You'll learn about how it rose in popularity, declined, and then rose again to become the beloved brand it is today.
So, come for the beer, and stay for the history and friendly Gemütlichkeit. Don't miss out on this entertaining and educational tour. 
Fun Beer Tours
Type of Tour: Milwaukee Breweries and Beer History
Length of Tour: 2.5 – 3 hours
Mode of Transportation: Walking
Buckle up, beer lovers! One of the best kept secrets for beer tours in Milwaukee is both low-cost and loaded with options. That's right, I'm talking about Fun Beer Tours.
Fun Beer Tours keep their prices low by not including beverages and food. Hear me out, this is actually a good thing. You get to choose what you consume, and you won't be restricted like a kid in a candy store. Plus, if you're not a drinker, you won't be paying for someone else's brews.
And let me tell you, there are options galore! Two of the many options you can choose the "Beer is Famous Tour" if you just want to learn about beer, or the "Beer + Everything Else Tour" if you want to soak up some Milwaukee history too. There's something for everyone.
And guess who your tour guide is? Paul, the owner, who just so happens to be a beer history geek, a craft brewery co-founder, a collector of historic brewery artifacts, and a 30-year history teacher. He's the real MVP of these tours.
So, if you want to drink up some knowledge and beer, Fun Beer Tours is the way to go.
Best Distillery Tour
Great Lakes Distillery
Type of Tour: Milwaukee Brewery History
Length of Tour: 1 hour
Get ready to have your taste buds awakened with a tour of Great Lakes Distillery. 
Located on the edge of Milwaukee's Walker's Point neighborhood and the Menomonee Valley, this tour will walk you through the distillation process. And, of course, a sampling of their award-winning spirits.
But it's not just the spirits that make this tour worth taking. The tour guides are a barrel of laughs, making the experience fun and engaging. Be careful, though; the tasting at the end of the tour can be dangerous if you're not careful.
Trust us; you won't regret taking this tour. Not only will you leave with a newfound appreciation for the distillation process, but you'll also leave with a buzz.
After the tour, take some time to relax in the bar and enjoy one of their delicious cocktails. And if you're feeling hungry, make your way over to Conejito's Place Mexican restaurant for some of the best "cheap" Mexican food in the city.