If you ask us, Milwaukee is the perfect place for a romantic getaway. 
It's steeped in history, beautiful architecture, and award-winning restaurants. What more could you ask for?
As Milwaukee locals, we've uncovered the city's hidden romantic gems over the past 15 years.
We are thrilled to share the most charming hotels for a magical staycation or a memorable visit. These spots have won our hearts, and we're sure they'll win yours too.
Get a Free Custom Milwaukee Itinerary
Want a custom Milwaukee itinerary created just for YOU?
Click below and fill out the Google Form. And we'll create your custom Milwaukee adventure!
Immerse yourself in luxury at The Pfister Hotel, an emblem of Milwaukee's rich history since 1893, housing the grandest European art collection outside Europe.
This iconic hotel boasts plush rooms decked with modern amenities and fine fabrics for utmost comfort. Diverse dining options, a breathtaking indoor pool, and an award-winning spa add to its allure.
Don't leave your fluffy companion behind; Pfister ranks among Milwaukee's best pet-friendly hotels.
To cap your stay, ascend to BLU Lounge and Bar on the 23rd floor, cocktail in hand, savoring a mesmerizing cityscape.
Photos: The Pfister Hotel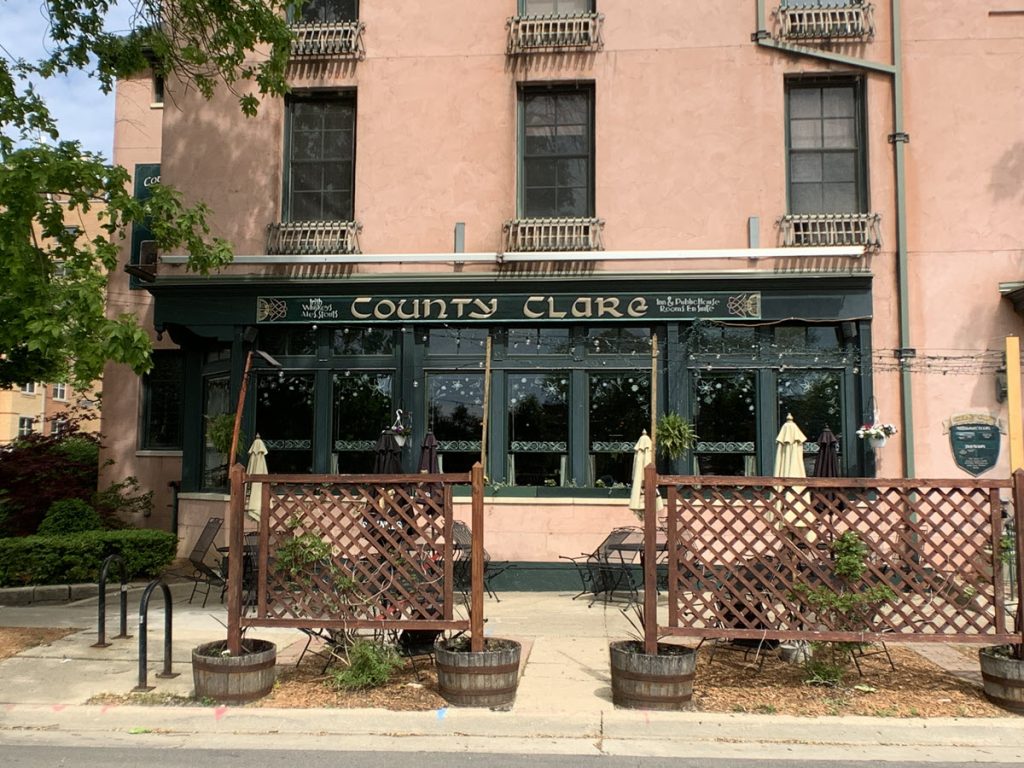 Experience a slice of Ireland in Milwaukee at County Clare, an authentic Irish Inn and Pub promising an instant feeling of home. Each room boasts a whirlpool tub, evoking an atmosphere of intimate charm.
Start your day with their delectable continental breakfast, featuring a generous omelet station and a variety of bakery treats.
At the heart of Milwaukee's vibrant scene, County Clare is a stone's throw away from iconic attractions like the Milwaukee Art Museum, Summerfest grounds, Brady Street's culinary and shopping delights, and the Historic Third Ward.
Don't miss out on dining at their pub, serving mouthwatering traditional Irish dishes that transport your taste buds straight to Dublin!
Located in the bustling Deer District, The Trade stands tall as a 9-story boutique hotel that beautifully captures Milwaukee's pioneering spirit.
Inspired by the city's industrious past and forward-thinking culture, The Trade salutes the hard work that shaped Milwaukee's history and the vibrant spirit that drives it today.
With several restaurants on-site and its luxurious atmosphere, this is a hotel you may not want to leave! A favorite is the rooftop restaurant that provides delightful views of the city below.

The rooms are cozy and meticulously decorated to give that romantic vibe. 
Photos: The Trade Hotel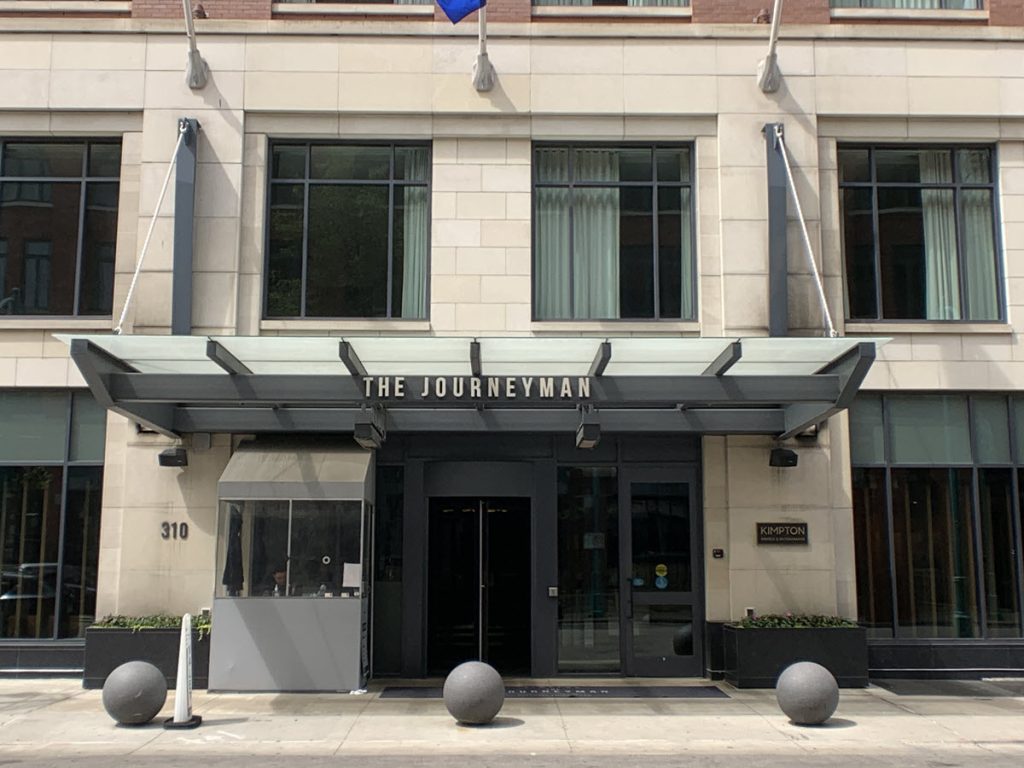 Step into the Kimpton Journeyman Hotel, a romantic jewel in Milwaukee's Historic Third Ward, where a roaring fire and a welcoming atmosphere await you.
This boutique hotel showcases the luxurious Kimpton brand experience, blending excellent service, plush beds, and chic toiletries. Each room comes to life with captivating art pieces by local artists, sure to stir lively discussions.
Worry not about your furry friends, as the Kimpton Journeyman generously extends pet amenities without extra charges.
Indulge in a tranquil evening at their on-site restaurant or bar. And be sure not to skip The Outsider, their rooftop bar perched on the 9th floor – it's among the city's finest outdoor spaces.
Photos: The Kimpton Journeyman
Just north of Milwaukee's Historic Third Ward, Saint Kate – The Art Hotel stands as a romantic sanctuary, blending art with luxury near the city's popular theatres.
Art takes center stage at Saint Kate, with every corner adorned by works from regional artists, reflecting Milwaukee's vibrant culture and history.
Unusual touches distinguish the spacious rooms; each space houses local art, a record player, a ukulele, in-room butcher paper with crayons, and striking views of the bustling city. Opt for a Premier room to elevate your experience with enhanced vistas.
Whether you're craving a pre-show drink or a magnificent city night out, Saint Kate won't disappoint. Between the inviting downstairs bar and the lively champagne bar, Giggly, it's among the city's top culinary destinations.
Photos: Saint Kate – The Arts Hotel
The Schuster Mansion Bed & Breakfast is a charming Victorian-style mansion close to downtown and the Historic Third Ward. 
All of the rooms will offer a romantic vibe. But if you want to take it up a notch, book the Serenity Suite, which includes a whirlpool tub. 
Whether you choose the Serenity Suite or any other room, you'll love the unique old-style furniture, comfy beds, private bathrooms, and original artwork. Plus, you can pick the perfect package to fit your budget (no breakfasts, etc).
Photos: Schuster Mansion
The Iron Horse
Situated in the vibrant Walker's Point neighborhood, The Iron Horse Hotel offers a splendid blend of romance and raw authenticity for your Milwaukee stay.
While the hotel is a biker's paradise, it warmly welcomes all guests, regardless of their affinity for motorcycles.
Each room at The Iron Horse mirrors the city's industrial heritage, paired with contemporary amenities like flat-screen TVs and free Wi-Fi. With delectable on-site dining options, guests can savor a filling breakfast each morning and unwind with a relaxing dinner at night.
During the warmer months, the hotel boasts one of the city's most inviting patios for outdoor food and drinks. Choose The Iron Horse Hotel for a uniquely luxurious experience in Milwaukee.
Photos: The Iron Horse
Carriage House at Sanger House Gardens
Situated within the scenic Victorian Sanger House Gardens, The Carriage House is a charming haven in downtown Milwaukee.
Expertly restored by the current hosts, this accommodation offers unparalleled luxury. It comfortably fits two guests, boasting all modern conveniences, including a full kitchen.
Your stay includes access to the numerous picturesque sitting areas in the garden, which teems with an array of plant varieties, attracting plant lovers year-round.
The restoration of The Carriage House was a labor of love, incorporating recycled elements such as 100-year-old yellow pine flooring and adding custom touches like wainscoting. This unique space provides both forced air heating and air conditioning. Enjoy the tranquility and luxury at The Carriage House.
Dubbel Dutch
The Dubbel Dutch encapsulates a delightful blend of contemporary elegance and old-world allure perfect for a couples getaway. 
Just a block from the stunning Lake Michigan waterfront, this hotel is within walking distance of key attractions such as the Milwaukee Art Museum and the Historic Third Ward.
The property, built in 1898, was saved from demolition in 1985 by the Milwaukee Historic Preservation Commission. After years of abandonment, it was revived into this beautiful hotel, where historic elements intertwine seamlessly with the modern.
Many rooms boast decorative, historic ornamental fireplaces adding to the charm. With its limited rooms (less than 10), Dubbel Dutch guarantees a one-of-a-kind Milwaukee experience.
The Plaza
Located in Milwaukee's historic lower east side, The Plaza Hotel stands as a European-style boutique hotel, a short walk from Milwaukee's vibrant lakefront and downtown attractions.
Steeped in Art Deco style and bursting with character, The Plaza offers an eclectic charm that resonates with the friendly neighborhood.
The rooms mimic cozy city apartments, featuring fully-equipped kitchens, comfy seating areas, snug beds with fresh linens, and charming 1920s-tile bathrooms that utilize their petite spaces.
With the on-site Cafe at the Plaza serving delicious brunch, The Plaza Hotel guarantees a stay as delightful as it is unique in Milwaukee.