As you are about to embark on your road trip, you'll probably want to know what kind of weather you'll encounter along your route. 
Knowing the driving conditions in advance of your road trip will help you choose the safest route and give you peace of mind. 
We realized the importance of this on a recent December road trip from Milwaukee, WI to Utah. Because we were traveling in the winter, we wanted to make sure we weren't going to run into any snowstorms, especially in the mountainous regions. 
It was not easy to find the information I needed using traditional weather apps like Accuweather or Dark Sky. With these apps, I had to think about when we would be in specific cities and then look up each forecast for that specific day and time. It was a pain.
But I then found exactly what I was looking for. 
I found weather apps that can show you the weather forecast for each location at the time you are expected to pass through them. Wait, what????
These apps helped us pick the safest route and plan our departure time appropriately to avoid inclement weather conditions. 
There are several weather apps for road trips out there for both iPhone and Android. 
We tested out 3 apps that allow you to easily check the weather along your driving route to help you arrive safely at your destination. 
OUR TOP PICK – Weather On The Way
Weather On The Way is a clean and easy-to-use weather app that displays the weather conditions along your route for the days and times you are expected to drive through.  It also gives you the option of selecting alternative routes (shown below with the grey line) if the weather isn't looking the safest on the fastest route.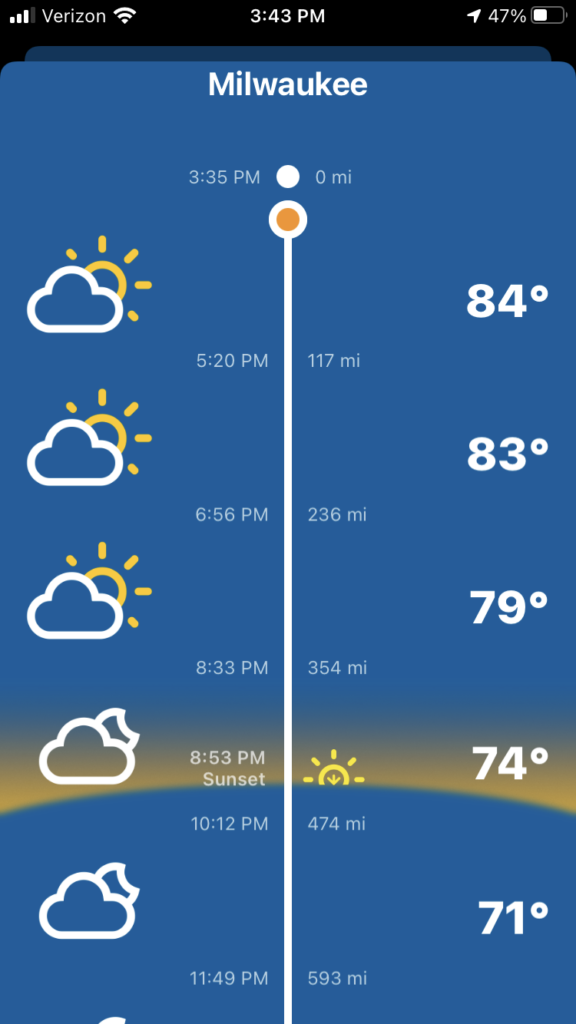 This app shows you a snapshot of the weather along your road trip route as well as any weather alerts that would be in effect when you pass through. You can also view the radar to see any current precipitation and which way it's headed.
Overall, we highly recommend this app. It has a user-friendly interface and the addition of weather alerts is worth the subscription fee.
Cost for Pro Version: $2.99/month or $16.99/year
PROS:
Available in 70+ countries
Can test out Pro Version 5 times before purchasing
Ability to add planned stops song your route, along with the amount of time stopped, to ensure accurate weather prediction timing
Ability to adjust departure date (up to 7 days in advance)
CONS:
Limited abilities with the free version.
Available on:  Apple
Drive Weather – An Acceptable Option
The Drive Weather app is also an easy-to-use app full of weather info that will help you get to your destination safely. 
As with Weather On the Way, you can enter your destination and all of the stops along the way. The app then shows the weather forecast at the expected time you will get to each point on a trip.
The app has an easy-to-read map with options to view the radar, temperature, wind speeds, and precipitation you may run into along the route. The interface is a little clunky, but still does the job it was intended to do. 
Overall, this app has a lot of useful features if you're willing to pay for the annual subscription of $9.99
PROS:
Option to adjust travel speed for more accurate weather predictions
Ability to adjust departure date (up to 7 days in advance)
CONS:
Free version has limited abilities
US Only
Available on: Android and Apple
Highway Weather – Best Free Option
Highway Weather will show you the weather along your route for the time you will be traveling through, however it's a bit clunky . 
The best part about this app is that it gives you quite a few features with the free version. 
The app provides suggestions on the best time to leave and allows you to pick your mode of transportation such as car, small truck, or motorcycle as these affect your travel speed. 
PROS:
Easy to adjust the departure time up to 5 days in advance
Get a lot with the free version
Available outside of the US
CONS:
Can't change the order of stops once entered. You can reverse the order but can't add stops or change the order of the stops
Ads clutter the interface and pop up ads disrupt the user experience
Available on: Android and Apple
Wrapping Up
Using an app to check the weather along your travel route before and during your road trip will help you avoid stressful driving situations and get you to your destination safely.
Go ahead and download the app that you think may work best for you and give it a shot.
More Road Trip Essentials:
Family Road Trip Essentials: Things You Need for a Road Trip with Kids
Road Trip Food Ideas: Packable Snacks and Make-ahead Meals
Road Trip Accessories You Need for Your Next Road Trip