Are you looking for gluten-free and friendly restaurants in Milwaukee?
Finding good restaurants that accommodate your dietary needs can be daunting if you're like many people with Celiac Disease or gluten sensitivity.
I have been gluten-free and living in Milwaukee for the past 15 years and have come to love many Milwaukee restaurants offering gluten-free options. 
This blog post will help you discover all the best gluten-friendly dining options. I chose restaurants where I love the food and feel they take gluten seriously. 
Please note, though, I do not have Celiac disease or a strong reaction to gluten. These restaurants offer gluten-free options, but always ask questions and advocate for yourself if you have any concerns.
Tess
Tess is one of the first restaurants I remember catering to the gluten-free diet in Milwaukee. It felt like such a treat to get gluten-free cheesy biscuits! 
This fine-dining restaurant specializes in locally sourced food and a delicious wine list. They also offer some excellent beer choices for any non-gluten-free member of your dining party.
The atmosphere at Tess is casual and cozy, yet it feels like you are treating yourself to a special night out. 
Their Rocket Salad has been a staple on the menu, and I highly recommend it.  Also, don't miss out on the cheesy gluten-free biscuits they offer. 
Odd Duck
Odd Duck is one of the best restaurants in Milwaukee. And for us gluten-free folks, they offer many of their dishes in gluten-free versions. They even have homemade gluten-free crackers for your charcuterie board.
This small-plate-focused restaurant takes inspiration from cuisines found worldwide, creating dishes you will discuss for weeks. They also have vegetarian options. 
Their cocktails are fun and creative, and their wine and beer list is top-notch. 
Make a reservation or grab a seat at the bar for first-come-first-serve seating. 
Beans and Barley
For a more casual option, Beans and Barley is one of the more gluten-friendly restaurants in Milwaukee. They are also very vegetarian and vegan-friendly. 
Open for breakfast, lunch, dinner, and weekend brunch, Beans and Barley is a perfect place for some comfort food. From traditional breakfast options to sandwiches at lunch and tasty Mexican burritos, you can't go wrong with choosing Beans and Barley for your gluten-free meal. 
Beerline Cafe
Beerline Cafe is a vegetarian fast-casual restaurant also catering to gluten-free diets. The menu includes smoothies, crepes, mac and cheese, sandwiches/wraps, soups, and salads. 
They have a creative menu with tasty combinations of flavors. It's the perfect place for lunch or brunch. They also have a large coffee menu for your daily caffeine hit. 
Located in the Brewer's Hill neighborhood, it's the perfect spot to hit up before you explore Milwaukee for the day. 
Centro Cafe
Miss pasta since going gluten-free? Then Centro Cafe is the perfect spot for you. 
This romantic restaurant is in the heart of the Riverwest Neighborhood. And is perfect for a date night or the start of a fun night on the town. 
Centro Cafe specializes in Italian-inspired cuisine and offers gluten-free pasta options, so for once, you don't have to miss out on delicious pasta. The bar serves inventive cocktails and has a great wine list to pair with your pasta. 
They also cater to the vegetarian and vegan crowd, as most dishes can be made to comply with these diets. 
Balzac Wine Bar
Balzac Wine Bar, located off Brady street, has been a staple in Milwaukee's restaurant scene for many years. 
Known for its romantic setting and stellar wine list, Balzac also caters to the gluten-free diet. 
Gluten-free menu options are clearly marked on the menu, making it easy for you to choose what delicious dish you want to try. 
Balzac is a tapas-inspired small plate restaurant that revamps its menu frequently. Their dishes take inspiration from all over the world, so you are bound to find something that intrigues you. 
Transfer Pizza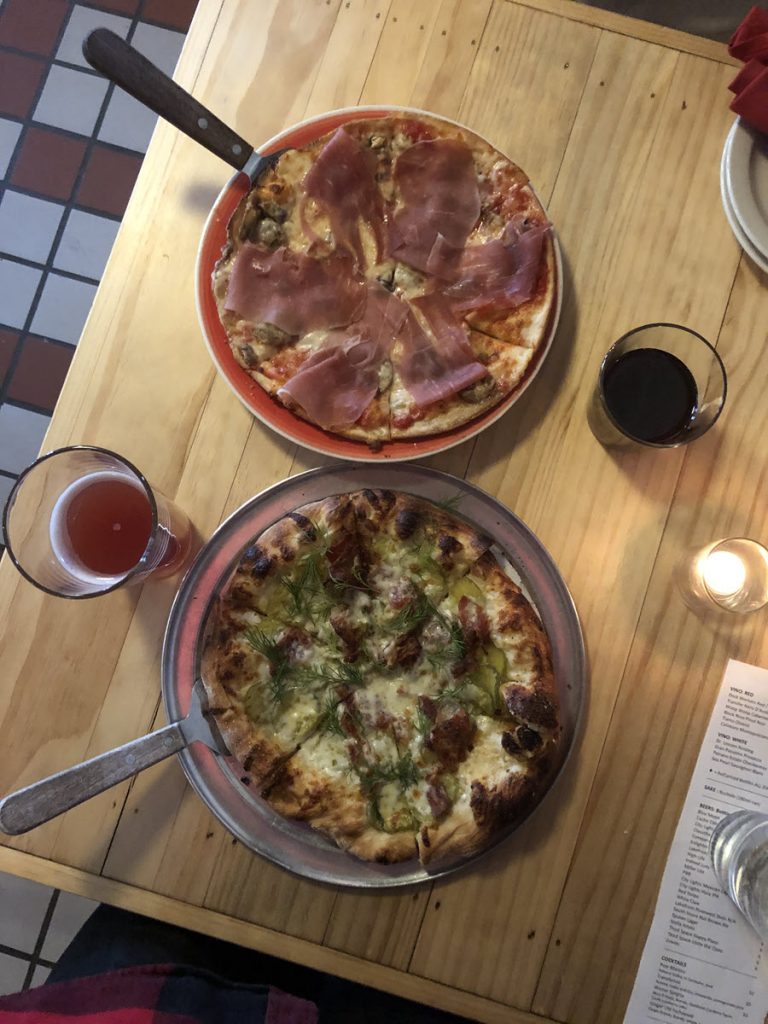 Transfer Pizza was the first decent gluten-free pizza I'd ever had. They embraced the gluten-free diet early on and have continued offering safe food for gluten intolerance.
They have an extensive menu full of different pizza options. Personally, the Paisano and Diavola are standouts on the menu. But you honestly can't go wrong with any option you pick.
Transfer Pizza even uses separate red-colored plates to help distinguish the gluten-free pizza from its traditional crusts.  
They have an awesome happy hour during the week from 3:30 – 6 and offer $3 house wines and select beers and cocktails. 
Screaming Tuna and Asian Bistro
Screaming Tuna and Asian Bistro is one of the better sushi restaurants in Milwaukee, and they do a great job at highlighting the gluten-free options on their menu.
Located just south of the Historic Third Ward, this is a great place to hit up for some river views and delicious sushi. Also, try some of their sake or inventive cocktails. 
They have creative rolls and pride themselves in sustainable seafood. Grab yourself a table at the sushi bar or on their patio. You'll be sure to have an enjoyable meal. 
La Rêve Patisserie and Café 
While La Rêve Patisserie and Café is technically not in Milwaukee (Wauwatosa), I think it still deserves a spot on this list of gluten-friendly restaurants in Milwaukee. 
This upscale french-inspired establishment is a delight and perfect way to treat yourself. And they have macarons! 
With classic french dishes and unique ones, you'll surely find something. They are open for brunch, lunch, and dinner, so you don't have to only treat yourself at night. 
Their cocktails and wine list are also a reason to come here. 
Gluten-free options are not indicated on the menu, but their knowledgeable staff will be happy to share with you the delicious options you have to choose from.
Maxie's
Maxie's is Milwaukee's Southern cooking destination. This gem is located west of downtown Milwaukee and is perfect for a casual dining experience. 
Check out the BBQ, fresh fish, and oysters for gluten-free options. If oysters are your thing, they have $1 oysters during their happy hour!
More Milwaukee Restaurant Favorites:
Best Cheap Eats in Milwaukee
Fun and Unique Places to Eat in Milwaukee
Best Casual Restaurants in Milwaukee