There is no need to break the bank when it comes to dining in Milwaukee.
With a wide variety of cheap Milwaukee eats and casual dining options, you'll be sure to find something that you are craving when looking for things to do in Milwaukee.
We love dining out in our hometown. So much so that we often need to stick to the casual eateries so we don't drain our dining out budget the first week of the month.
So here are our favorite casual eateries in Milwaukee that don't often disappoint.
Vanguard
Looking for unique handmade sausages in a city that knows something about sausage making? Then Vanguard in the Bay View Neighborhood is what you are looking for.
This casual eatery has classic sausages, including bratwursts, hot dogs, and Italians. But it shines with its "Styled Sausages". 
Styled sausages are made with unique meat or non-meat ingredients and have toppings that aren't your typical sausage toppings. They are something you will not find anywhere else and are worth the trip to Bay View.
At Vanguard, you will order at the counter and find a table while waiting for your food. You may have to wait for a table if it's busy, but they have a top-notch bar with TVs showing old (and usually strange) videos to keep you occupied. 
Lulu Bar and Cafe
Lulu Bar and Cafe has been a staple in the Bay View neighborhood since 2001. 
This funky eatery delivers high-quality food in a relaxed atmosphere by serving burgers, flatbreads, pita sandwiches, and stellar salads. 
Most menu items are served with your choice of chips and or crunchy Asian coleslaw. If you get the chips, don't miss out on pairing them with the bleu cheese dipping sauce. You can also do half and half if you have a craving for both. 
Scrap up one of the coveted tables by the windows and be entertained all dinner with the bustling activity of the neighborhood. And in the warm months, enjoy a table on the sidewalk patio. 
Our favorite menu items include the Mediterranean Steak Pita Sandwich, the Half-Pound Heart Attack Burger, The Mooney Tuna, and the Waldorf Chicken Salad. 
Transfer Pizza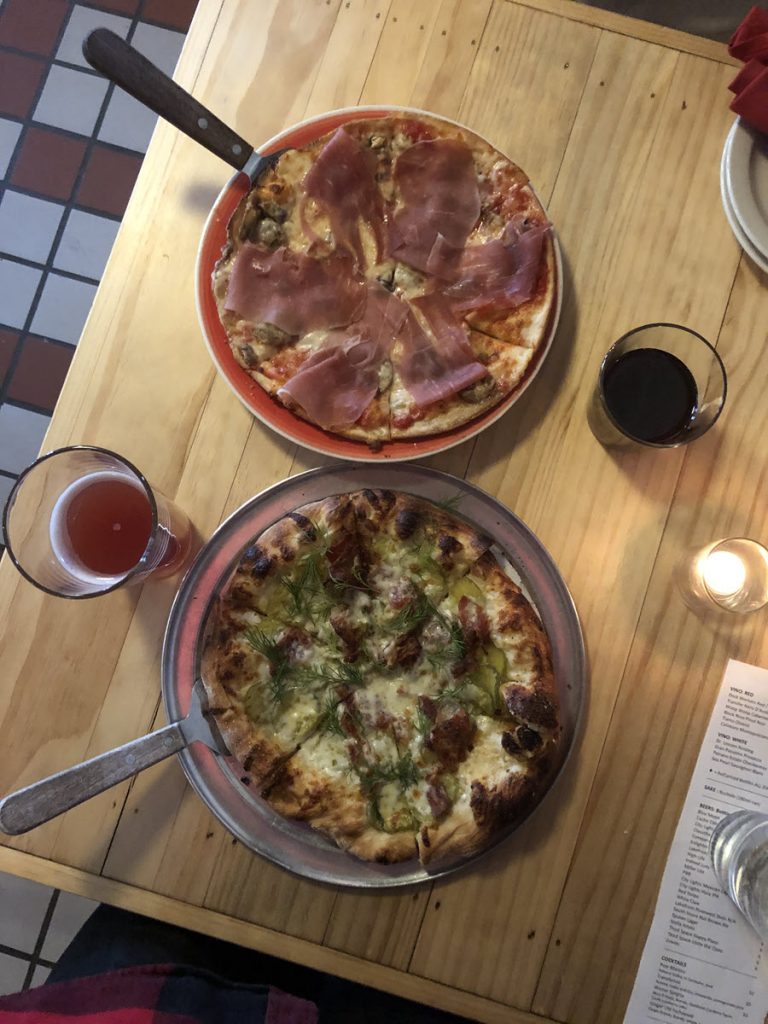 Transfer Pizza is known for its creative and tasty pizza and was one of the first places in Milwaukee to accommodate a gluten-free lifestyle. 
Located in an old pharmacy building, this pizza joint started in 2008. The decor is simple, with walls covered in art pieces, many of which are from local artists. 
With many many options to choose from, you may struggle to decide. But the good news is that it's hard to make a wrong decision when it comes to Transfer. And if you can make it for happy hour, they have a sweet deal with select $3 beverages. 
Transfer Pizza is also one of the best gluten-free restaurants in Milwaukee.
Swingin' Door Exchange
If you find yourself in downtown Milwaukee and looking for something more casual than many fine dining options, try Swingin' Door Exchange. This cozy long time city staple is always hopping and serving fabulous comfort food.
Their extensive menu includes something for every appetite. A giant list of sandwiches and grilled items include classics like a BLT, patty melt, and tuna salad sandwich. 
If you've got a large appetite, try one of the entrees, which come supper club style with a vegetable, dinner roll, and your choice of side. The BBQ Baby Back Ribs are exceptional, and the New York strip on Saturday Night Steak is an exceptional deal.
Happy hour is a blast and serves 3 cans of cheap beer for $5, and there are different specials offered daily.
Honeypie
It doesn't get much more casual than a diner. But in the case of Honeypie, it's a step up from stereotypical diner food, but the atmosphere remains the same.
Using local Wisconsin ingredients is a key to the freshness and deliciousness of their classic Midwestern menu. From Pot Roast to Chicken + Biscuit Pie, the dishes are comforting, hearty, and satisfying. Almost everything is made from scratch.
Their namesake comes from their scratch-made pies. These pies have helped them earn a reputation as one of the best in town. They're so into pies that they offer pie-making classes.
Honeypie is open for breakfast, lunch, and dinner. And regardless of which meal you show up for, make sure to get a slice of pie.
Hungry Sumo
In the heart of trendy Bay View resides what might be the best sushi and Asian restaurant in the city: Hungry Sumo. It's the perfect place for an impressive meal in a completely casual atmosphere.
Have a seat at the sushi bar and enjoy some saki whale watching the masterful chefs prepare your order. The list of options is robust and includes contemporary maki inventions, including the Mango Tango and the Sweet Monster.
The rest of the menu is enormous and diverse in regional offerings. Thai dishes, like Pad See Ew and a variety of curry dishes, poke bowls, and ramen and steamed buns populate the Asian Bistro dishes.
There are plenty of tables, but the place gets pretty busy during peak hours, so expect a short wait.
La Masa Empanada Bar
Empanadas seem like the perfect comfort food, especially during the frigid Milwaukee winters. The cozy atmosphere at La Masa Empanada Bar is the ideal respite from typical Milwaukee pub fare.
Bring a friend or two to sample a bunch with more than 15 empanada varieties stuffed with vegetarian and meat options. While some might be a little more traditional, like Argentine Beef, you'll also find Milwaukee-centric flavors like cheese curd and bacon.
The intimate, casual dining experience includes an extensive wine list, craft cocktails, and beers on tap. Snacks, sides, sandwiches, salads, and sweets round out the robust list of offerings. The empanadas are the stars, but the rest of the menu is worth exploring.
Located in the heart of Milwaukee's East Side on vibrant Brady Street, La Masa is open seven days a week.
MORE Milwaukee Content!
Best Cheap Eats in Milwaukee
Our Favorite Things to do in Milwaukee
Best Craft Breweries in Milwaukee
Cool Hotels in Milwaukee

Camino
Even though it's self-described as an "American Craft Beer Bar and Eatery", Camino has some of the best food around. And while the atmosphere screams more "bar" than a restaurant, there are plenty of tables for dining in.
Their unique twists on typical Milwaukee pub food can get as wild as the craft beers they offer on tap. The appetizer menu, for starters, includes two varieties of pierogies, chorizo chili, and a roasted beet salad. But of course, they serve Milwaukee staples like fried cheese curds.
Many vegetarian sandwiches are included on the menu, including a brussels sprout grinder, beet Reuben, and friend pickle po'boy. And for the meat-eaters, they have killer burgers, house-made sausages, and five flavor varieties of wings, including chimichurri.
There are specials 7 days a week, and the craft beer selection is constantly rotating.     
Beerline Cafe
The all-vegetarian Beerline Cafe serves up award-winning meat-free dishes in the trendy Brewer's Hill district. Their self-proclaimed "fresh-casual" restaurant focuses on creating unpretentious, simple cuisine that everyone will love.
Generally open until 3 pm but is open later on Saturdays; Beerline Cafe offers both brunch and lunch/dinner fare. For breakfast, start with some coffee from a local roaster, Stone Creek Coffee, and maybe a freshly made juice or smoothie. Don't miss out on their craveable crepes, including the sweet Crepe Ape with peanut butter, Nutella, jam, and fruit, and topped with a Ghiradelli chocolate sauce drizzle.
Scrambles, omelets, and other classic breakfast fare are served all day. In addition, they serve sandwiches, paninis, and salads. The Blatz is a take on a traditional BLT, using two kinds of veggie bacon. It's so delicious that you might think twice about ordering the more traditional version elsewhere.
Fuel Cafe
Need to kickstart your morning or rev up your evening? The motorcycle-themed Fuel Cafe is the perfect place to stop any time of day for great food and beverages.
If you come in before 3 pm, treat yourself to some strong killer coffee and a classic breakfast staple, like steak and eggs. Don't forget to order the side of homemade bacon crack: thick bacon slices with a sugary, peppery glaze.
You'll find traditional pub food with a twist for a late lunch or dinner, offering both meat and vegetarian options. Start with the ultra flavorful cauliflower wings, then move on to the grilled Smashburger that melts in your mouth.
Their extensive drink menu serves local and regional beers and original cocktails. If you're looking for a little extra energy, try the Maple Brew cocktail. It's made with a regional distillery's maple liquor and cold brew from a local coffee roaster. 
Beans and Barley
Starting as a small neighborhood health food store, Beans and Barley quickly evolved into one of the most popular East Side restaurants. Catering to vegetarians, non-vegetarians, and vegans, this casual eatery offers made from scratch meals at affordable prices.
Stop by the cafe any time, as they're open for breakfast, lunch, and dinner. Craft cocktails and local beers are constantly flowing, as are the house-made-to-order juices and smoothies. 
While you're waiting for a table, stop by the attached market and peruse the selections of groceries, gifts, and everything in between. Many of the locally or regionally produced items you'll find in the market are used in the dishes served in the cafe. 
There's also a deli with wholesome hot and chilled items if you prefer to grab and go.