Whether you are on a West Virginia Road Trip or simply making a stop at the newest US National Park, hiking the New River Gorge National Park and Preserve is a great way to experience the natural beauty.
There are hikes for every skill level that will bring you to amazing vistas and waterfalls. And also through blooming mountain flowers and abandoned coal mines. 
Hiking is one of our favorite things to do when exploring national parks. And hiking throughout the New River Gorge did not disappoint. 
Here is a list of some of the best hikes to explore this national treasure. 
Endless Wall Trail
Length: 2.4 Miles
Difficulty: Moderate
The Endless Wall Trail will take you through a lush green forest to several beautiful vistas overlooking the New River that flows 1000 feet below. In the late spring/early summer the trail will be covered in blooming pink and purple rhododendrons making this hike that much more spectacular. 
The hike is named after what seems like an endless wall of Nuttall sandstone that covers the vertical cliffs of the gorge. These cliffs are a rock climber's dream and you may just get to see some rock climbers in action.
Start the hike at either Fern Creek or Nuttall Trailhead. The hike can be turned into a loop by hiking back to your car along the road. Or, you can turn around at Diamond Head Overlook and make this an out and back hike. 
We started at Fern Creek and hiked the 1.9 miles to Nuttal Trailhead. We then hiked the 0.5 miles along the road back to our car. 
ProTip: If you find the trailhead parking lots are full, check out the other trailhead as you may find parking there. 
Long Point Trail
Length: 3.2 Miles (round trip)
Difficulty: Moderate
The Long Point Trail provides the best view of the New River Bridge. If you only have time for a few hikes in New River Gorge, make this one of them. 
It's a relatively easy hike through a dense forest and blooming mountain laurel (if it's late spring). But it is marked as moderate for its uneven terrain. 
It's a beautiful, easy-going hike with a view that is worth every second of your time.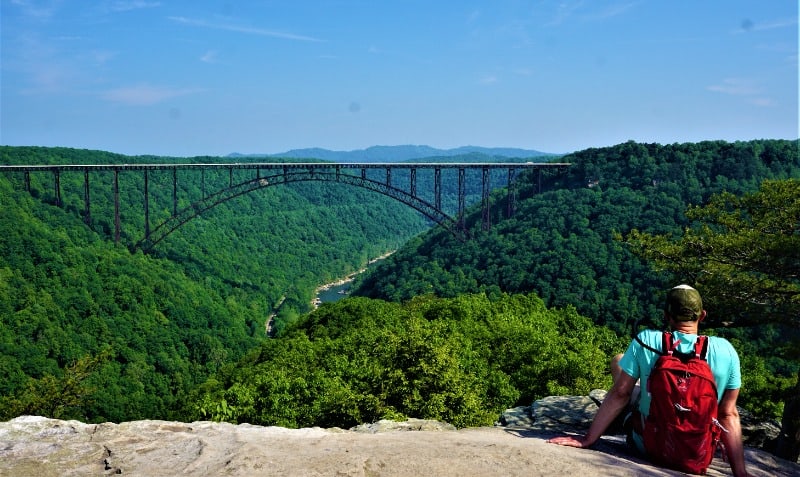 Beauty Mountain Trail
Length: 1.5 Miles (round trip)
Difficulty: Moderate
You may not find this trail noted in the hiking guides for the National Park, but that doesn't mean you should skip it. The Beauty Mountain Trail seems to be a favorite of the locals and was recommended to us. 
After a quick jaunt along the mostly flat ridgeline, you'll find yourself at Ram's Head Overlook with 180-degree views of the New River Gorge below. 
To get to this trailhead, you'll have to travel down dirt roads with little to no cell phone service. Make to have an offline map available. 
You'll have to park alongside the road. The trail is not marked with a sign, but if you look around the intersection of Buckhorn Rd and Beauty Mountain Rd, you will see a trail. 
Glade Creek Trail
Length: 12 Miles (round trip)
Difficulty: Moderate
The Glade Creek Trail is an out-and-back trail that follows Glade Creek along an old low-grade railroad. The trail is located in the southern portion of the National Park
Along this trail, you will see waterfalls and rapids. There are also several swimming holes if you are looking to cool off or a place for the kids to swim.
What I like about this trail is you don't have to hike its entirety to appreciate the creek and its surrounding area. If a 12-mile out-and-back is a bit much for you, then simply hike as far as you would like and turn around. 
There are two trailheads, the lower trailhead is located at Glade Creek Campground. The upper trailhead is a little more difficult to get to and it's recommended that you have 4-wheel drive and high clearance to get there. For both trailheads, be prepared to travel on unpaved roads. 
Bridge Trail
Length: 1.8 Miles (round trip)
Difficulty: Moderate to Difficult
The Bridge Trail is a fun hike if you are looking for a little elevation gain and a unique view of the New River Gorge Bridge.  
This trail is rocky and steep in some sections and offers a bit of a challenge. Towards the end of the trail, you will pass under the bridge to get a better sense of what the bridge is all about. 
Kaymoor Miners Trail
Length: 1.6 Miles (round trip)
Difficulty: Difficult
The Kaymoor Miners Trail is a great trail if you are looking for some history and a challenging workout. 
The trail starts off with a 0.5-mile steep decline on uneven terrain into the gorge until you reach the old Kaymoor Mining Site. Here you get a glimpse of what the workers experienced each day. You'll find artifacts of where they checked in and where they got their equipment. 
And if you want to explore more, you can take 821 stairs down to see the old coal processing plant, which includes the coke ovens, fallen buildings, and rusted-out mining equipment. If you look on the ground, you'll even find chunks of coal. 
There are some interesting things to see down there – just remember you have to come back up. 
Tips for Hiking in New River Gorge
Have a Printed Map or Digital Maps Downloaded
There are some sections in and around the park where we did not have cell service. It would have been difficult for us to find some of the trailheads if we hadn't downloaded an offline map. 
Come prepared for the lack of cell service by either downloading digital maps of the area before you leave home or bringing a paper map with you.
Hike the Popular Trails in the Early Morning or Late Afternoon
Several of the parking areas for the trailheads had limited parking spots available. 
When hiking the more popular trails, like Long Point Trail and Endless Wall Trail, you will want to either get to the trailheads early in the morning or late in the afternoon. 
If you are going during the off-season this may not be as much of an issue, but it still can't hurt to plan accordingly. 
Familarize Yourself with the Wildlife Living in the Area
Before hiking in any area, we try to familiarize ourselves with the types of wildlife we need to be aware of and what to do if we encounter them. 
In the New River Gorge National Park and Preservation, we learned the park is home to black bears as well as both the Northern Copperhead and Timber Rattlesnakes. 
In spring and summer, there are also ticks in the area. Stay on trails and wear long pants or high socks to help prevent ticks from hitching a ride on you. 
Ready to Start Your New River Gorge Hiking Adventure?
The New River Gorge National Park and Preserve offers some great hiking trails. 
They will help you both explore the area and recharge your soul. 
Use this list to decide which trails are right for you. 
For more things to do in New River Gorge and West Virginia check out:
West Virginia Road Trip: 17 Wild and Wonderful Stops
Things to Do In and Around New River Gorge
Things to Do In and Around Davis, WV