Wild and Wonderful.
That's West Virginia in a nutshell. (Their license plates even say so!)
Get wild on an adrenaline-pumping white water rafting trip on the Gauley River or walking the scaffolding across the New River Gorge Bridge.
Experience the wonderful scenery by driving, hiking, or biking along remote winding roads and trails that traverse pristine rivers, scenic mountain valleys, and lush green forests.
Road tripping through West Virginia will take you through everything from quaint towns with the friendliest of people to remote narrow mountain roads with gorgeous views of the green-covered mountains. 
We explored West Virginia on an 8-day road trip, and we were beyond pleasantly surprised at what the unassuming state has to offer. 
These must-see places in the list below will give you a great start when planning your very own West Virginia Road Trip. We'll also provide some sample itineraries if you just want to hit the road. 
Our recommendations are based both on our experiences in West Virginia and the recommendations of people we met along our journey.
West Virginia Road Trip Map
How to Use This Map: Click on the icon on the top left-hand corner. You will now see all of the layers of the map. Layers include places to see and driving directions. You can click the checkboxes to the left of the layer name to turn on and off the layers. Click on the map icons to get more info on each location.

To see the map in more detail, click on the [ ] in the top right-hand corner. This will bring to a larger map where the details of each point can be found by clicking on the location point name in the list on the left.

You can also save the map for your own use, click the ⭐ to the right of the map name. This will save the map to your Google Maps where you can make a copy and use it for your own trip planning.

Want to Create Your Own Google Map? Check Out How to Plan a Road Trip With Google Maps
1. New River Gorge National Park and Preserve
The newest National Park is what put West Virginia on the radar for us. And any trip to West Virginia needs to include experiencing this gem.
New River Gorge National Park and Preserve showcases one of the oldest rivers in the world, and has something for everyone. Most will enjoy the cultural and historical aspects as well as the beautiful scenery and a wide range of recreational activities. 
The park is known for its rock climbing, mountain biking, and white water rafting. But there is also a great network of hiking trails, scenic drives, and viewpoints. And if you are a history buff, you can even explore abandoned coal mining towns. 
New River Gorge is also home to the longest single-arch bridge in the Western Hemisphere. The 876-foot tall bridge spans the 3030-foot wide gorge and is a modern engineering marvel. Witnessing the vastness of this bridge is part of the charm of the New River Gorge and makes for some amazing photo opportunities.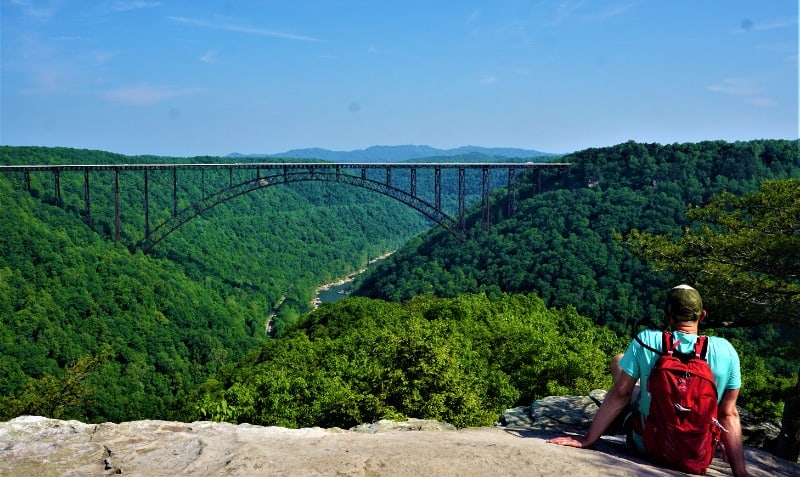 For More On New River Gorge National Park:
Best Hikes to Explore New River Gorge National Park
Things to Do in and Around New River Gorge National Park
2. Summersville Lake
Summersville Lake is West Virginia's largest lake. And with its warm waters and 60 miles of shoreline, it's known by some as the "Little Bahamas of the East". 
The lake is man-made and was created by a dam. The dam was built by the United States Army Corps of Engineers to control the flooding of the Gauley River and the Kanawha River watershed. 
Summersville Lake is a beauty to see in the summer months. It's surrounded by sandstone cliffs which make any water activity on the lake breathtaking. 
At Summersville Lake you can swim, kayak, paddleboard, rent a boat, or even scuba dive. 
On land, there are also some great hiking trails in the area.
Try the Long Point Trail and be rewarded with a beautiful view of the lake from above.
3. Hawks Nest State Park
Hawks Nest State Park is home to one of the most scenic views of the New River. 
Towering 750ft above the New River, visiting Hawks Nest State Park will give you an out-of-this-world vantage point to witness the true rugged nature of the New River National Park and Preserve. 
There are several hiking trails throughout Hawks Nest State Park. 
But if you prefer to take in the views without hiking, there is an aerial tram that whisks you away deep into the New River Gorge. 
Hawks Nest State Park is also a great place to spend the night. With both lodge and cabin accommodations, you are bound to find something that suits your needs. 
Protip: If you head to Hawks Nest State Park, make a point to stop at nearby Cathedral Falls. It's beautiful falls that you can see from the parking lot. But we recommend taking a few more steps to see it up close and personal if you are comfortable with uneven terrain. 
4. Carnifex Ferry Battlefield State Park
This one is for all of you history buffs. 
Carnifex Ferry Battlefield State Park is the site of an important civil war battle that ultimately led to the confederacy withdrawal from West Virginia. The park is home to many civil war reenactments.
There are several hikes within the park including the Patterson Trail that circles the battlefield and has amazing viewpoints of the Gauley River. 
If you are there in September you might catch a glimpse of rafter maneuvering around what's known as Pillow Rock.
5. White Water Rafting 
Both the New and Gauley Rivers are known for their world-class white water rafting.  
You can raft the New River from April to October with varying levels of difficulty depending on your experience and comfort level.  
The upper New River provides a more relaxed trip with long pools where you can enjoy the beautiful scenery around you combined with relatively easy rapids up to Class III. 
If you are looking for a more wild adventure on the New River, a trip to the lower section is for you. Here you will experience big rapids ranging in difficulty from Class III to Class V. 
If you are looking for an even more adrenaline-pumping adventure, a rafting trip down the Gauley River is for you.  
Gauley rafting seasoning peaks in the fall when the US Army Corps of Engineers releases water from Summersville Lake through the Gauley Dam. The opening of the dam provides the water flow for world-class white water rafting. 
We visited towards the end of May and did the Lower New River trip with New and Gauley River Adventures. Our trip was filled with heart-pumping rapids and lazy portions where we took our time and even got a chance to cool off in the river. The guides we had were amazing and we couldn't recommend this rafting company enough. 
Check them out if you want to tackle the rapids of the New or Gauley River. 
6. Bridge Walk
While the Bridge Walk is technically in the New River Gorge National Park, we thought we'd include it separately in this list of must-sees in West Virginia.
The New River Gorge Bridge is an engineering masterpiece. And the Bridge Walk allows you to see this marvel up close and personal. 
The Bridge Walk is a guided tour of the New River Gorge Bridge from the catwalk 25' beneath the Bridge. Walking over the gorge at this height is not for the faint of heart, but is an experience you will remember forever.
It's a pricey excursion, but if you have the means it's highly recommended by both tourists and locals. 
7. Thurmond Ghost Town
If you can only pick one ghost town to visit in West Virginia (there are several), then we think Thurmond is the best choice. 
While not necessarily a ghost town (there 6 inhabitants according to the latest census), a stroll through Thurmond will bring you back to the town's glory days in the era where coal mining was the major industry in the area. 
Your stop in Thurmond would not be complete without checking out the train depot (now a visitor's center for the New River Gorge National Park) and taking a moment to watch the passing trains. You can also take a stroll onto the Thurmond bridge where you can look through the railroad grates directly to the swirling river water below. 
8. Babcock State Park
The enormous Babcock State Park is located along the New River just 20 miles Southeast of the New River Bridge. 
This state park has it all: camping, cabins, hiking, and swimming. But what it's really known for is the Glade Creek Grist Mill. 
Our rafting guide told us that The Glade Creek Grist Mill is one of the most photographed areas in West Virginia. And we could see why.
You can take a tour of this stunning, fully functioning mill replica and visit the nearby gift shop. 
We spent two nights camping at Babcock State Park, and it was a great location to find some rest and relaxation after a day of exploring New River Gorge National Park and Preserve. 
9. Green Bank Observatory
Green Bank Observatory is home to the largest fully steerable radio telescope. This telescope is located in Green Bank, WV within the United States National Radio Quiet Zone.
The telescope is an amazing sight to see when driving through town. But if you have time, we highly recommend stopping at the observatory to stretch your legs and witness this massive telescope up close.
There is a self-guided walking tour option and it's free to walk through the Green Bank Science Center and Exhibit Hall. And they also have relatively inexpensive tours as an option if you want to learn about the telescope from an expert.
If you plan to observe the telescope up close, be sure to take a disposable-style camera with you. Normal battery-powered cameras and cell phones are not allowed at the base of the telescope.
Pro Tip: Beware that you will have zero or very limited cell phone service while in the National Radio Quiet Zone. This zone is over 13,000 square miles. We recommend that you check your cell phone coverage maps before you leave to get a sense of how long you will be without cell phone service on your road trip. We did not have service for 3 days on our road trip, but some shops and restaurants did have wi-fi.
Also, be sure to download any digital maps you are using to your phone or GPS. 
10. Cass Scenic Railroad
We wish we would have known about this one of those hidden gems before we planned our road trip.
Taking a trip along the Cass Scenic Railroad allows you to experience sweeping views of the Allegheny Mountains as well as a chance to ride an old coal-fired steam engine train. 
There are two train rides to choose from. 
Bald Knob is a 4-hour round trip that takes you through the woods and up to the second-highest point in West Virginia at 4842 feet. 
A shorter ride, Whittaker Station, is a 2-hour road trip that climbs the lower slopes of Cheat Mountain. Along the trip, you will experience picturesque views of Leatherbark Creek and green meadows.
11. Monongahela National Forest
The Monongahela National Forest covers a lot of ground in West Virginia. Protecting over 921,000 acres including the highest peak in the Allegheny Mountain range, the Monongahela National Forest is a sight to see.
Exploring the breathtaking Monongahela National Forest will take you far away from the crowds of the New River Gorge National Park. This national forest is filled with so much green you'll feel like you are in Hawaii!
With mountain bike and hiking trails, fishing, scenic drives, camping, and even cabins, you'll be able to relax and explore.
What we loved about this area was its ruggedness. There were times we didn't see a single person on our hikes. And traveling down the unpaved forest roads, often along rivers and streams, made the journey that much more of an adventure.
Here are a few places to check out in the Monongahela National Forest:
12. Still Hollow Distillery
One of our favorite things to do when road tripping is to check out local breweries, wineries, distilleries, or cideries. 
On this trip, we found not only one, but two places we couldn't wait to write about so others can enjoy them as well. Both of which are located in the Dry Fork River Valley.
Still Hollow Distillery is a family-owned and operated distillery that specializes in what they call "mountain-style" whiskeys and botanical blends.
What blew us away is how Still Hollow Distillery works with farmers and small businesses in the area to produce unique whiskey blends you can't find anywhere else. 
They are open for tastings and we highly recommend making a stop if you are road tripping through the Dry Fork River Valley. Your tastebuds will be treated to some whiskey blends you've never tried before. 
Check out their website to see if reservations are required before making a stop.  
13. Heathberry Farm (Honey River Meadery)
A visit to Heathberry Farm will certainly be a highlight of your road trip through West Virginia. 
Heathberry Farm produces amazing meads and melomel (mead with fruit added). 
The farm is off the beaten path, but to be honest, what isn't in West Virginia? 
Don't worry though, when you book your tasting with Ben, the owner of the farm, he'll give you detailed driving instructions.
Ben gave us tastings of several different kinds of honey, meads, and melomels all made with honey from his farm. They were beyond amazing and we came home with two bottles of mead. 
It was fascinating to learn about the nuances of beekeeping and how seasonal pollination creates diverse flavors in honey. 
Ben is passionate about producing quality products, and it shows. Don't miss your chance to meet this beekeeper and try some of his award-winning meads and melomels.
14. Blackwater Falls State Park
Blackwater Falls State Park is home to some of West Virginia's most scenic spots including its largest waterfall, Blackwater Falls.
This waterfall is a towering 57-foot amber-colored waterfall that tumbles into Blackwater Canyon. It's a relatively easy 0.4-mile dog-friendly hike down stairs and boardwalks to view the beautiful waterfall. 
If you want to check out more falls and are also up for exploring, check out the Elakala Falls. 
Elakala Falls is a series of four falls. It's a short hike from the Lodge to see the first set of falls. But if you continue traveling down along the river you can view all 4 drops of the falls. We only made it down to the second drop as the path was hard to see and it started to rain and get a little slippery.
While you are at Blackwater Falls State Park, make sure to take another short 0.8-mile hike to Lindy Point Overlook. You will be rewarded with one of the most scenic views in West Virginia — a view from above of the Blackwater Canyon. 
We did this hike in the rain, so our view was a bit obstructed by the clouds, but it was still stunning.
This gorgeous state park has camping options as well as a lodge and would be a great place to hunker down for an evening. 
15. Eating, Drinking and Shopping in Davis and Thomas, WV
The towns of Davis and Thomas, WV are located on the edge of the Monongahela National Forest, which makes them a perfect stop on your road trip.

These small towns have it all: shopping, good eats, and some local breweries. We even stopped in to check out a local glass blower and his shop. 
In Thomas, you will find quaint restaurants like Farm Up Table (the pit beef sandwich was to die for), art galleries, and more shopping all along the riverfront. 
Want to check out some local products? Stop at the Highland Grocery Store in Davis for local specialties and fresh produce.
There are two breweries that call Davis, WV home; Stumptown Ales and Mountain State Brewing Company. We stopped at Stumptown Ales and the IPAs were amazing.
CHECK OUT MORE THINGS TO DO IN DAVIS, WV:
THINGS TO DO IN AND AROUND DAVIS, WV
16. Dolly Sods Wilderness
If hiking is your jam, then a hike through the Dolly Sods located in the Allegheny Mountains of eastern West Virginia is a must.
The Dolly Sods is located in the Monongahela National Forest (#11 on our list), but we think it deserves to be highlighted on its own. 
The Dolly Sods is a unique landscape for West Virginia. At elevation ranging from 2,500 to over 4,700 feet, the Dolly Sods Wilderness contains bogs and ecosystems typically found in southern Canada and northern US. 
During a hike through the Dolly Sods, you will feel like you are in a rainforest. The green vegetation is breathtaking and the overlooks of the mountains are stunning. 
We did the 7-mile out and back Rohrbaugh Trail, which took us through lush green forests, had amazing overlooks (even with the fog and rain), and stream/creek crossings to keep the hike fun and interesting. We would follow one of the hiking loop suggestions on the US Forest Service Website if doing it again. I only say this as I just prefer loops as opposed to out-and-backs. 
17. Coopers Rock State Forest
Coopers Rock State Forest is home to more amazing views. This one is a jaw-dropping view of the Cheat River Canyon below. 
The main overlook of the canyon is accessed right off the parking lot. But if you are up for some hiking, you can take a 2.5-mile hike on the Raven Rock Trail to another spectacular view of the Cheat River Canyon. 
Coopers Rock State Forest also offers camping. If camping sounds fun but you don't want to lug all of your camping gear with you, they have pre-set canvas tents you can rent.  
Best Time of Year for a West Virginia Road Trip
West Virginia is a beautiful state throughout the year. But the best months for a road trip are May, June, September, and October.
In late spring, you will beat the heat and experience blooming wildflowers on your hikes. In fall you will get the chance to see the vast green mountains display their amazing fall colors. You can also witness the droves of kayakers and rafters from around the world tackling the raging Gauley River. 
We went in late May and loved the lush green vegetation and all of the mountain laurel and rhododendrons. 
Things To Know Before You Go
Cell Phone Service May be Nonexistent
To help you be better prepared for the cell phone blackout, here are some tips:
Download all maps you may need – You will need to have your maps downloaded onto your phone or GPS so that you can use your mapping app to get you from point A to point B when you don't have cell phone service. 
Bring a paper map for backup – You never know when something is going to go wonky with your phone. A paper map and your seventh-grade mapping skills will come in handy if things don't go as planned. 
Print out all of your reservation information – You can also take screenshots and store them on your cell phone. 
Print out hours of operation for the stops you plan to make – Again, you can take screenshots of the web pages and store them on your phone.
Expect to Drive on Narrow Unpaved Mountain Roads
Our van is front-wheel drive with low clearance. And we didn't have any troubles traveling down these roads, but we wanted to give you a heads up. Through all the turns, hills, and dips on these "lane and a half" unpaved roads, you'll have to keep an eye out of oncoming traffic and pull over when necessary.
You will mostly encounter these types of roads while in Monongahela National Forest and while exploring the Allegheny Mountains.
Don't Follow Map App Directions Blindly
Your map app is going to give you directions based on the route it believes is the quickest. We've learned that on these remote roads our map app has no clue what route is the safest or best. 
If you see signs for your destination, but your map app tells you shows a different way, follow the signs. The signs know best. 
Also, don't go down roads just because your map app tells you to. We would have driven through an active gun range if we followed our map app's directions. Some roads aren't meant for you to drive through and your map app doesn't always know this.
The People of West Virginia were Amazing
Everyone we met in West Virginia was very kind and helpful. 
They were excited that we wanted to explore and learn about their state. And they were genuinely happy that we were there. 
We can't wait for more people to get out and explore West Virginia, as it is truly a wild and wonderful state.
More Road Trip Adventures:
Michigan's Upper Peninsula Road Trip: Must-see Stops