If you are looking for some wonderful hikes in Wisconsin, Door County is a great choice.
Exploring Door Country on foot is a perfect way to experience its gorgeous shoreline and unique geological features. 
And with its delightful dining and lodging options, including one of the best Wisconsin State Parks, Door County is a great overall destination. 
To get you started on your Door County hiking adventure, we are sharing 6 of our favorite hikes to explore Door County.
All hiking distances are round trip. 
Eagle Trail – Peninsula State Park
Distance: 2.0 miles | Difficulty: Moderate | Elevation Gain: 183 feet | Time: 1.5 – 2.5 hours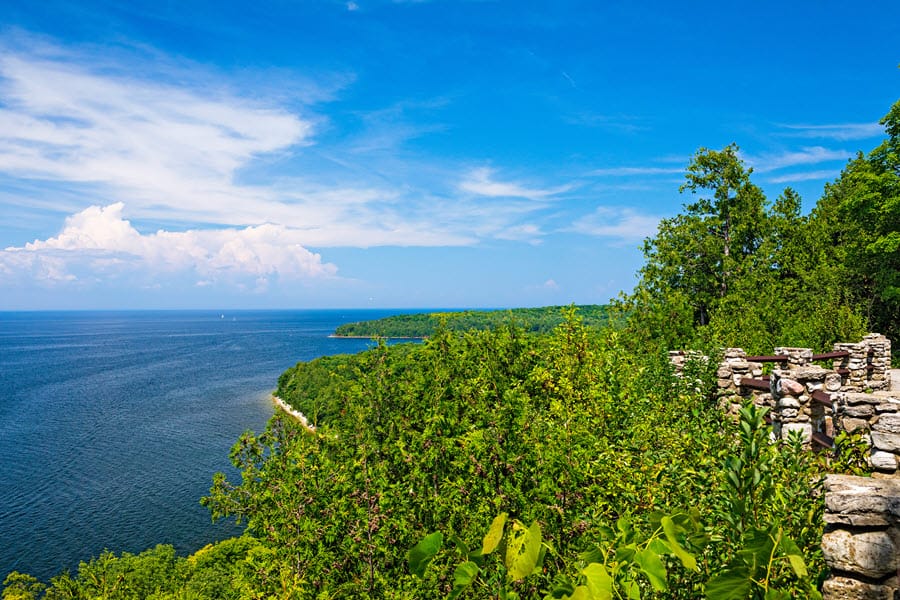 The Eagle trail is one of the most loved hikes in Wisconsin in the most loved state park. 
It's a moderate hike with a slight elevation gain. But what makes it a challenge is all of the rocks and tree roots you'll have to tackle. Take it slow and make sure to stop to enjoy the beautiful scenery and sounds of Lake Michigan as you hike along the shoreline to stunning rock formations. 
You can take the loop either clockwise or counterclockwise. Views going clockwise are slightly better along with the lack than counterclockwise. But either direction will result in a great hike.
The main trailhead is located near the Eagle Panorama Lookout. And whether or not you park here, make sure to climb up the Eagle Panorama for some fantastic views of Lake Michigan and the surrounding shoreline. 
The Eagle Trail is a popular hike, so if you are planning on hiking it during the busy season, plan for many fellow hikers and start your hike early AM or late afternoon.
Fern and Lynd Point Loop – Newport State Park
Distance: 2.4 miles | Difficulty: Easy | Elevation Gain: 42 feet | Time: 1.5 – 2.5 hours
Newport State Park located on the eastern side of the Door County peninsula has a hiking trail for just about every level of hiker. 
There is relatively no elevation gain throughout the park so you can make your hikes as difficult as you want by adjusting the length.
The Fern and Lynd Point Loop is a great loop to include in your Newport State Park hiking adventure as it offers some stunning views from the bluffs hovering over the shores of Lake Michigan. And when you aren't along the lakeshore, this hike takes you through an enchanted forest full of green beauty. 
If you want more distance to your Newport State Park hiking experience you can combine this hike with more trails in the park such as the Europe Bay Loop or the Hotz Trail.
Hotz Trail and Europe Bay Loop – Newport State Park
Distance: 2.9 miles | Difficulty: Easy | Elevation Gain: 55 feet | Time: 1.5 – 2.5 hours
Our campsite host recommended this loop, and it did not disappoint. It's a relatively easy hike with a few rolling hills to get the heart pumping. 
The hike takes you through a beautiful forest between Europe Lake and Lake Michigan where you often feel like you are hiking through a tunnel of trees. This hike is especially beautiful in fall when the leaves are turning colors. 
At points along the trail, you will experience the beauty of the shores of Lake Michigan and the serene nature of Europe Lake. It's a great hike to get "lost" in nature. 
Tower Trail – Potawatomi State Park
Distance: 3.9 miles | Difficulty: Easy | Elevation Gain: 167 feet | Time: 2 – 3 hours
Want to hike a bit of the Ice Age Trail while exploring a beautiful Wisconsin State Park? Then the Tower Trail in Potawatomi State Park is for you.
The Eastern terminus of the Ice Age Trail is in Potawatomi State Park. And if you complete the Tower Trail you will get the chance to walk along a portion of this iconic hiking trail. 
The Tower Trail is a beautiful forest hike that takes you around Potawatomi State Park. Along the way, you'll get a few views of Sturgeon Bay and travel to a tower that provides a great view of the surrounding area. 
The trail can be both muddy and buggy so be prepared for both especially if there has been a lot of recent rainfall. 
This trail is one of the many great things to do in the Sturgeon Bay area. 
Old Baldy Loop Trail/Red Trail – Whitefish Dunes State Park
Distance: 2.8 miles | Difficulty: Easy | Elevation Gain: 118 feet | Time: 1.5 – 2.5 hours
Hiking the Old Baldy Loop in Whitefish Dunes State Park is a great way to experience one of the amazing geological features of the shores of Lake Michigan – sand dunes.
On this hike, you'll walk over sand dunes and get to climb the highest sand dune in the park, Old Baldy, at 93-feet. At the top, you'll get a great view of Lake Michigan and its picturesque colors.
Cave Point Lakeside Trail
Distance: 1.6 miles | Difficulty: Easy | Elevation Gain: 32 feet | Time: 1 – 2 hours
This trail isn't so much of a hike, but instead a rugged stroll along one of the most stunning lakeshores in Wisconsin.
While this trail is relatively easy, there are plenty of roots and rocks to watch out for that make this trail a moderate one.

But if you are in the area and up for dodging a few roots and rocks, this is a hike that is not to be missed. 
On a calm day, you'll experience the clear blue-green waters and gorgeous cliffs along the shores of Lake Michigan. 
And if it's a windy day, you'll experience the wonders of Lake Michigan as it furiously crashes against the shore. But watch out as you hike, as some of those crashes can topple over the cliffs and soak innocent bystanders.  
Related Post:
Things to Do in Sturgeon Bay – Our Top 15 Must-Sees
Tips of Hiking in Door County
Door County has some great hiking trails for you to enjoy during your stay.  Here are a few tips for making the best of your hikes.
Wear Sturdy Shoes
Many of the hiking trails in Door County are lined with tree roots and rocks. In our experience, having a good set of hiking shoes or boots makes hiking these trails a lot safer. Tennis shoes will likely work for the trails, but it's been raining be prepared to get them a little dirty.
Pack a Small Backpack with Hiking Essentials
The quickest way to ruin a great hike is by not having what you need a mile into your hike. 
It's often hard to predict what you will encounter on your hike, so bring a backpack with hiking essentials.
Here are some things to make sure to have in your pack:
Sunscreen
Bug Spray
Water
Snacks
Rain Ponchos
Small first aid kit
Fully charged cell phone
Go Early
Door County is a popular destination, especially in the summer. 
For a more intimate hiking experience, consider going first thing in the morning. This will help you get a parking space at the trails as well as minimize the traffic you'll see on the trail.