When planning a Wisconsin State Park adventure, you may be overwhelmed by which of the 66 parks and forests to put on your bucket list. With so many great options, how do you choose?
We understand the dilemma. With the recent purchase of our weekend adventure camper van, Albie, we've been looking at which parks to include in our Wisconsin adventures.
Growing up in Wisconsin, we've been to many state parks and forests and have our favorites. But we wanted to know everyone else's favorites in case we missed something.
To help with this, we surveyed the Wisconsin State Park Facebook Group members to see which state parks topped the charts. And we got over 1500 responses!
We also wanted to know which parks were best for specific activities like hiking, biking, and fall colors. Because which parks you choose is often based on what you want to do on your adventure.  
This was a fun survey, and the results were both surprising and not so surprising.
Can you guess which Wisconsin State Park topped them all?
Let's find out!
Best Overall Wisconsin State Park
With over 970 respondents, here are the top 5 Wisconsin State Parks and Forests as chosen by the Wisconsin State Park Facebook Group. 
One of the best findings of this poll is that a total of 34 state parks received at least one vote. That's over half of the state parks! And this proves that the Wisconsin State Park system is pretty incredible. Therefore, no matter which park you choose to explore, you'll be sure to have a fantastic time in nature.
With that said, let's dive into the top 5 Wisconsin State Parks!
1. Peninsula State Park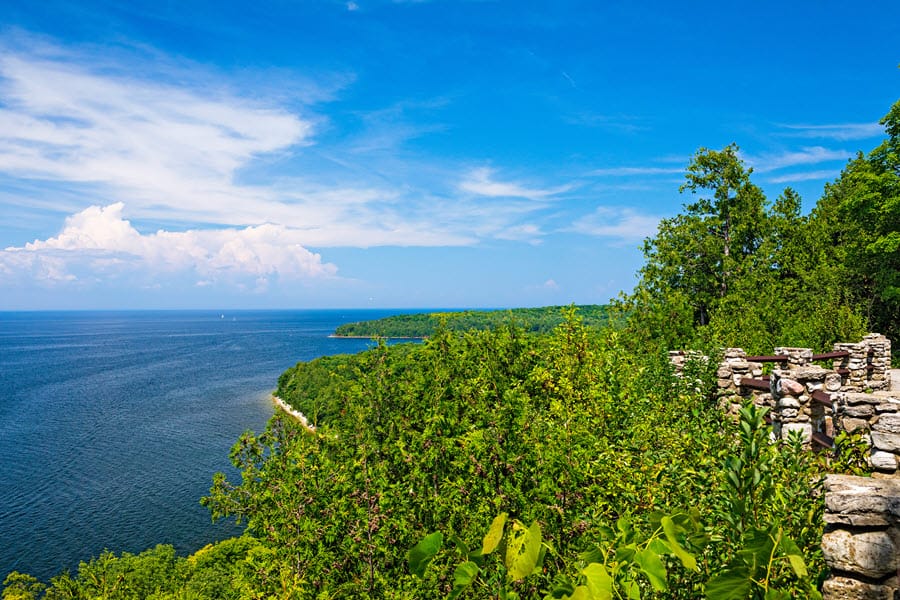 No surprise here that Peninsula State Park took the top spot.
Peninsula State Park is the second-oldest and the third-largest in the Wisconsin State Park system.
This park has everything you can ask for with nearly 500 campsites, 14 miles of hiking trails, great biking, and a wonderful beach and playground area.
"Peninsula is our favorite for the great campgrounds, trails, sunset spots, and beach! The Eagle Trail is our favorite hike in the state!"

– Katie Franecki – Member of Wisconsin State Park Facebook Group
Its incredible shoreline along Green Bay sets Peninsula State Park apart from its fellow state parks.
In some places, the limestone bluffs tower over 200ft above the water, allowing for amazing viewpoints within the park. And with it being on the western side of the peninsula (on Green Bay instead of Lake Michigan), the swimming is excellent, and it's perfect for a good sunset.
Its location in the Door County Peninsula is also a huge draw for the park. Situated in Fish Creek, WI, about halfway up the peninsula, Peninsula State Park is the perfect basecamp for exploring Door County.
Related Post: Best Hiking Trails to Explore Door County
2. Devil's Lake State Park
Located in South Central Wisconsin, Devil's Lake State Park is the largest and most visited park in the Wisconsin State Park system.
What makes Devil's Lake State Park stand out as one of the best state parks is its unique geological features, including 500 ft quartzite bluffs surrounding a glacier-made 360-acre lake.
Whether looking for a challenging hike, a stroll around the lake, a day at the beach, or great campsites, this park is your destination. With stunning views and many unique geologic features, there is always something new around the next corner.
Devil's Lake is one of Wisconsin's most popular state parks partly because of its proximity to the tourist destination, Wisconsin Dells. Therefore, if planning a trip to Devil's Lake, make your camping reservations or get there early if you are making it a day trip. It's common to wait in line to get into the park, especially on summer and fall color weekends.
3. Copper Falls State Park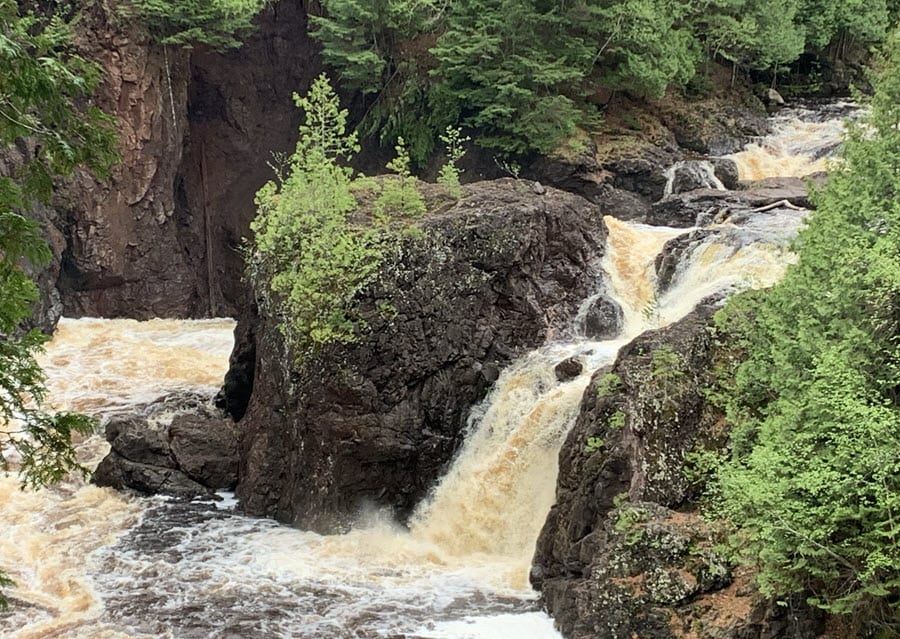 Located in Ashland County, Copper Falls State Park is 1 of the 6 state parks in Wisconsin with Waterfalls. This park is for you if you are a Wisconsin waterfall lover.
"Absolutely gorgeous hiking! The falls are beautiful and the northern location means amazing night skies (especially in fall)"

Joe Petrie – Member of Wisconsin State Park Facebook Group
With beautiful cascading waterfalls and excellent hiking trails, this park is a must-see when visiting northern Wisconsin. The park itself has three waterfalls, Copper, Brownstone, and Red Granite Falls.
These waterfalls are pretty incredible to experience in person. With an easy hiking trail connecting the two falls, this park is a fantastic place to hike and spend a day.
Related Post:
Wisconsin Waterfall Map + 2 Waterfall Tour Itineraries
Wisconsin State Parks with Waterfalls
4. Wyalusing State Park
Located in the beautiful Driftless Region of Southwest Wisconsin, Wyalusing State Park is a stunning park with gorgeous views of the Mississippi River.
A great state park with a lot to offer, Wyalusing has a ton of hiking trails and jaw-dropping scenery that will make you want to come back again and again.
If you plan in advance, you may be able to snag a stunning camping site in the Wisconsin Ridge Campground. This campground is situated on top of the bluffs and provides stunning views of the river below.
Related Post: Things to do in Prairie du Chien
5. Kohler Andrae State Park 
While the park doesn't offer as many activities as other parks, it provides exceptional views of Lake Michigan, a wonderful beach, and beautiful campsites.
With great views, good trails for hiking and biking, Kohler-Andrae State Park is an excellent choice for a weekend getaway.
Best Wisconsin State Park for Hiking
With 325 responses, here are the Best Wisconsin State Parks to visit when you want to get the heart rate pumping and put a few miles on the hiking boots. 
1. Devil's Lake State Park
We've already mentioned that Devil's Lake is one of the best Wisconsin State Parks. And one reason it's the best is its outstanding hiking trails.
The East and West Bluff Trails are some of the best hiking in Wisconsin. Just make sure to get there early in the peak season (summer and fall weekends), as the trails can get crowded quickly.
Our favorite way to explore Devil's Lake on foot is to travel up the East Bluff Trail and then connect to the West Bluff trail to make a 5-mile loop. This challenging hike is worth every step up the bluffs for those. Your reward will be gorgeous views of Devil's lake below and the chance to climb up to see fantastic geological features such as Devil's Doorway. 
2. Wyalusing State Park
Wyalusing State Park is home to more than 20 miles of hiking trails that range from easy to difficult.
What makes this a spectacular park for hiking is the varying landscapes. Trails range from hikes along the top of the bluffs with views of the Mississippi to hikes that bring you to waterfalls and a few caves.
A favorite hike of the park is the Old Immigrant Trail and Bluff Trail Loop. This hike can be difficult with all of the ups and downs, but the effort is worth it.
3. Governor Dodge State Park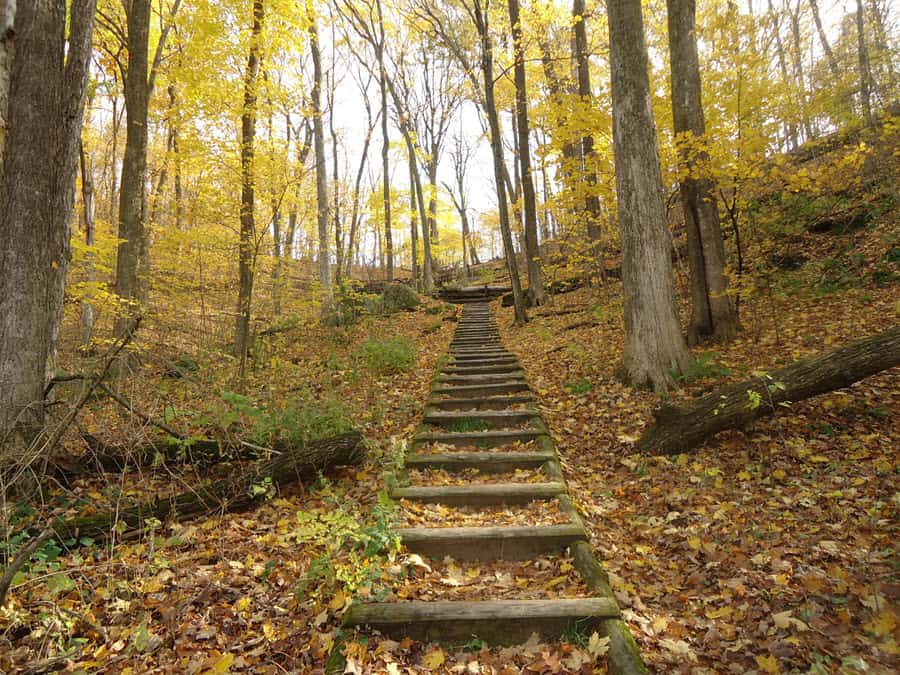 Governor Dodge State Park is located in the scenic driftless area of Wisconsin known for its stunning bluffs. This area is home to Frank Lloyd Wright's Taliesin and an inspiration for his works. This means that the area is beyond gorgeous and worth a trip.
With 40 miles of hiking trails, Governor Dodge has a hike suitable for every skill level. And with two lakes and a waterfall in the park, the scenery on these hikes is gorgeous.
What is also great about this park is you can combine several trails into one hike to make your hike as short or long as you would like.
The Meadow Valley, Lost Canyon, Woodland, and Cave Trail Loop are a fun combination of trails. This is a 7.8-mile moderate hike that includes many of the park's highlights.
4. Peninsula State Park
Hiking along the shores of Green Bay is a highlight for any trip to Peninsula State Park.
The Eagle Trail is by far the most popular hike in the park, and for some, their favorite hike in Wisconsin.
This hike takes you along the top of bluffs and offers great views, wildlife, and will give you a decent workout.
5. Copper Falls State Park
Copper Falls State Park is one of the few state parks in Wisconsin where you can hike to waterfalls.
The Doughboy trail is a relatively easy 1.7-loop that provides stunning views of Copper Falls, Brownstone Falls, and Tyler Forks Cascade. The trail is well-maintained with only a few sets of stairs along the route.
Another hike not to be missed in Copper Falls State Park is the Red Granite Falls Trail. This 2.5-mile loop brings you to Red Granite Falls. While Red Granite Falls is not as immense as the park's namesake falls, the hike is peaceful, dog-friendly, and you can get up close and personal to the falls.
Best Wisconsin State Park for Biking
Wisconsin is home to many fantastic bike trails, many of which are located in or around Wisconsin State Parks. 
82 respondents answered our poll about which Wisconsin State Park is the best for biking.  
Here are the top 3 Wisconsin state parks for biking.
1. Northern Highland-American Legion State Forest
The Northern Highland-American Legion State Forest consists of 18 campgrounds and 930 lakes and is home to some of the best biking trails in Wisconsin.
The Heart of Vilas Country Bike Trail System consists of 52-miles of paved trails that carve through the state forest and surrounding areas. This trail offers many scenic rest stops and restrooms along the way. And with over 20 parking lots along the trail, you can choose your own adventure on where to start each day.
It's by far our favorite biking in Wisconsin. So if you love to spend time on your bike when camping, book a site in the Northern Highland-American Legion State Forest. Our favorite campgrounds are Firefly and Chrystal Lake.
2. Peninsula State Park
When visiting Peninsula State Park, make sure to bring the bikes along. While there is an excellent designated bike trail, it's also nice to have a bike to navigate through the large park.
The Sunset Bike Route in Peninsula State Parks is a fine gravel 9.6-mile trail that starts at the Fish Creek entrance.
This very approachable trail for all skill levels takes you through a loop of the gorgeous state park.
3. Point Beach State Forest
Growing up near Point Beach State Forest, I was happy to see that the amazing bike trails in and around Point Beach were voted as some of the best.
There are two main bike trails to choose from, both offering different experiences. But the best part is that if you are up to it, you can combine them and make it a 24-mile round trip ride.
The Rawley Point Trail is a 6-mile limestone trail that connects Point Beach State Forest to the city of Two Rivers. This is a fun trail that winds through a pine and hemlock forest. It has delightful curves and tiny hills to make for a wild ride. This trail can be pretty rugged in spots and also contains some blind corners. Therefore, it's not a great trail for road bikes.
The Mariner's Trail, located along the shores of Lake Michigan, is a 5.5-mile trail that connects the towns of Two Rivers and Manitowoc. It's a gorgeous paved trail that hugs the Lake Michigan shoreline to give stunning views.
The trail does run alongside a busy road, so there will be a bit of road noise on your ride. But don't let that stop you from enjoying one of the most picturesque bike trails in Wisconsin.
Best Wisconsin State Park for Fall Colors
Fall is one of our favorite seasons to explore the Wisconsin State Parks. The weather is cooler, the bugs are tamer, and some of the crowds have diminished.
We asked the Wisconsin State Park Facebook group, what their favorite state park was for fall colors.
233 people responded, and here is who made the top of the list.
1. Rib Mountain State Park
This is the first time that Rib Mountain State Parl is showing up on our "best of" list. But don't let that deter you from visiting it, especially during peak fall colors. 
Located in Wausau, the park sits on top of a billion-year-old hill that's one of the earth's oldest geological formations. And it's the highest elevation in Wisconsin. 
The elevation makes this an excellent spot for viewing the fall colors of the surrounding area. A ski hill on the north face of the hill offers the perfect way to see the fall colors. A chair lift!
Riding the chair lift up to the top of Rib Mountain in fall is a must-do for every Wisconsin State Park enthusiast. 
2. Peninsula State Park
The fall colors in Peninsula State Park are stunning. And with a backdrop of the blue waters of Green Bay, these colors glow.
Fall is an excellent time of year to visit this popular park. The crowds in Door County die down a bit, the weather is cooler, and the mosquitos are withering away. 
3. Devil's Lake State Park
Devil's Lake State Park is one of the best spots in Southcentral Wisconsin for fall color viewing. And if you are up for a hike, you'll find the best views from the bluffs. 
But even if hiking isn't your thing, the beach areas offer a perfect spot for a fall picnic. 
If visiting Devil's Lake for a gorgeous fall hike or picnic, do yourself a favor and scrap up a campsite or get there bright and early to avoid waiting in a line to get into the park.
4. Copper Falls State Park
Copper Falls State Park shines in fall when the water flows and the leaves change color. 
Whether you are there to view the waterfalls or take a lovely hike around the park, you'll enjoy the crisp air and auburn colors. 
5. Wyalusing State Park
The location of Wyalusing State Park along the Mississippi River makes for a great fall camping trip. 
Book your campsite early, and snag a site in the Wisconsin Ridge Campground to get amazing views of the river below.
Did Your Favorite State Park Make the List?
More Wisconsin Content
Wisconsin Waterfall Road Trip Itinerary
11 Wisconsin with Waterfall Hikes
Map of Wisconsin Campgrounds
Wisconsin State Parks with Waterfalls