When planning a road trip, one of the biggest tasks we face is figuring out how to find attractions along a route.
Not only do you have to worry about finding a place to stay and eat, but you also want to make sure that there are plenty of fun things to do along the way. 
The beauty of a road trip is finding those hidden gems along your route and this post is here to help you do just that. 
We'll give you the tools you need to find attractions both ahead of time and while on your road trip. 
Let's dive in!
Roadtrippers
I'm going to start with what we feel is the best tool for finding attractions and things to do along your road trip route, Roadtrippers.
Roadtrippers is likely the most popular website/app for helping you plan and execute your road trip. And for good reason.
It has a large database of attractions, activities, campgrounds, restaurants, etc. And all in an easy-to-use website and phone app. You can filter results so you can find the exact type of activity you are looking for along your route. 
It's an extremely powerful tool that all road trippers should check out.
There is a free version where you'll have limited waypoints to add to your trip if you are using it to plan your route. The paid version gives you more options and removes ads. But if you are simply looking for things to do along your road trip route, the free version is more than adequate.
But if you plan a lot of road trips or have a big trip coming up, you may want to look at the Plus (paid) Version. Get $5 off by using promocode: BTR5QTP
For a full tutorial on how to use Roadtrippers, check out The Stoke Fam's detailed blog post. 
Google Maps
Google Maps holds a wealth of knowledge and is useful for both planning your road trip and providing you with turn-by-turn directions during your road trip. But in our opinion, it isn't the best for finding attractions along your route. It simply seems to miss a lot unless you zoom in on your route.
But it is still a decent option if you don't want to learn a new app or website.
Google Maps is best used for planning your trip on your computer and not when you are already on the road. And if you really want to use the power of Google, it's a great way to create a custom road trip map to help you plan your trip.
You can search on the Google Maps app on your phone as well. It's just not as user-friendly and doesn't give the best results.
Follow these steps to use Google Maps to find attractions along your route:
Enter a destination and starting point. Click Directions.
Click the magnifying glass on the top
On the left, click "things to do."
Protip: Google Maps tends to find more attractions when you zoom in on an area and click "search this area".
iExit Interstate Exit Guide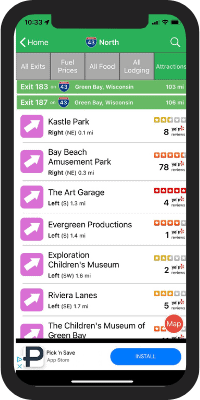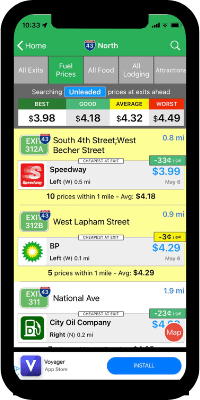 iExit is a helpful app that you can use to find attractions along the interstates you are traveling. 
It tells you what types of stores, restaurants, and services are at each exit. But it also allows you to filter results, so you only see the ones that interest you. For example, if you are craving fast food, you can filter the results only to show fast-food options at your upcoming exits. 
It's helpful when planning your route ahead of time and also on the road when you want to quickly lookup where the nearest restaurant or gas station is. iExit also helps you locate the cheapest gas prices around you.
Facebook Groups
Another helpful tool for finding attractions along your road trip route is Facebook groups. There are a variety of different groups that you can join to find attractions and activities in the areas you'll be driving through.
So whether you're looking for hiking trails, historic sites, or amusement parks, there's most likely a Facebook group out there that can help.
The great thing about Facebook groups is that they are often run by locals who know the area well and can recommend something that other online reviews might not always pick up on. So be sure to check out some Facebook groups next time you're planning a road trip.
Our favorite group for USA road trips is USA Road Trips Share Your Adventures. But before we head out on a road trip, we always join a bunch of groups specific to the area we are traveling. It's amazing the tips you'll get in these knowledgeable groups. 
More Road Trip Planning Tips:
How to Budget For a Road Trip
15 Long Distance Driving Tips
Money-Saving Tips for Your Next Road Trip
Billboards along Your Route
One of the simplest ways to find interesting places along your road trip route is simply by looking for billboards. You'll see a lot of them as you're driving and they can be helpful in finding things to do along your route.
We would have never stopped at the world's largest candle if we didn't see 10 billboards enticing us to stop. Attractions like these are a fun place to stop for a quick bathroom break and a stretch of the legs. And they are typically right off the interstate so they don't add a ton of time onto your trip.
Just be sure to take note of the exit number so you can easily find it when you're ready to exit.