If you love waterfall chasing, Michigan, specifically Upper Michigan, is a destination you can't miss.
The Upper Peninsula in Michigan has over 100 known waterfalls waiting for you to explore. Many of the waterfalls are along the shores of Lake Superior. But you'll also find waterfalls in the interior of the Upper Peninsula. All these waterfalls can make for epic Upper Michigan road trips.
Hiking to waterfalls is one of our favorite things to do when we travel. We started chasing waterfalls with a waterfall tour of Marinette County in Wisconsin. And now, whenever we travel in the Midwest, we seek out waterfalls.
We've created several custom maps to help us find waterfalls, including those below Michigan's waterfalls. These maps can be saved to your phone for easy access while on the road. Or it can be used at home when planning your adventure.
This map was created with the help of the book Waterfalls of Michigan by Greg Kretovic. This is a must-have book to keep in the car with you when you head out on your Michigan waterfall adventures.
Let's chase some Michigan waterfalls!
Map of Michigan Waterfalls
How to Use This Map: Click on the icon on the top left-hand corner. You will now see a list of all of the waterfalls in Michigan.

For more info on each, click on the map icons.

To see the map in more detail, click on the [ ] in the top right-hand corner. This will open a larger map where the details of each point can be found by clicking on the location point name in the list on the left.

You can also save the map for your own use by clicking the⭐ next to the map name. This will save the map to your Google Maps, where you can make a copy and use it for your own trip planning.

To view the saved map on your phone, open Google Maps, click "saved" on the bottom, and then "maps" on the lower right. For offline viewing refer to steps 5-7 in How to Create a Custom Google Map.

Do you want to create your own Google Map? Check Out How to Create a Custom Google Map
Best Waterfalls in Michigan
Let me start by saying we have not been to all Michigan waterfalls. Below is a list of our favorite waterfalls that we've gotten the chance to explore in Upper Michigan.
Tahquamenon Falls
The largest waterfall east of the Mississippi is Tahquamenon Falls. And it's a waterfall that can't be missed if you are in the area.
At the Upper Falls, take a short 0.3 walk to 94 steps that will take you down to the Upper Falls viewing platform. When you arrive at the Upper Falls observation platform, do not be surprised if a crowd is already watching and photographing the Upper Tahquamenon Falls.
While the size of this waterfall makes it spectacular, the water's amber color caused by the tannins in the water adds an extra special flair.
When here, don't miss out on checking out the Lower Falls area of the park. Here, you'll find five beautiful cascades. Renting a rowboat, you can also get a different perspective of the falls.
There is also a brewpub in the State Park if you are hungry after climbing all those stairs.
Montreal Falls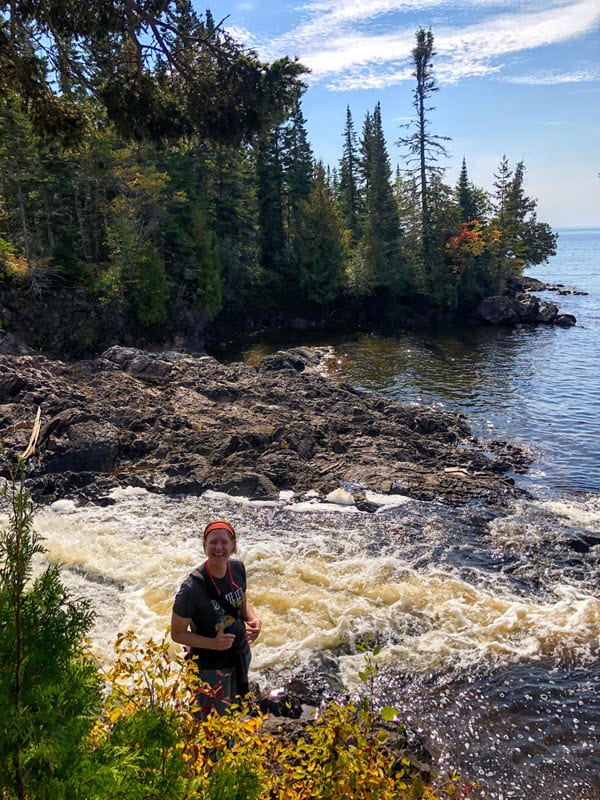 Montreal Falls is one for the adventure seeker. It was one of our favorite things to do in the Keweenaw Peninsula.
This falls requires at least a 3-mile hike round trip to view it. But it's definitely worth the effort.
The hike runs along the lakeshore, and there are roots and rocks to deal with. The trail can also be muddy at times.
There are two sets of falls for viewing, the lower and upper. The lower falls are worth the trip, so even if you don't want to make the trek to the upper, this hike is still worth it.
The hike to the upper falls adds about 0.5 miles each way and is a bit more rugged than the trail to the lower. We highly recommend trekking to the upper falls if you have the energy.
NOTE: Part of the road to the falls is a private road. The owners have opened it to the public, but sometimes, there is a closed gate about one mile before the trailhead. This could add 1 mile each way to your hike. The gate was open when we went, but I have read that others have not had the same experience.
Presque Isle River Waterfalls
These waterfalls can be viewed with one of the best day hikes in the Porcupine Mountains.
But if you aren't up for a longer hike, the waterfalls are accessible by viewing platforms requiring short hikes. We recommend hiking the waterfall loop if you are able.
In this area, you will get to see three impressive waterfalls along the Presque Isle River.
If you hike the loop around the falls, you'll be able to walk down and get up close and personal with some of the waterfalls. The landscape allows you to easily step out onto rocks to explore the falls. 
While this hike can easily be completed in 90 minutes, you'll want to plan for much more time than that. There are many places to sit along the way and appreciate the scenery and so much to explore!
More Upper Michigan Content:
Michigan's Upper Peninsula Road Trip: Must-see Stops
Things to Do in the Keweenaw Peninsula
Map of Michigan Campgrounds
Tips for Chasing Michigan Waterfalls
Use a Map That Doesn't Rely on Cellular Service
Cell service can be intermittent when traveling in the Upper Peninsula of Michigan, so you cannot rely solely on access to your phone's online maps.
Here are two things you can do to help make sure you don't get lost:
Have a paper map with you. You can use your trusty old road atlas.
Before you leave for your trip, download a map of the area in either Google Maps or Apple Maps so you can use it offline (when you don't have cellular service).  
Don't Follow Google Maps Blindly
While we love Google Maps, it takes us on some strange routes while traveling in more rural areas.
I think this is because Google is trying to take you on the most efficient route regardless of the type of road or road blockages you may encounter.
Google told us to take some impassable routes for our front-wheel-drive van. Roads that were intended for either farm or construction equipment only.
Therefore, as you embark on your adventure, don't follow Google Maps' directions blindly. Pay attention to the quality of the roads you are on and if your vehicle can successfully get you to your destination on that road. 
Carry a GPS device and Compass With You on Your Waterfall Hikes
Some of the waterfalls on this map can only be reached by taking unmarked trails. And even if the trail is well marked, it's always a good to be fully prepared in an emergency.
Therefore, for your safety, make sure you have a GPS device, like a fully charged phone and a battery bank. Also carry a compass if your phone does not have one built in.
More Midwest Waterfall Maps:
Minnesota Waterfall Map
Wisconsin Waterfall Map + 2 Itineraries
Leave No Trace Behind
One way we can ensure all enjoy these beautiful areas is to leave no trace when visiting. Other than some footprints, the next person to view the waterfall should not know someone was here before.
Therefore, pack out what you brought in. This includes any toilet paper if nature calls while you are on the trails.
Purchase a Michigan Waterfall Guide
When I found the book Waterfalls of Michigan: A Guide to More Than 130 Waterfalls in the Great Lakes State, I knew I had to get one to keep in the van for our Upper Peninsula adventures.
This book by Greg Kretovic provides insight into each waterfall and also indicates which are must-sees.
It details all of the waterfalls in Michigan. And it gives GPS coordinates, details, and tips for each one.