As the largest city in Wisconsin, Milwaukee is a great place for a romantic getaway. From intimate hotels to cozy restaurants and bars, you'll be sure to find some way to spark romance.
And after living in Milwaukee for over 15 years, we have some great recommendations for you for where to stay and how to spend your romantic Milwaukee getaway.
Here are our favorite things to do and places to stay when we need a little romance in our own lives. 
Get a Free Custom Milwaukee Itinerary
Want a custom Milwaukee itinerary created just for YOU?
Click below and fill out the Google Form. And we'll create your custom Milwaukee adventure!
Where to Stay for a Romantic Milwaukee Getaway
Let's be honest. Where you stay for your Milwaukee couples getaway is one of the most important decisions you will make for creating those romantic vibes. 😉
Here are our favorite hotels in Milwaukee that are guaranteed to spark that romance!
Pfister Hotel
Choosing the Pfister Hotel is a no-brainer for sparking romance in Milwaukee. It's one of the most iconic landmarks and ranks among the top-notch hotels in the Midwest. And, when you enter, you will feel like you have been swept away to a faraway land. 
Nestled in the heart of downtown, this historic hotel has been a constant since 1893, hosting presidents, celebrities, and distinguished guests. It's also known for its impressive collection of European art, the largest outside of Europe.
Step into one of their plush guestrooms or suites for a truly romantic and luxurious stay. Each space is thoughtfully adorned with modern comforts and lavish fabrics to ensure utmost relaxation.
But the indulgences don't stop there. The hotel boasts a variety of eateries and bars, a magnificent indoor pool offering city panoramas, and a renowned spa that all screams romance.
Have a pet? Perfect! The Pfister Hotel is a winner when it comes to pet-friendly accommodations in Milwaukee. So, feel free to bring along your four-legged friend!
End your day in style at the romantic BLU Lounge and Bar, perched on the 23rd floor. Sip on a classy cocktail while feasting your eyes on breathtaking views. It's like being on top of the world.
County Clare Irish Inn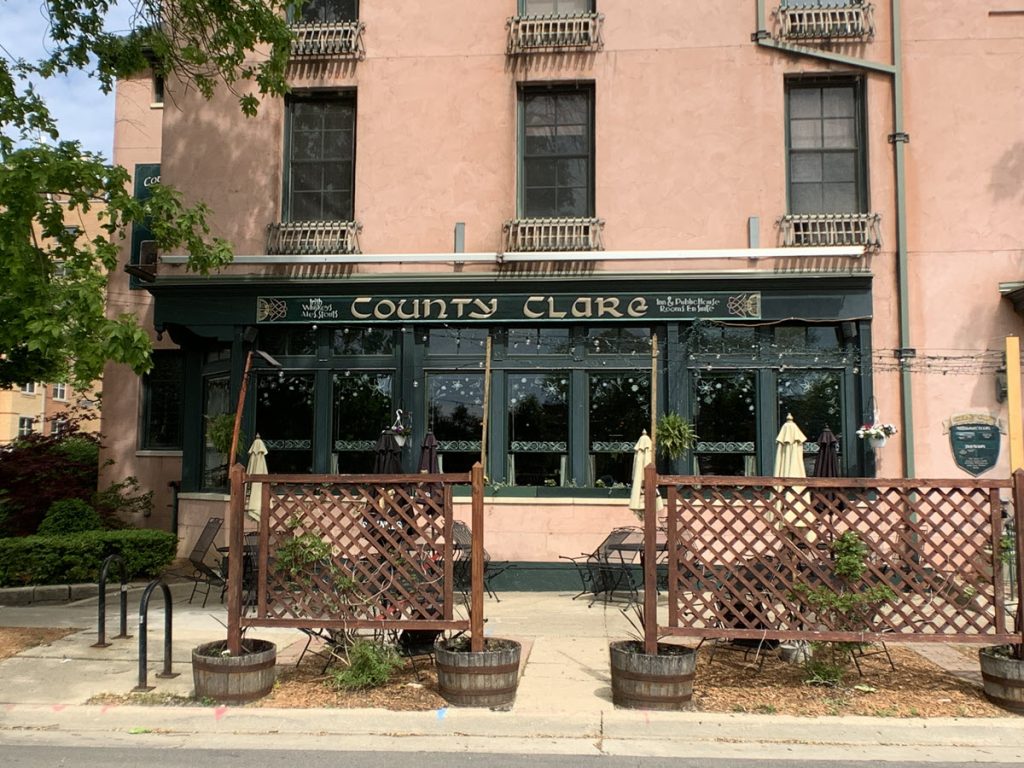 Step into the warmth and charm of County Clare, a delightful Irish Inn and Pub that instantly feels like home.
The quaint and cozy rooms are your relaxation retreat. And what brings the romance to County Clare is that each room boasts a luxurious jacuzzi tub. 
But that's not all. Every morning at County Clare begins with a lovely continental breakfast spread. An omelet station and an assortment of bakery items set you up for an exciting day.
And what about the location? It's hard to beat! You're just a stroll away from some of Milwaukee's most loved attractions – the Milwaukee Art Museum and the buzzing Brady Street, known for its superb dining and shopping experiences. Plus, the Historic Third Ward is within easy reach.
And here's a must-do while you're here – dine at the pub. The traditional Irish cuisine on offer is tasty. One bite of County Clare's restaurant dishes, and you'll feel like you've been whisked away to Dublin.
St Kate – The Art Hotel
St Kate – The Art Hotel is a captivating haven nestled just a short stroll from Milwaukee's Historic Third Ward and a stone's throw from the city's renowned theaters. This gem of a hotel seamlessly marries art and luxury for a perfect couple's getaway.
Art isn't just decor at St. Kate; it's an integral part of your journey. Every corner teems with the creative expression of regional artists, painting a vibrant picture of Milwaukee's history and culture.
You'll be thrilled by the room offerings at the hotel. Each space is generously proportioned and offers unique features you won't find elsewhere. Expect local art, a record player, a ukulele, in-room butcher paper with crayons for unleashing your creativity, and breathtaking city views. Opt for a Premier Room and enjoy an elevated view from the higher floors.
Looking for a delicious meal or a tasty cocktail? Saint Kate has you covered. Head to the downstairs bar for a pre-show drink, or swing by Giggly's vibrant champagne bar for an exciting night out. Saint Kate isn't just a place to stay – it's a culinary and cultural destination.
Kimpton Journeyman Hotel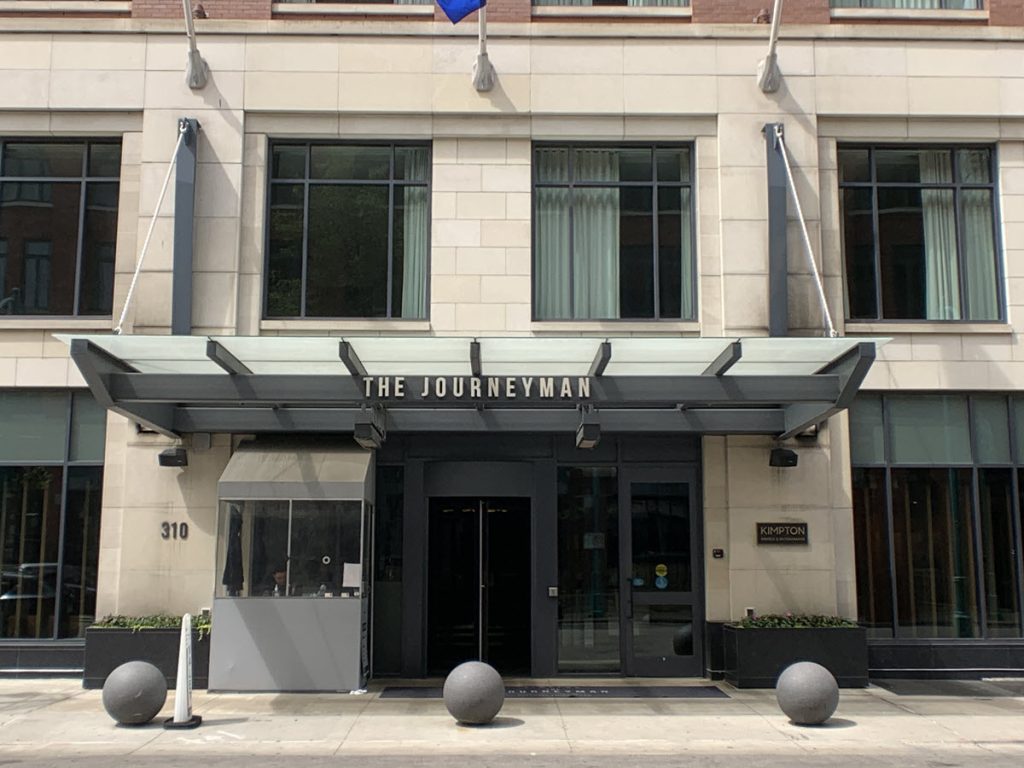 Nestled in the historic Third Ward district, the Kimpton Journeyman Hotel surrounds you in a warm, cozy atmosphere that screams romance. As you step into the lobby, the inviting aroma of a crackling fire greets you.
Expect nothing less than top-notch luxury that is synonymous with the Kimpton brand. Excellent service, heavenly beds, and high-end toiletries – it's all part of the package. Moreover, each room houses unique art pieces from local talents, perfect conversation starters.
Are you bringing your furry friend along? Perfect! This hotel loves pets and offers special pet amenities without any extra charges.
In the mood for a chill evening? Enjoy the hotel's on-site restaurant and bar. And make sure to check out The Outsider, the hotel's stunning rooftop bar on the 9th floor. It's one of the city's finest!
The Muse Gallery Guest House
Immerse yourself in the charming ambiance of 19th-century architecture at The Muse Gallery Guesthouse. Here, four snug rooms await you, each with high ceilings, intricate woodwork, delightful bay windows, and antique fireplaces, adding an extra sprinkle of charm.
To escalate your relaxation game, choose Julia's suite. With its cozy two-person soaking tub nestled right within the room, you can immerse, unwind, and surface feeling utterly pampered.
But what's truly unique about this guesthouse? It's not just a place to rest your head – it's also a thriving art gallery! Here, local artists get the spotlight, showing off their creativity and making art accessible to all guests.
Nestled in the vibrant Bay View neighborhood, the guesthouse is within a stone's throw of several beer gardens, trendy restaurants, lively bars, and shops. So, whether you fancy exploring the buzzing nightlife or treating yourself to some shopping, you're perfectly placed for it all.
Manderley Bed and Breakfast
The Manderley Bed and Breakfast is an enchanting and historic mansion that simply oozes romance and elegance.
Sprung up in 1886, this beautiful Queen Anne Mansion is famed for its captivating Milwaukee cream city brick, earning it a rightful spot on the National Register of Historic Places. You'll find every room adorned with unique antique furniture and captivating art.
Two out of their four cozy rooms, fondly named Millie's and Bessie's, come with the inviting lure of whirlpool tubs. After a day wandering around Milwaukee, what could be more romantic than a soothing soak in the jacuzzi?
Kickstart your day with a scrumptious breakfast featuring farm-fresh eggs straight from the chicken coop out back. It's an adorable coop worth taking a moment to admire.
The Manderley Bed and Breakfast weaves together rich history and luxuries, crafting a unique and unforgettable Milwaukee experience.
Related Posts:
Hotels in Milwaukee with Hot Tubs
Best Romantic Hotels in Milwaukee
Romantic Places to Eat in Milwaukee
Milwaukee has no shortage of romantic restaurants. 
So whether you are looking for a small intimate restaurant or looking for the finest dining experiences in Milwaukee, this list of romantic restaurants will surely have something that will pique your interest. 
Lake Park Bistro – $$$
Nestled in the verdant beauty of Lake Park, Lake Park Bistro truly stands out as a pinnacle of romantic dining in Milwaukee, Wisconsin. Known for its breathtaking views over Lake Michigan, this serene spot is perfect for couples looking to kindle or rekindle a spark.
The cuisine here is remarkable, offering a sophisticated blend of classic French fare prepared with local and seasonal ingredients.
Further enhancing the experience is an extensive wine list, boasting a collection of French and American wines hand-picked to complement the dishes. The restaurant's decor mimics a French country house, while the tranquil ambiance and attentive service make each dining experience uniquely intimate.
Lake Park Bistro provides the quintessential romantic backdrop for celebrating love, laughter, and beautiful shared memories.
Ardent – $$$
Ardent, nestled in Milwaukee's East Side, presents an enchanting space for a romantic dining rendezvous.
Here, James Beard Nominee for Best Chef in the Midwest, Justin Carlisle, orchestrates a symphony of flavors through his exquisite tasting menus.
Chef Carlisle's deep respect for Midwest ingredients shines through each course, merging comfort and novelty in a harmonious blend.
The ever-evolving seasonal menus keep guests on a culinary journey of discovery, showcasing locally sourced ingredients in a new light. And an optional beverage pairing is offered, expertly curated to enhance the flavors and elevate the overall dining experience.
The intimate atmosphere, created by the softly lit, minimalist decor and the thrill of the open kitchen, add to Ardent's allure.
Sanford – $$$
Sanford is a true culinary gem in Milwaukee, occupying a charming building that once housed a family grocery store.
Under the leadership of a James Beard Award-winning chef, Sanford offers a menu full of inventive American cuisine. Each dish is a testament to the chef's knack for elevating locally sourced ingredients into elegant, delectable masterpieces.
The restaurant's warmth is enhanced by its rich history and the intimacy of its dining space, providing an atmospheric setting for a romantic evening.
Whether you are savoring their four-course daily changing menu or opting for à la carte, dining at Sanford is an unforgettable experience steeped in love and tradition.
Balsac – $$
Located in Milwaukee's vibrant Brady Street Neighborhood, Balsac Wine Bar has a cozy atmosphere with delicious food and drinks. Its chic interior, enhanced by the soothing warmth of candlelight, provides an intimate ambiance for those special date nights.
The restaurant is known for its stellar wine list featuring a diverse selection of vintages, perfectly paired with a menu of refined small plates. The French-inspired cuisine, showcasing the freshest local ingredients, further enhances the romantic allure.
At Balsac Wine Bar, expect a memorable evening filled with delightful sips, scrumptious bites, and an atmosphere that invites romance and lasting memories.
Centro Cafe – $$
Centro Cafe, situated in the heart of the Riverwest Neighborhood, is a hotspot for romantic dining.
This Italian-inspired restaurant draws couples in with its modern, chic ambiance and a menu that pays homage to classic Italian cuisine. Each dish is crafted from scratch, utilizing the freshest, seasonal ingredients, ensuring you walk away with a satisfied tummy. They also offer many gluten-free options for pasta. 
The inviting interior, with warm lighting and tasteful decor, creates an intimate setting for a charming date night.
Centro's expansive wine list, expertly paired with its delectable dishes, completes the dining experience.
It's a place where love for food and love for each other are celebrated in equal measure.
The Noble – $$
Located in the trendy Walker's Point neighborhood, The Noble is a quaint restaurant with a small daily menu that is always changing. 
What makes The Noble a romantic restaurant is its size. With less than 10 tables in the restaurant, you are guaranteed to have an intimate experience. And couple that with delicious menu options, you can't go wrong with a romantic dinner at The Noble.
Due to its small size and no reservation policy, we recommend you get there when they open at 5 pm to grab one of the first tables. 
Bernie's Chalet – Lakefront Brewery – $
So, a brewery is probably not what you think of when you think of romance. 
But this date night experience in Bernie Brewer's original chalet is worth your consideration, especially for any Milwaukee Brewers fans. 
Decorated with twinkle lights and overlooking the working Lakefront Brewery, you can sample beer and enjoy a casual private meal with your sweetheart. 
You can reserve the chalet for 90 minutes; during this time, you'll have access to Lakefront's full menu.
It's quite the experience, and while it may not scream romance, it's a fun date idea you'll remember. 
Romantic Places for a Drink in Milwaukee
At Random
At Random, situated in Milwaukee's charming Bay View neighborhood, is a vintage cocktail lounge steeped in nostalgia and romance.
Its 1950s-inspired decor, featuring low-lit booths and a shimmering bar, sets the stage for an intimate evening. They also have a charming patio to enjoy in the warmer and winter months. 
The drink menu impresses with an array of timeless classic cocktails and delicious ice cream drinks (vegan options available), perfect for sharing with your special someone.
The enchanting ambiance of At Random and its superb drink offerings transports guests to a bygone era of romance, making it an ideal spot for cozy, whisper-filled conversations and shared moments of affection.
Bryant's Cocktail Lounge
Bryant's Cocktail Lounge icon of romantic imbibing.
A beloved establishment since the 1930s, Bryant's exudes an intoxicating charm with its vintage ambiance and dimly lit, velvet-clad interior.
There's no set cocktail menu here; instead, skilled bartenders customize drinks based on guests' preferences, making each visit a unique, personalized experience.
Whether you're toasting to love with a classic cocktail or savoring a novel concoction created just for you, Bryant's offers an unforgettable romantic setting as intoxicating as the cocktails it serves.
Blu – The Pfister Hotel
Perched atop the historic Pfister Hotel, Blu offers a sophisticated drinking experience with an unrivaled view of Milwaukee's skyline.
This chic bar, with its elegant decor and panoramic city views, is the perfect setting for a romantic night out.
The cocktail menu boasts an array of well-crafted classic and contemporary cocktails, complemented by a selection of fine wines and beers.
Live jazz music on select evenings adds to the romantic allure.
In Blu, you don't just savor a drink – you indulge in a luxurious experience filled with stunning vistas.
Edith
Edith Cocktail Bar offers an intimate atmosphere paired with some carefully crafted cocktails. This newcomer to the Milwaukee craft cocktail scene took its inspiration from the speakeasies of New Orleans, New York, and London.
Located just west of the Milwaukee River and near many of Milwaukee's downtown attractions, Edith Cocktail Bar is a perfect place to stop on your romantic tour of Milwaukee. 
Edith Cocktail Bar prides itself on using fresh and quality ingredients to create their takes on classic cocktails.
Outsider – Kimpton Journeyman Hotel
The Outsider, nestled on the rooftop of the Kimpton Journeyman Hotel in the Third Ward, offers a modern twist to the romantic night out.
This stylish rooftop bar boasts impressive cityscape views and an inviting, chic ambiance that sets the tone for an unforgettable evening.
The drink menu shines with artisan cocktails, fine wines, and local craft beers.
The outdoor fire pits and comfortable seating foster a warm, intimate atmosphere, perfect for whispering sweet nothings.
With its blend of urban sophistication and cozy intimacy, The Outsider provides a memorable setting for romantic rendezvous beneath the city lights.
Mosler's Vault
Located in an old United Federal Savings & Loan bank vault, Mosler's Vault is a tiny and intimate cocktail bar.
Run by the imaginative Bittercube folks, they offer several options for enjoying their creative libations. Sign up for a chance to pick cocktails from their a la carte options, or stay a bit longer and do a cocktail tasting. 
Romantic Things to Do in Milwaukee
Chocolate and Drink Pairing at Indulgent Chocolatiers
For couples with a sweet tooth, visiting Indulgence Chocolatiers is essential.
This Milwaukee-based artisan chocolate shop offers chocolate and drinks pairings, a unique and intimate experience that's both educational and delectable.
Whether you're savoring a rich truffle with a glass of red or exploring the unexpected harmony between a craft beer and a cocoa nib bark, you'll surely have a fun and memorable time. 
Indulgence Chocolatiers provides a perfectly sweet addition to your romantic Milwaukee escapade.
Take a Stroll Along the Lake Michigan Lakefront
Strolling along the Lake Michigan lakefront offers a serene, romantic escape right in the heart of Milwaukee.
The picturesque shoreline provides stunning views and the soothing sounds of the waves provide a tranquil experience. 
Grab a coffee at Collectivo on the Lakefront or stop by the iconic Northpoint Custard Stand during your walk. This seasonal hotspot is famed for its delicious custard – the perfect sweet treat to indulge in while basking in the sun's warmth.
Walk the Milwaukee Riverwalk
Milwaukee Riverwalk is a vibrant, urban path stretching along the banks of the Milwaukee River, offering a unique perspective of the city. And it's one of the best things to do in Milwaukee on a sunny afternoon.
A key sight along this bustling route is the Bronze Fonz, a quirky statue paying tribute to the character from the iconic '70s show "Happy Days".
Alongside the diverse public art, the Riverwalk also hosts an array of waterfront restaurants, perfect for a pit stop to refuel or simply watch the world go by.
Whether you're there to appreciate the eclectic mix of city sights or for a leisurely amble, the Milwaukee Riverwalk serves as a living testament to the city's charm.
Milwaukee Art Museum
The Milwaukee Art Museum, with its stunning architecture and extensive art collections, makes for a unique and romantic date destination. Explore together through galleries housing over 30,000 works of art, from classics to contemporary pieces.
The iconic Quadracci Pavilion, designed by Santiago Calatrava, provides a spectacular backdrop for memorable photos.
And don't miss the picturesque views of Lake Michigan from the museum's grounds – an ideal setting for sharing a quiet moment.
Whether you're an art aficionado or a casual observer, the Milwaukee Art Museum offers a perfect blend of aesthetic beauty and shared discovery for couples.
Take a Tour of Milwaukee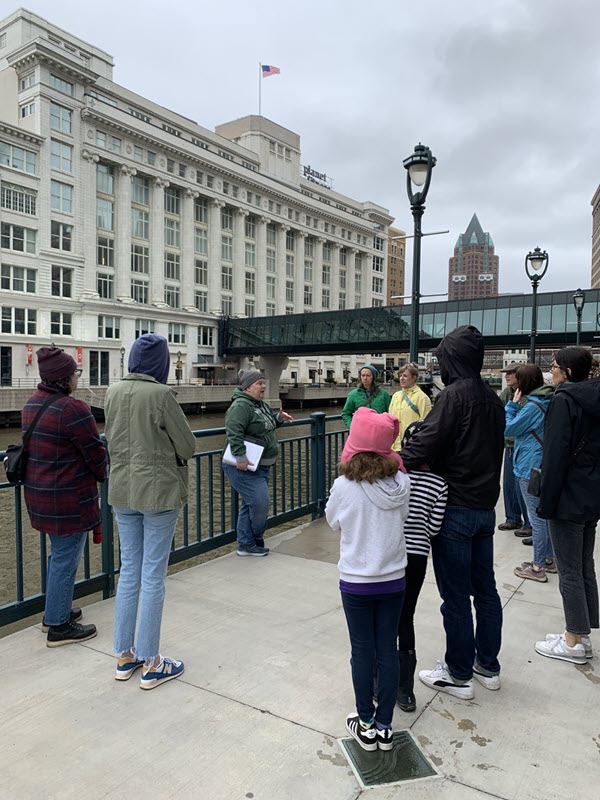 While not the most romantic thing, a tour of Milwaukee is a great way to explore the city. We've done the Historic Milwaukee walking tour and the Milwaukee Tour by Untapped Tours. Both of these tours will give you a great overview of the city and are led by passionate guides who can't wait to share their love of Milwaukee with you.
Another favorite is the Lakefront Brewery tour. After the tour, you can sit along the Milwaukee River on their patio.