Milwaukee is a hidden gem that often goes unnoticed by travelers, but those who take the time to explore it are in for a pleasant surprise. 
After living here for over 15 years, we are excited to share three great one-day itineraries for exploring Milwaukee. 
With its rich history, scenic lakefront location, and lively culture, Milwaukee has something for everyone. And we'll offer up several suggestions for itineraries based on your interests.
And if you have any questions, shoot us an email! We'll be happy to answer any questions you may have! 
Milwaukee Day Trip Itinerary Suggestions
One Day in Milwaukee for Food and Drink Lovers
Milwaukee has fantastic restaurants and drinking establishments. Over the years, we've been to many bars and restaurants. 
Here is how we suggest spending a day in Milwaukee if you want to try the best of the Milwaukee food and bar scene. 
Stop 1: 
If you are an early riser, start with a coffee from Colectivo Coffee on the Lakefront. Either enjoy the patio, hang out inside (it's an old water pump house station), or take your coffee to-go and stroll along the Lake Michigan lakefront for a little exercise. 
Stop 2: 
Brunch at Uncle Wolfies in the Brewers Hill neighborhood. They don't take reservations, but the food is tasty and a great start to your day. 
Stop 3: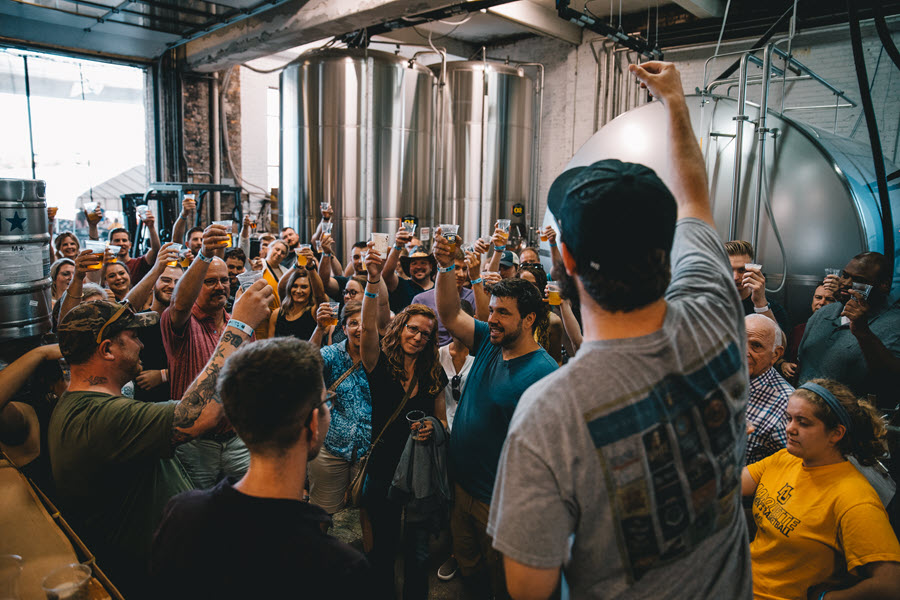 Sign up in advance for a tour of Milwaukee's iconic Lakefront Brewery. 
If you only do one brewery tour on your trip, make it this one. They aren't stingy with the samples, and the tour guides are entertaining. There is also a great patio along the river to hang out on after the tour.
Stop 4: 
If you want another drink or food, check out Eagle Park Brewery next. Their beers are unique and delicious, and their food is also great. We have them listed as one of the top breweries in Milwaukee.
Stop 5: 
Work off some of that food and drink and head down to the Milwaukee Riverwalk. Stroll along the river and find the Bronze Fonz and Gertie the Duck
Stop 6: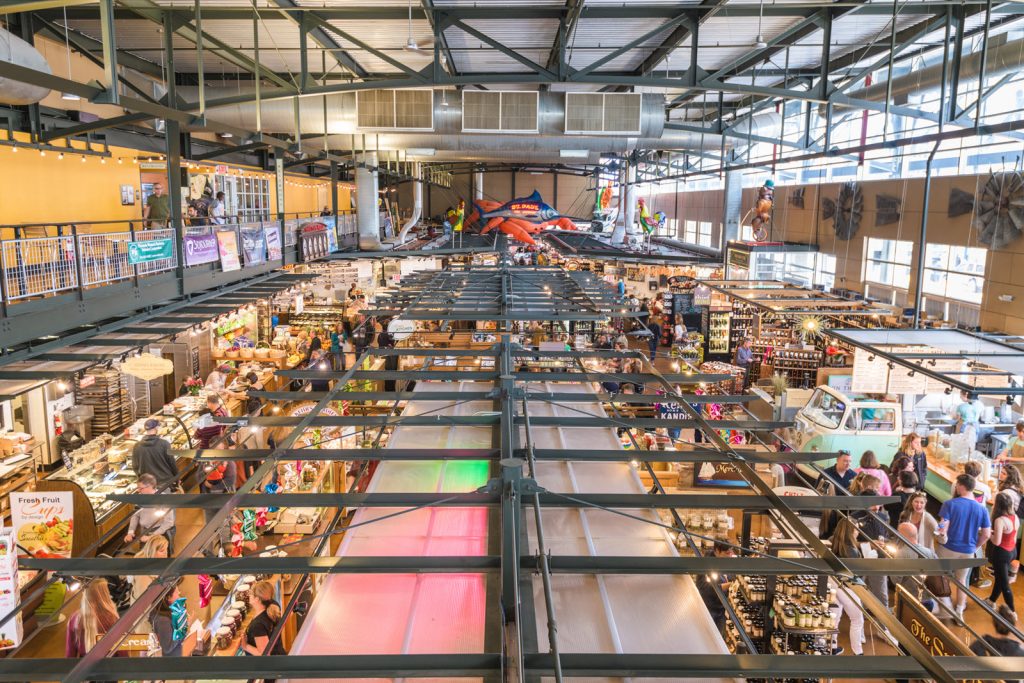 Check out the Milwaukee Public Market and shops in the Third Ward. If you want to feel like you've been transported to a tiki hut in the Caribbean definitely check out St. Paul's Fish Market. It's one of our favorite places to hang out. 
The bartenders are fun, the ambiance is energizing, and the food is delicious as well. If wine is more your thing, don't miss out on sitting at the Thief Wine bar. It's the perfect spot for some people watching at the market. 
Stop 7: 
For dinner, make reservations at either Odd Duck or La Merenda. 
These are our two favorite restaurants in Milwaukee. And if you don't make reservations, don't fret. They both have first-come, first-serve seating at the bar (which is honestly where we normally end up).
Stop 8: 
If you are still going after a full day of Milwaukee adventure, head to Boone and Crockett or Byrant's Cocktail Lounge for an after-dinner drink. 
Or try making lane reservations at Koz's Mini Bowl for a fun night of classic Wisconsin mini-bowling.
One Day in Milwaukee for History and Culture Lovers
As the largest city in Wisconsin, Milwaukee is full of history and culture. 
With its strong German heritage and beer brewing history, Milwaukee is a great place to learn about the history of beer. It's also home to many museums that both history and art lovers will enjoy. 
Stop 1: 
Start with brunch at Engine Company No 3 in the Walker's Point neighborhood. It's a great restaurant located in an old firehouse.
Stop 2: 
Check out one of Milwaukee's Museums. Our favorites are the Harley-Davidson Museum and the Milwaukee Public Museum, but art-lovers will love the Milwaukee Art Museum. 
If you don't head to the art museum, at least stop by to view the famous wings of the Quadracci Pavillion.
Stop 3: 
Head down to the Historic Third Ward for shopping and lunch. The Milwaukee Public Market has great food and drink options. Or another Third Ward favorite is Bavette La Boucherie.
Stop 4:
Explore Milwaukee's Brewing History with a tour of Miller Brewing or the Pabst Mansion. 
Stop 5: 
Stroll down the Milwaukee Riverfront and make sure to get your picture taken with the famous Bronz Fonz. 
Stop 6: 
Get your classic German fare at Mader's located on Old World Third Street. This restaurant will make you feel like you've jumped on a plane and landed in Germany. The atmosphere is cozy and the food is warming. 
Stop 7: 
If you are up for more and after dinner drink, check out Blu in the historic Pfister Hotel. 
The Pfister Hotel is one of the coolest hotels in Milwaukee. It's home to the largest collection of European artwork outside of Europe. And at Blu you'll get to see downtown Milwaukee from above while sipping on a fancy cocktail. 
One Day in Milwaukee for Beer History Lovers
With its rich history, Milwaukee is a great city to dive into brewing history. And there are plenty of options to explore both historical and current breweries in Milwaukee. 
Stop 1: 
The first stop always needs to be brunch. Especially if you are going to spend your day trying a few delicious beers. 
Suggestions for brunch include: Uncle Wolfie's (especially if Lakefront Brewery is on your list of to-do's), Sweet Diner in the Third Ward, or Engine Company No 3 in Walker's Point.
Stop 2: 
Take a brewery tour. 
Our top picks for brewery tours in Milwaukee are Lakefront Brewery and Miller Brewery. 
Lakefront Brewery has been a  Milwaukee craft beer staple since 1987. And their tours are a blast. Over the years, we've been on this tour multiple times with visiting friends and family. Plus, you get a decent amount of samples throughout the tour. 
The tour at Miller Brewery is also fascinating as you get to see a large-scale brewery operation and learn about the history of Miller in Milwaukee. 
Stop 3: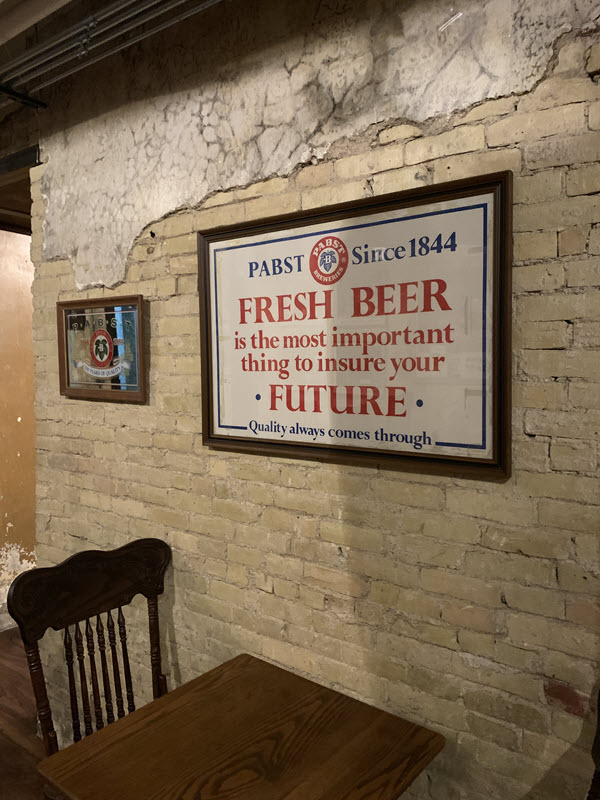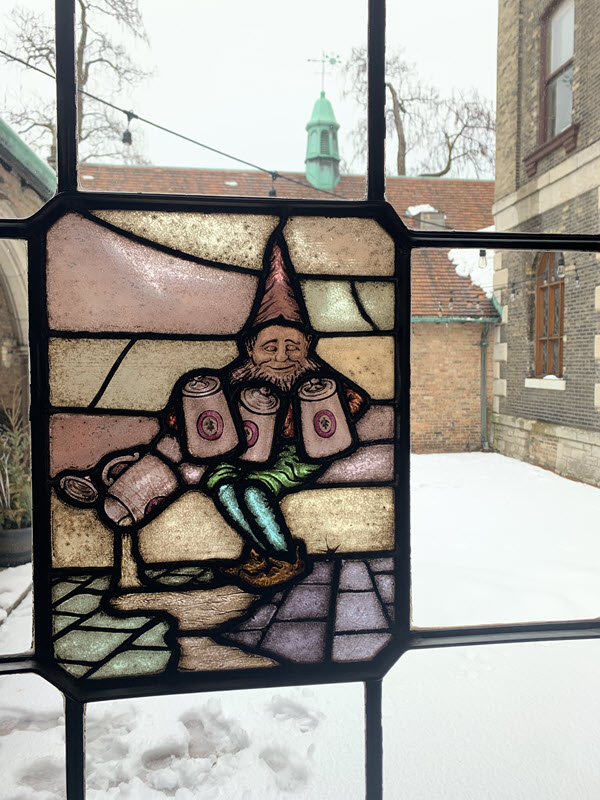 Learn more about beer history in Milwaukee with a tour of Best Place or the Pabst Mansion. Both of these tours revolve around Pabst and the Pabst family.
Pabst Brewery started as Best Beer and later became the beer we know today, Pabst. A tour of Best Place takes you through restored buildings in the Pabst Brewing complex. It's a great 1-hour tour, and you'll get an appreciation for where Pabst started and how its brand was revived in the 1990s. 
Now if you want to combine beer history with architecture, a tour of the Pabst Mansion is for you. On the tour, you'll learn about the Pabst family and experience the beautifully restored mansion inhabited by the influential family. 
Stop 4: 
Try out some of the best Milwaukee craft breweries. Our favorites include Eagle Park, Supermoon, Indeed, and Central Waters. 
Both Eagle Park and Central Waters have food that won't disappoint. 
Stop 5:
With all this beer talk, you may need some food to add to the mix. 
With one of the best restaurant beer lists, Oscar's on Pierce is the place to be. It's also one of the best cheap restaurants in Milwaukee. 
Stop 6:
Grab some after dinner drinks at a great beer bar. 
Sugar Maple in the Bay View neighborhood and Roman's Pub on Kinnickinnic are our top picks for Milwaukee bars with the best beer lists. 
Looking for More Milwaukee Suggestions?
Best Milwaukee Restaurants:
Fun and Unique Places to Eat in Milwaukee
Best Cheap Eats in Milwaukee
Best Casual Restaurants in Milwaukee
Places to Stay in Milwaukee:
Cool Places to Stay in Milwaukee
Things to Do in Milwaukee:
Best Milwaukee City Tours