If you love waterfalls then a trip to Northeastern Wisconsin might be the perfect option.
In Marinette County, the waterfall capital of Wisconsin, you'll find beautiful waterfalls both hidden and easy to find. All of these waterfalls are relatively close together and don't require miles and miles of hiking to see them. It's a perfect 2 or 3-day road trip.
While some waterfalls in Marinette County are easy to access off the main roads and parks, others are located off of undeveloped forest roads. This makes finding and exploring these waterfalls fun and exciting. It also means there aren't big crowds of people. 
We spent two days getting up close and personal with the waterfalls in Northeast Wisconsin and loved it. 
This is a great road trip whether you like strolling through parks, or if you love finding those hidden treasures. 
Protip: Do yourself a favor and purchase this extensive book on Wisconsin waterfalls.
David Hedquist and his wife have spent countless hours exploring the waterfalls of Wisconsin. This book gives detailed descriptions of how to locate each waterfall and is a priceless resource to have in the car with you on your own adventure.
Best Time of Year for a Northeast Wisconsin Waterfall Road Trip
Spring. With the snow melting and the spring rainfalls, water levels in spring tend to be higher than at other times of the year in Wisconsin. This makes for a more powerful waterfall and cooler walking/hiking temperatures, making it a great time of year to visit.

While other times of the year can still be great times to visit the waterfalls in Marinette county, try to avoid dry periods when the falls may be slower, like in the middle of the summer. 
Where to Stay on Your Waterfall Road Trip
While it is possible to see all of the waterfalls in one long day, spreading them out into at least 2 days would make for an ideal road trip. 
So where do you stay during your road trip? 
Hotels
You can find hotels in the "larger" cities in the area like Iron Mountain, MI, or Marinette, WI.
Either of these locations would be great "base camp" areas. 
Bed and Breakfasts
When we aren't camping, we love checking out Bed and Breakfasts.
Both the M&M Victorian Inn and The Lauerman House are located in the city of Marinette and are worth checking out if you love a good Bed and Breakfast. 
Vacation Rental Properties
Whether you are looking for a remote cabin on a lake or an inexpensive room to crash in, vacation rental sites like Airbnb and VRBO have you covered.
From what I can see with a quick search, there are plenty of options to choose from in the area. 
Campgrounds
County Park Campgrounds
If heading on your waterfall tour after May 1st, you can camp at the beautiful Marinette County Campgrounds.
The campgrounds were not open during our trip, but we ran into two Marinette County Park employees, and they said their favorite campground was Morgan Park. 
Some campgrounds are reservation only, while others have some first-come, first-serve sites. 
From our experience with the waterfall tour, you can tell Marinette County takes pride in its parks, so I think any park in the system that you choose would be a good choice. They were all well maintained and the restrooms were exceptionally clean and stocked.
Related Post: Wisconsin County Parks with Campgrounds
National Forest Campgrounds
To the west of Marinette County is the Chequamegon-Nicolet National Forest which has numerous rustic campgrounds in the area.
This is where we stayed on our trip, mostly because these campgrounds were open during our trip while the country parks were not. And I will say that we loved every minute of our camping experience here.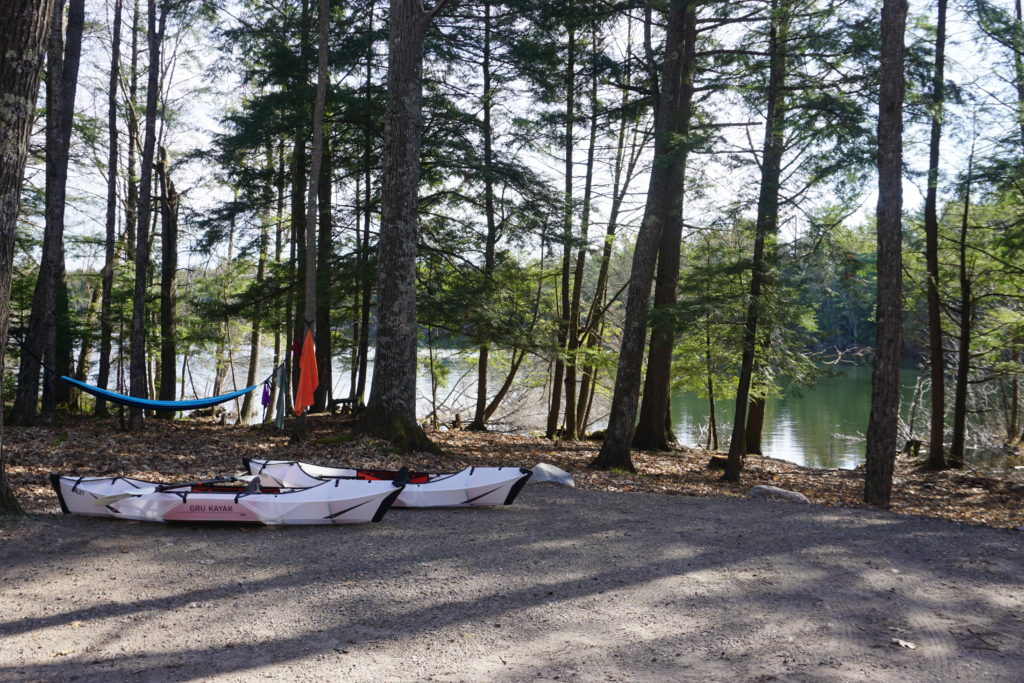 Depending on what time of year you go on your adventure, you can either reserve sites ahead of time or there are some first-come, first-serve sites.
We highly recommend checking out these campgrounds for your waterfall tour accommodations. 
For more campground options, check out our map of Wisconsin campgrounds.
Wisconsin Waterfall Road Trip Itinerary
We split our waterfall tour into two days. We focused on the south-central part of Marinette County on day 1 and then made our way to the northern waterfalls on day 2.
The falls in Marinette County are clearly marked with signs all along your tour. The turns to the falls are marked and when you get to the falls the walking distance to the falls and difficulty are displayed.
For the waterfalls that are located in Marinette County parks, a county park pass is required. Passes are available at the parks for $5/day or they can be purchased in advance here.
Pro Tip: Many of these waterfalls require a short hike (less than 300 yards), but many are on uneven trails. A good pair of walking shoes is recommended. 
2-Day Northeast Wisconsin Waterfall Road Trip Map
How to Use This Map: Click on the icon on the top left-hand corner. You will now see all of the layers of the map. Layers include places to see and driving directions. You can click the checkboxes to the left of the layer name to turn on and off the layers. Click on the map icons to get more info on each location.

To see the map in more detail, click on the [ ] in the top right-hand corner. This will bring to a larger map where the details of each point can be found by clicking on the location point name in the list on the left.

You can also save the map for your own use, click the ⭐ to the right of the map name. This will save the map to your Google Maps where you can make a copy and use it for your own trip planning.

Want to Create Your Own Map? Check out: How to Plan a Trip with Google Maps
Day 1: Wisconsin Waterfall Road Trip 
Driving Time: 2hrs
Total Miles: 70 miles
Time Recommended for Tour: 4 – 6 hrs
Veteran's Park
We started at the southernmost park, Veteran's Park, which is along the Thunder River.
This park is part of the Marinette County Park system and comes complete with a picnic area, bathrooms, and playground.
To see the cascading falls, you take a short 125-yard moderate hike just off of the playground. 
McClintock Rapids
Included in the waterfall tour are a couple of rapids. While not technically waterfalls, the rapids, and surrounding area are beautiful to see and explore. 
McClintock rapids are located in McClintock Park, also known as bridges park. There are 4 bridges in the park that allow you to get up close and personal to the rapids along the Peshtigo River. Total walking to the falls is only about 275 yards.
Strong Falls
Strong Falls is located in the beautiful Goodman Park.

Goodman park was probably our favorite park while exploring the waterfalls. A short 175-yard walk will get you to the falls from the parking area. 
Strong Falls is located along the Peshtigo River. And there are several bridges that allow you to see all of the nooks and crannies of the falls. 
It is a beautiful park that would make for a great picnic spot.
Carney Rapids
While the first 3 falls were easy to get to, the adventure to the next six took us down some undeveloped forest roads. Marinette County refers to these as the "hidden waterfalls" and that description holds true. 
Our front-wheel drive van didn't have any issues traversing these roads. So as long as it hasn't just rained heavily and the roads haven't turned to mud, you should have no problems getting to these falls and rapids. 
On your way to see larger falls, you will come across Carney Rapids.
While Carney Rapids did not blow our minds, it was on the way to see other falls, so there was no reason to not stop and see it. 
Four Foot Falls
When we saw the name "Four Foot Falls" we did not expect to be impressed with the falls. Well, I'm happy to say that we were wrong.
Four Foot Falls is a small but powerful waterfall. It's a moderate 225-yard trek to see the falls. 
Eighteen Foot Falls
The 300-yard trek to Eighteen Foot Falls was probably the most uneven trek we had on day 1. There were lots of roots and some rocks to climb over. 
The falls were impressive, although it was difficult to safely see the full falls. The adventure of getting there is the true gem of Eighteen Foot Falls. 
Twelve Foot and Eight Foot Falls
Located in Twelve Foot Falls County Park, these two falls were fun to explore. The hike to Twelve-Foot falls is about 350 yards while Eight-Foot falls were about 225 yards. 
Horseshoe Falls
The last of the "hidden falls" is Horsehoe Falls. It's a 0.7-mile trek to the falls. 
And as you could expect by the name, the falls are located at a point where the river curves around to form a horseshoe formation.
The horseshoe formation of the river allows for some great viewing areas of the falls. 
Dave's Falls
Dave's Falls was one of our favorite falls on the trip.

With a 250-year moderate hike, you get to see a powerful waterfall. You can see the falls from the trail, but there is also the option to do a little rock climbing to get a little closer to the falls.
Pro Tip: Always be aware of where the ledges are and proceed with caution when leaving the designated trail. 
Bull Falls
Bull Falls was a little harder to find as the parking area is just off the road and not marked as well as some of the others. 
There is a short 250-yard hike down from the parking area to see the falls. These falls seemed more like rapids to us and if we were to skip any of the falls on this tour this would be the one. 
But if you are like us and wanted to make sure you hit each waterfall on the then look for this parking lot and make your way to Bull Falls.
Day 2: Wisconsin Waterfall Road Trip 
Driving Time: 1hrs
Total Miles: 40 miles
Time Recommended for Tour: 3 – 5 hrs
Quiver Falls
The trip to view Quiver Falls in the Menominee River State Recreation Area was an adventure. 
Google Maps took us down some undeveloped roads and across railroad tracks to finally arrive at the falls. 
Follow signs for the Menominee River State Recreation Area, which will lead you to the Quiver Falls Overlook.
Once at the overlook, you can see the falls down below. The Menominee River is powerful and the view from the overlook was beautiful.
Long Slide Falls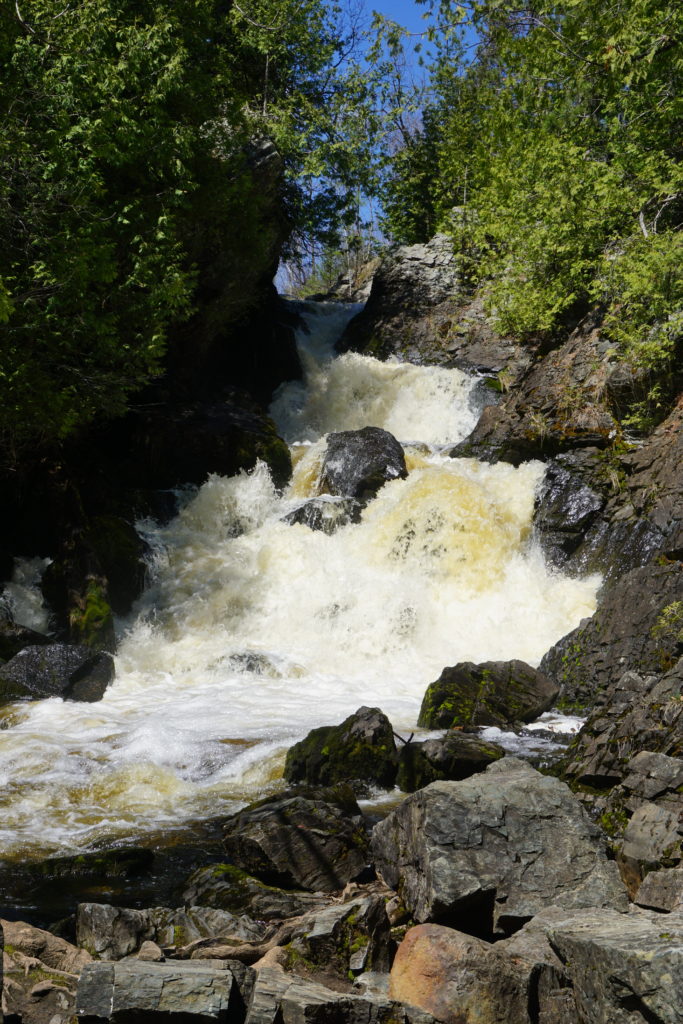 Another one of our favorites on our Wisconsin waterfall tour was Long Slide Falls along the Pemebonwon River. 
You can view the falls from the top, but I highly recommend taking the steep trek down 0.25 miles to view the falls from the bottom. 
We spent quite a bit of time sitting on the rocks at the foot of the falls, watching in awe while feeling the awesome power of the falls. 
Long Slide Falls is not to be missed on this waterfall tour. 
Smalley Falls
Smalley Falls is located just minutes away from Long Slide Falls. 
The trek to Smalley Falls is about 250 yards and takes you along uneven terrain. Once there, the falls can be difficult to see without doing a little exploring. 
But once you work your way over a few rocks, you get to experience a falls carving its way through a small and narrow space between rock formations. 
Pier's Gorge
Also on our must-see waterfalls list, Pier's Gorge did not disappoint. Here the powerful Menominee River cuts through rock to form a gorgeous gorge.
The best viewing of Pier's Gorge is on the Upper Peninsula Michigan side in Norway, MI. There is a 2.6 mile out and back hike along the gorge with viewing areas throughout. But you only have to go about 0.25 miles along the trail to get to some of the best viewpoints. 
We spent a few moments sitting along the trail just taking in the views. When we went during the spring, the water was rushing so fast that we could feel the breeze from its power as we got closer to the shoreline.
LaSalle Falls
Now, this waterfall is not officially on the official Marinette County Waterfall Tour. However, it's close and worth checking out.
Follow signs off of County Highway C to LaSalle Falls (on LaSalle Falls Road). There are signs along the dirt road letting you know you are going in the right direction. 
The hike to the LaSalle Falls was the longest on our road trip clocking in at 2 miles round trip. The hike is scenic and brings you to the falls where there are lots of opportunities to do a little adventuring to get closer to the falls.
We saw a lot of people fishing at the foot of the falls while we were there.
If you want to do even more adventuring from LaSalle Falls, you can follow signs to Washburn Falls. While not as impressive as LaSalle, it was a fun little adventure getting there and exploring the falls once there. 
For more Wisconsin Waterfall chasing check out:
11 Hikes in Wisconsin with Waterfalls
Wisconsin State Parks with Waterfalls
Tips for a Successful Wisconsin Waterfall Road Trip
Use a Map That Doesn't Rely on Cellular Service
Cell service is intermittent when traveling along the waterfall tour, so you will not be able to rely solely on access to your phone's online maps.
Here are two things you can do to help make sure you don't get lost:
Have a paper map with you. You can use your trusty old Wisconsin atlas, or contact the Marinette County Tourism department and have them send you a map.  
Before you leave for your trip, download a map of the area in either Google Maps or Apple Maps so you can use it offline (when you don't have cellular service).  
Don't Follow Google Maps Blindly
While we love Google Maps we have found that it takes us on some strange routes while traveling in more rural areas.
I think this is because Google is trying to take you on the most efficient route regardless of the type of road or road blockages you may encounter.

Google told us to take some routes that were impassable for our front-wheel-drive van. Roads that were intended for either farm or construction equipment only.
Therefore, as you embark on your waterfall tour, don't follow Google Maps' directions blindly. Pay attention to the quality of roads you are on and if your vehicle can successfully get you to your destination on that road. 
However, if you can use your GPS to get you to the general area of the falls, the location of the falls is typically well-marked by road signs. Follow the signs and they will lead you to the falls on safe roads fit for most vehicles.
Purchase a Wisconsin Waterfall Guide
When I found the book Waterfalling in Wisconsin: The Complete Guide to Waterfalls in the Badger State I knew I had to get one to keep in the van.
This book by David Hedquist is the most thorough travel book I've ever seen.
It details all of the waterfalls, rapids, and spillways in Wisconsin. And it gives GPS coordinates and tips for each one. There are even pictures of most of the waterfalls.
It's a great resource to have in the car with you on your trip.
Go With a Full Gas Tank
The waterfalls are in some remote areas without a nearby gas station. Make sure you don't risk of running out of gas in a remote area without cell phone service. Fill up before you depart for each day.
Other Adventures in the Area
Marinette County and the counties around it, like Florence and Oconto, have a lot to offer. Especially when it comes to enjoying the outdoors.
White Water Rafting
Both the Peshtigo and Menomonee Rivers are known for their whitewater rafting. 
According to Kosir's, a local whitewater rafting company, the "Roaring Rapids" section of the Peshtigo River is the longest stretch of continuous whitewater in Wisconsin and the Midwest. 
Therefore, if the water levels are right and you feel adventurous, I'd highly recommend booking a whitewater rafting trip.
Water levels are typically the best for rafting in the Spring, but companies also offer trips during the summer months. 
Cathedral Pines 
Cathedral Pines is part of the Chequamegon-Nicolet National Forest. It's 40-acres of white pine, hemlock, and red pine that managed to escape the lumberjacks in the 1900s. This old-growth forest is one of the few remaining stands of towering pine and hemlock in Wisconsin.
If you venture into Cathedral Pines keep your eye out for the nests of the great blue heron in the tall pine trees. 
Go Waterfalling!
Our waterfall road trip in Northeast Wisconsin was an adventure. We saw some great waterfalls and had fun exploring a part of the state we weren't very familiar with.
So if you have the itch to see a whole bunch of waterfalls in a few days, then we highly recommend a Northeast Wisconsin Waterfall Tour. 
GET A MAP OF WISCONSIN WATERFALLS HERE:
WISCONSIN WATERFALL GUIDE (WITH MAPS)