Door County is a popular vacation destination all summer long, but don't sleep on the option to visit during the winter! The off-season presents some unique experiences, as well as fewer crowds.
Check out our ideas for fun things to do in Door County in winter.  We list both indoor and outdoor activities and also give a few recommendations for restaurants that stay open in winter.
Outdoor Winter Activities in Door County
Snowshoe Through the Frozen Tundra
Snowshoeing is an excellent choice for your wintertime visit with the abundance of hiking spots in Door County. If you've never tried it before, snowshoes are incredibly easy to use. And they prevent dangerous falls in the snowy terrain.
There are plenty of places to rent snowshoes in Door County. Here are a few that have got you covered:
Nor Door Sports and Cyclery – Fish Creek and Sturgeon Bay
Bay Shore Outfitters – Sturgeon Bay and Sister Bay
Crossroads at Big Cree Learning Center and Nature Preserve – Sturgeon Bay
You can go snowshoeing all over the peninsula! Any of Door County's parks, trails, and sanctuaries are a good bet for a snowshoe trek. 
Peninsula State Park – A Winding Road Tripper favorite
Potawatomi State Park
Door Bluff Headlands County Park
Newport State Park
Ahnapee State Trail
Door County Land Trust
Crossroads at Big Creek
Cave Point County Park
The Ridges Sanctuary – A Winding Road Tripper favorite
Whitefish Dunes State Park
Try Fat Tire Biking
Ok, you've probably heard of snowshoeing before, but do you know about fat tire biking? 
Snowy conditions have long ruled biking out as a wintertime activity in Wisconsin. Fortunately, someone thought to put enormous, fat, low-pressure tires on mountain bikes. And now we have fat tire bikes perfectly suited to hitting the trails all winter. 
Fat tire bike rentals are available from Nor Door Sport & Cyclery in Fish Creek, right by the main entrance to Peninsula State Park.
Go Ice Skating in a Winter Wonderland
While Lake Michigan isn't ideal for ice skating, many inland lakes in Door County freeze over nice and solid for skaters come winter. 
Check out Kangaroo Lake, which also hosts a pond hockey tournament every February. Some other lakes to take your skates to are Europe Lake, Clark Lake, and Mud Lake. 
Of course, you can't go wrong visiting Door County's many ice skating rinks for a more polished rink. A few notable outdoor ice skating rinks include:
Theresa K. Hilander Community Ice Rink – Sister Bay
This location consists of a general ice skating rink and a rink used for hockey and broomball.
The Hilander rink is complete with a warming house that serves snacks and drinks. It is free to skate here. And hockey skate and figure skate rentals are available for all ages. 
Fitzgerald Park – Elison Bay
This rink doesn't provide skate rentals, so make sure you bring your own! Or pick up a rental at the many rental shops that carry sporting goods throughout the peninsula. 
Memorial Field House – Sturgeon Bay
This ice skating rink features a warming house and free skate rentals!
Catch an Extra Beautiful Door County Sunrise or Sunset
If you've been to Door County before, you already know about the glorious sunrises and sunsets the peninsula offers. But most people don't know that they are even better in winter. 
In colder months, there is less humidity and better air circulation, which leads to cleaner air. This brings out the most striking colors.
Visit the east-facing Lake Michigan side of the peninsula for gorgeous winter sunsets, and find yourself on the west-facing Green Bay side of Door County as the sun drops. 
More Winter Fun Content:
Boredom-Busting Wisconsin Winter Getaways
Take a Polar Bear Plunge
Each year since 1986, the Jacksonport Polar Bear Club has hosted many hundreds of crazy people dunking themselves into the unforgiving cold of Lake Michigan. It's free to participate, and the bragging rights last a lifetime. 
Participants arrive early at Lakeside Park for food and drinks. A countdown begins ten seconds before noon, culminating in the most daring plunges. If that's not embracing the Wisconsin winter, nothing is!
The only year the Jacksonport Polar Bear Club has ever skipped was 2021.
Compete in Sturgeon Bay's Fire & Ice Weekend
Think you have what it takes to win an ice carving or snow sculpture competition? Then you are in luck! 
Sturgeon Bay's annual Fire & Ice Weekend allows adults and kids to compete at novice, intermediate, advanced, and professional levels. There are even cash prizes and awards for the winners. No experience is necessary, and tools may be borrowed with a refundable deposit.
If you'd like a no-pressure way to flex your frozen H20 creativity, a non-competitive snowman building will be available at Martin Park. The festival provides carrots, scarves, and all the other fixings needed to create your Frostys and Olafs.
The festival also features live entertainment, a virtual silent auction, and a fireworks display over Sturgeon Bay on the final night of the weekend.
Spot the Northern Lights
Did you know you can view the northern lights from Wisconsin? 
Door County is a great place to witness the hauntingly beautiful glow of the aurora borealis. To spot it, you need a dark, clear, cloudless sky. Because Door County isn't near major cities, it offers an extremely dark night sky with a clean, clear atmosphere. 
While potentially visible year-round, your chance to catch the northern lights is greater in the winter. This is due to the longer nights and colder temperatures, meaning less cloud cover.
Your best viewing locations will be the most isolated. Newport State Park was awarded a "Dark sky designation" in 2017. It's on a list of international locations with exceptionally clear sky views. Rock Island and Washington Island would be great places to go for low levels of light pollution.
Go for an Enchanting Sleigh Ride
Mayberry Carriages of Door County offers horse-drawn wagon and carriage rides in Ephraim and Fish Creek and is available for weddings. But wintertime visitors get the treat of dashing through the snow when horse-drawn sleigh rides become available. 
You can join in on a public group ride or book privately. 
The sleigh rides run through an old logging trail at Lautenbach's Orchard Country Winery. And feature a narrated tour of the orchard and winery. Back at the barn, adults can sample the wines vinted at Lautenbach's, and kids can enjoy the non-alcoholic ciders.
Catch Your Dinner via Ice Fishing
Door County is one of the United State's top ice fishing destinations. Locals and visitors love to haul in whitefish, trophy walleye, smallmouth bass, perch, northern pike, and trout. 
If you're new to ice fishing, keep in mind that going out on frozen lakes can be dangerous, and you'll need to be prepared. 
This is not hard to do as ice fishing guides are readily available for those looking to get into the sport. Seriously, you have a lot of options. Here are a few to consider for your ice fishing experience:
Late Eyes Sport Fishing Guide Service 
Shred Down a Sledding Hill
Sledding is a great winter classic! 
You do not need to have any special skills, an instructor, or expensive equipment. And Door County has some excellent sledding hills. Take your sled on over to:
Hill 17 at Peninsula State Park – Ephraim (One of the largest sledding hills in Wisconsin!)
Sister Bay Sports Complex – Sister Bay
Big Hill Park – Sturgeon Bay
Take in the Wintertime Beauty of Cave Point
Located along the Lake Michigan shoreline, Cave Point County Park is 19 acres of jaw-droppingly beautiful natural scenery. This part of the coastline features underwater caves and cliffs chiseled by centuries of Lake Michigan's waves pummeling the limestone shoreline. 
As gorgeous as it is in the summer, Cave Point is just as stunning in winter. Snowy coatings and ice formations along the cliffs and caverns offer a unique vista for Door County fans who come for the winter experience.
Related Post: Things to Do in Sturgeon Bay
Ring in the New Year in Door County
Kick off the last night of the year with shopping, ice skating, a bonfire, dining specials, and fireworks at the Sister Bay Ice Rink. Then, starting at 10:30 pm, local radio station FM 106.9 
The Lodge hosts its new year's eve party, finishing with a midnight cherry drop. Yes, they have a big sparkling cherry that drops during the final countdown. Better than some boring old ball, right?
After plenty of sleep, Egg Harbor hosts a New Year's Day Parade at 1 pm. The parade route runs north from Stella Maris Parish in downtown Egg Harbor through County Hwy E. Come to watch, or better yet, join the parade! They welcome everyone, and no formal registration is required.
Indoor Winter Activities in Door County
Sample Door County's Many Wine Offerings
While some of Door County's businesses are closed in the winter, most of its many wineries stay open year-round. 
Island Orchard Cider – Ellison Bay
Specializes in ciders made from their Washington Island fruit orchard.
Red Oak Winery – Sturgeon Bay and Carlsville
This family-owned winery offers tastings all year with multiple locations on the peninsula.
Stone's Throw Winery – Baileys Harbor
For 24 years, award-winning winery Stone's Throw has imported the best California grapes to our own lovely Door County. 
Harbor Ridge Winery – Egg Harbor
This winery is just "solving the world's problems, one sip at a time." Featuring an on-site vineyard, this lovely little spot is open year-round.
Take in the Maritime Museum's Merry-Time Festival of Trees 
The Door County Maritime Museum in Sturgeon Bay holds an annual Merry-Time Festival of Trees. Come for the display of Christmas trees decorated by local businesses, organizations, and residents, and stay for the region's rich maritime history. The trees are raffled off to lucky winners as the season ends. 
Shop Door County's Eclectic Stores 
Some of Door County's charming little shops close up in the winter, but hey, there's way more of them than you were ever going to go to on a single trip anyway. Here are a few Door County favorites you can catch all year long:
Door County Candy – Sturgeon Bay
This candy shop features all the Door County fudge, ice cream, caramel and cheese corns, chocolates, and salt water taffies you can dream of.
Tannenbaum Holiday Shop – Sister Bay
Find all things Christmas in this cute little shop.
Bay Shore Outfitters – Sturgeon Bay and Sister Bay
Get your winter sporting equipment rentals at any of their locations.
Renard's Cheese – Sturgeon Bay
Renard's master cheesemaker handcrafts fresh artisanal cheese daily. The best part is that there are samples! In addition to the retail store, Renard's also has a bistro to eat at.
On Deck Clothing Company – Fish Creek, Sister Bay, Sturgeon Bay
Men's and women's apparel, footwear, and accessories.
Grandma Tommy's Country Store – Sturgeon Bay 
Door County specialty products include pie filling, honey, meats, cherry juice, microbrews, cheese, t-shirts, and much more inside a huge schoolhouse-style barn. 
Sweetie Pies – Fish Creek
Sweetie Pies sells a wide variety of pies. You can buy them whole or by the slice. 
Enjoy Some Culture at an Art Gallery
Door County has tons of art galleries. Below are just a few that stay open in the winter. Take home something beautiful and one of a kind to remember your trip by, or just enjoy an afternoon of perusing art created both locally and abroad. 
Blue Dolphin House and BDH Studio – Ephraim
Artists from around the country, as well as international artists. Paintings, sculptures, glass, mixed media, and more. 
Popelka Trenchard Glass Studio and SOMI Gallery – Sturgeon Bay
Glass art, as well as paintings and works by guest artists.
Edgewood Orchard Galleries – Fish Creek
Opened in a repurposed barn in 1969, Edgewood Orchard Galleries has a variety of art, including paintings, ceramics, jewelry, books, and even furniture.
Treat Yourself to Some Spa Time
Once you're good and frozen from all your outdoor adventures, Door County has plenty of spas where you can warm up and wind down. Here are just a few to check out for some rejuvenating spa services.
Lavender Spa – Fish Creek
Located inside The Settlement Inn, this spa offers an array of massage options, specialty services like reiki and Hawaiian lomilomi massage, and 30-minute services if you just want to squeeze in a quick spa trip. 
Saguaro Day Spa & Wellness Center – Sturgeon Bay
This Southwest-inspired spa provides guests with massages for individuals and couples, manicures and pedicures, body cocoons, and more. 
Spa Verde Green Salon & Spa – Egg Harbor
Spa Verde prides itself on treating guests with chemical-free, natural, and organic spa products. Their services include a variety of massages, infrared sauna, and aromatherapy and chakra balancing oils.
The Spa at Sacred Grounds – Ephraim
Come to the Spa at Sacred Grounds for different massage packages, including the Door County Hot Stone Massage, which uses smooth, heated stones collected from the local shoreline. They also provide skin care treatments and waxing.
Places to Eat and Drink in Winter in Door County
Sadly, many of Door County's iconic, delicious restaurants close for the off-season, such as the iconic Wilson's Restaurant and Ice Cream Parlor on the waterfront of Ephraim since 1906. But not to worry! Door County still has plenty of incredible dining options open year-round. 
Glidden Lodge – Sturgeon Bay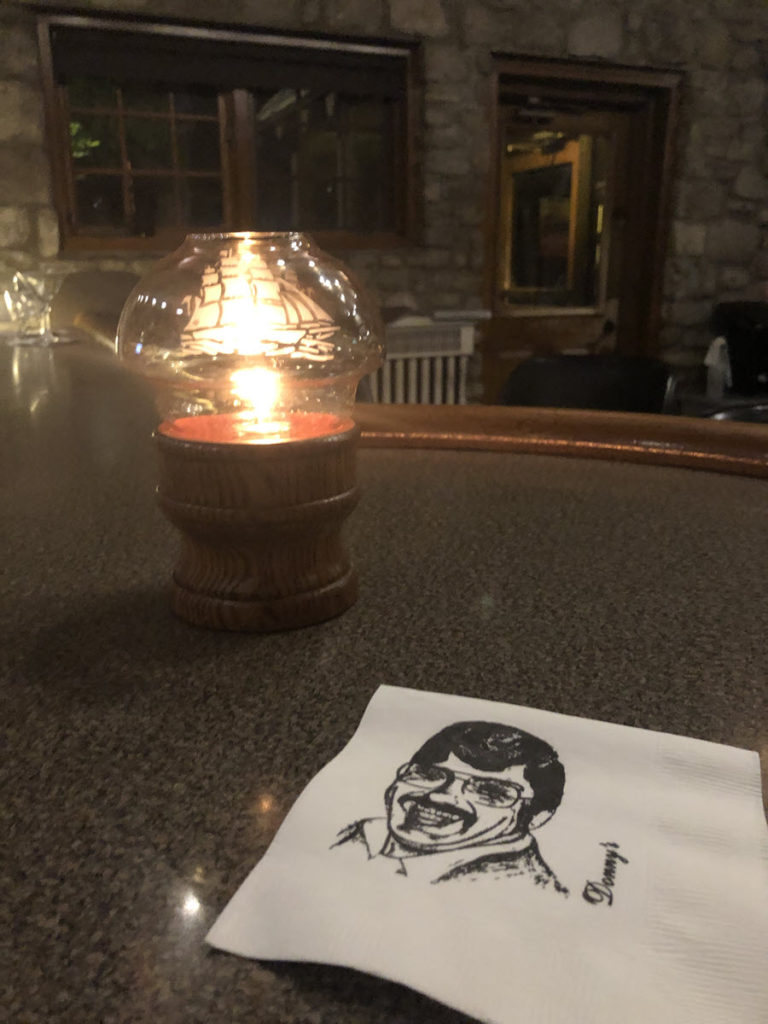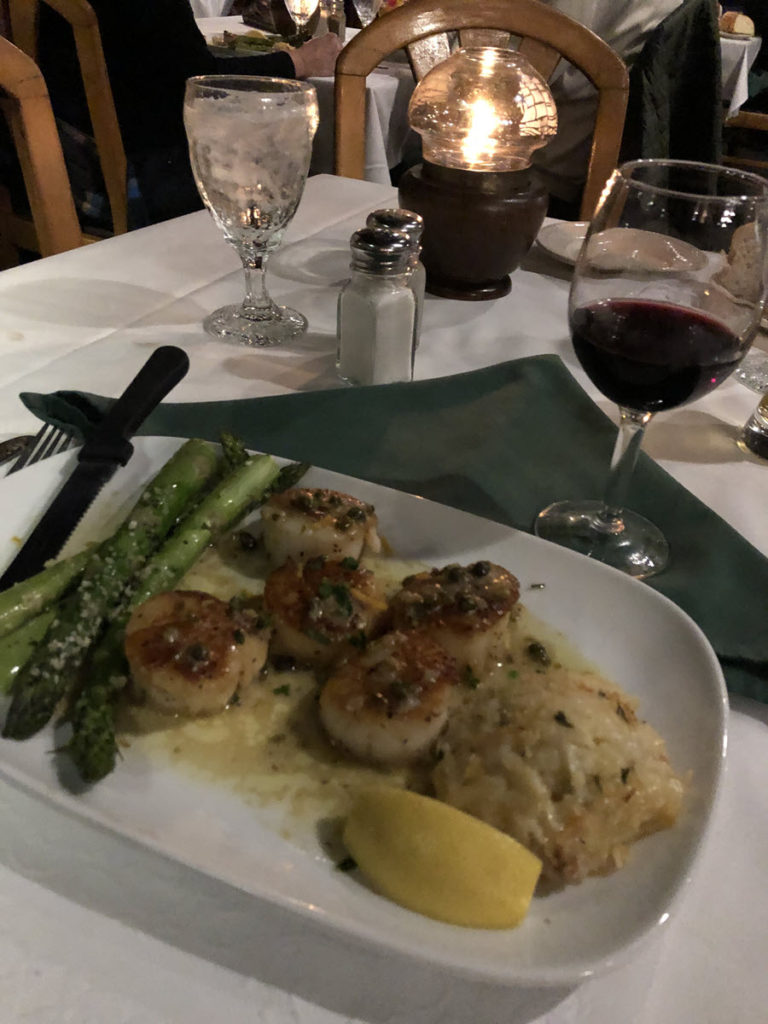 For an authentic Wisconsin Supper Club experience, don't miss Donnie's Glidden Lodge overlooking Lake Michigan.
Come early for a classic Old Fashioned with a view on the outdoor patio, then sink your teeth into the gorgonzola and merlot sauce tenderloin, the Glidden. Be sure to stay for something off their tempting dessert menu to satisfy your sweet tooth.
White Gull Inn Restaurant – Fish Creek
Do not even think about leaving Door County without going to a fish boil. The White Gull Inn has fish boils throughout winter on Fridays at 7 pm. They also serve delicious breakfast, lunch, and candlelight dinners. White Gull Inn also has rooms and cottages for your Door County stay.
Al Johnson's Swedish Restaurant & Butik – Sister Bay
In their own words, the Door County icon Al Johnson's is "the restaurant with goats on the roof." You will not miss it as you cruise through Sister Bay. 
In fact, you should probably drop everything you are doing right now and check out the Goat Cam. 
Unfortunately, the goats are not on the roof, but the Swedish fare should be a consolation. Don't skip the butik (Swedish for "store"). They carry Scandinavian clothing, gifts, and food items.
Sister Bay Bowl – Sister Bay
Not too far down the road from Al Johnson's is another Door County classic: the Sister Bay Bowl. 
Bowling is a Wisconsin favorite, probably because it's a great sport to play in winter! Sister Bay Bowl is also a traditional Wisconsin Supper Club. Make sure to order some cheese curds and an Old Fashioned. You will have to milk a cow if you want a more Wisconsin experience than Sister Bay Bowl. 
Kitty O'Reilly's Irish Pub – Sturgeon Bay
If you're looking for a lively neighborhood bar, this Irish pub has got you covered. They have a wide selection of beer, liquor, and door-county-themed cocktails. Kitty O'Reilly's has a full lunch and dinner menu with all your favorite favorites.