Situated on the shores of Lake Michigan, Sheboygan is one of Wisconsin's hidden gems and is perfect for a weekend getaway.
My friends and I headed to Sheboygan because we found a cute Airbnb to rent for a college reunion. And during our stay were blown away at all the great things Sheboygan and the surrounding area has to offer.
Sheboygan has excellent shopping, a beautiful lakeshore, and food that doesn't disappoint. 
Before our visit, we had no idea how much we would love Sheboygan. We even found a t-shirt that sums up how we felt after our visit perfectly.
We had a blast in Sheboygan, and we're sure you will, too.
Here are fun things you can do in Sheboygan, Wisconsin for both adults and families.
Shopping Along 8th Street
You can't walk along 8th Street without finding something that catches your eye. The shops are so unique and interesting that they will keep you and your travel companions occupied for hours.
From a surf shop to a collectible/video game shop, 8th Street in Sheboygan won't leave you disappointed.
Here are some of our favorite stores:
Honey and Ace – Great shop for gifts and home decor. And make sure to check out the gallery downstairs for some great photo ops!
Victorian Chocolate Shop – Craving sweets while you shop? Make sure to stop into Victorian Chocolate Shop to satisfy your craving and maybe even get a chance to see candy made in the back.
Freaktoyz – The tagline for this store is "Revisit Your Youth." Full of collectibles and old video games, this store will not disappoint.
The Gameboard – This was the most beautiful store we went to. With beautiful wood cases displaying games and passionate employees that can't wait to help you find your next game, The Gameboard is more than just a store; it's a destination.
Learn to Surf
Yes, you read that right.
Sheboygan has named itself the "Malibu of the Midwest".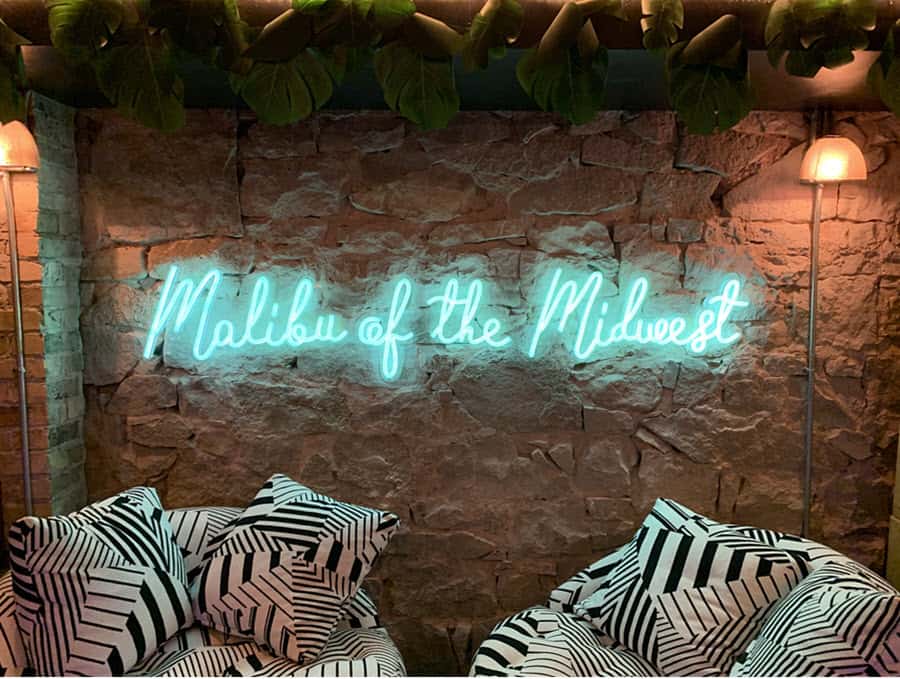 And if you've always dreamed of learning to surf, but haven't had the chance to get to some warm surfing destinations, then Sheboygan is for you.
Surfing in Sheboygan is year-round, but the waves are typically the best from August to April. You can rent gear (including wetsuits) from Eos Surf Shop if you are a seasoned surfer. They also offer lessons for both surfing and kite surfing. 
Mural Hunting
While you walk along 8th Street in Sheboygan, you will find some fantastic murals. These murals are both beautiful and offer some great photo opportunities for you and your travel companions.
Museums
John Michael Kohler Arts Center
John Michael Kohler Arts Center, located in downtown Sheboygan, is a perfect activity for the entire family.
The museum offers exhibits that rotate through regularly. But what gets everyone's attention with this museum is the washrooms! They are a sight to be seen and worth a visit if you are in the area.
Another great thing about this museum is it's free. 
More Wisconsin Travel Content:
Things to Do in Manitowoc and Two Rivers
Sturgeon Bay: Our Favorite Things to Do
Art Preserve of the John Michael Kohler Arts
For more art and draw-dropping washrooms, check out the Art Preserve of the John Michael Kohler Arts.
The Art Preserve is an art museum and satellite campus of the John Michael Kohler Arts Center. This museum is unique because it houses what they called "artist-built environments" designed by self-trained artists.
This is another free museum worth a visit.
Sheboygan Railroad Museum
This one is for all the model train enthusiasts out there.
Come here to see 8 model train layouts and chat with the staff/hobbyists who are eager to share their passion.
The Sheboygan Railroad Museum is a perfect stop for the kid in all of us.
Aviation Heritage Center of Wisconsin
If your interests are more about the air than the land, then a trip to the Aviation Heritage Center of Wisconsin is for you.
This is a great place to wander around and get a glimpse of aviation history in Wisconsin. The staff is helpful and passionate about the history of Wisconsin flight.
Admission is free!
For the Kids
Bookworm Gardens
Bookworm Gardens is a near-magical place that kids and adults will love.
This garden contains recreated life-sized children's books with ample opportunities for exploration and play.
Wandering around the garden will keep the kids entertained for hours. They will find nature, musical instruments, houses, and forts! It's an excellent environment for learning, laughing, and living.
The curators of the garden do a meticulous job at keeping up the property for all ages to enjoy.
Above & Beyond Children's Museum
Above & Beyond Children's Museum is a great hands-on museum for kids of all ages.
Bring your toddler, preschooler, school-aged child, or teenager here for some fun learning.
There are three floors to explore and plenty of exhibits/activities to make this a well-rounded experience.
Above & Beyond also has an outdoor area, so your kids can get some fresh air during their visit.
Admission is affordable, and the exhibits are clean.
Quarry Beach Adventure Park and Water Sports
If you and your travel companions like water, sand, and obstacle courses (and it's summer), then the Quarry Beach Adventure Park is the place to visit.
The Quarry has both a shallow swimming area and a deepwater adventure park.
And the adventure park is like nothing we've seen before, with a variety of inflatable water slides, pools, and obstacle courses. Advanced reservations are recommended for the adventure park.
You can also rent stand-up paddleboards and kayaks that will allow your family to experience kayaking, paddleboarding, or rowing.
For the Outdoor Lovers
Kohler Andrae State Park
If you're an outdoor enthusiast, the Kohler Andrae State Park is a place to visit while in Sheboygan. It's a gorgeous lakeshore park that was voted as one of the best Wisconsin State Parks.
The stand-out feature of this park is the sand dunes.
Kohler-Andrae offers several hiking trails that wind around sand dunes and through forests. Our favorite hike is the 2-mile Dunes Cordwalk.
The park also has beach access, picnic areas, and a boat landing.
Woodland Sculpture Garden
The Woodland Sculpture garden is a beautiful place to walk and take in nature.
Located just south of Sheboygan, the sculpture garden has over 30 mythic and religious sculptures scattered throughout the forest. These unique art pieces are worth checking out!
The sculptures range from whimsical to thought invoking.
Places to Eat and Drink In and Around Sheboygan
Paradigm Coffee
Paradigm was the first place we went to on our Sheboygan adventure, and it set the tone for the great things to come.
This welcoming coffee shop offers Collectivo Coffee and great food options. They also have an outdoor space to enjoy some fresh air while you sip on your coffee.
The space is eclectic with a performance stage for music and other entertainment.
We loved it so much that some of us went back the next day for a coffee and snack before heading home.
Il Ritrovo
Stop at Il Ritrovo you are looking for some incredible wood-fired Neapolitan pizza and a true Italian ambiance.
The hand-painted ceiling and the attached Italian grocery store give the feeling of an authentic Italian restaurant.
The pizza and other food are delicious. And they also have a great wine selection as well.
Get there early on the weekend if you want to avoid a line for dinner or check them out for lunch.
Blind Horse – Kohler, WI
If you are looking for an outstanding meal or a great glass of wine, look no further than the Blind Horse.
Located outside of Sheboygan in Kohler, WI, this Napa-style winery and restaurant will not disappoint. The restaurant's interior is cozy and rustic and offers a great selection of wines made on site.
And if you are there in the warmer months, they have a more casual outdoor space that often has live music.
3 Sheeps Brewing Company
3 Sheeps Brewing Company is a regional brewer that has gotten some national attention for its craft beers. With 15+ beers on tap, you are bound to find a beer to your liking.
The taproom is enormous, and they also have a great outdoor space for those warmer midwest months.
The vibe here is laid back and the staff is friendly.  Unfortunately, they don't offer food, but you can bring in your own.
Are you ready for your next Sheboygan adventure?