The Manitowoc and Two Rivers area is a little-known gem in Wisconsin. 
Located on the beautiful shoreline of Lake Michigan these not-so-touristy towns give visitors an opportunity to enjoy the lakeshore without the crowds and is a great week-long or weekend getaway. 
There are plenty of outdoor and indoor activities to entertain you and your family. 
And with up-and-coming restaurants and long-time favorites, visitors will be sure to find some delicious food to enjoy during their visit. 
Growing up in the area, I don't think I truly appreciated the area's beauty when I was young. But now each time I head back, I realize how fortunate I was to grow up in such a beautiful area along Lake Michigan. 
Here are some of the best things to do in Manitowoc and Two Rivers that will showcase it's beauty and history.  
Things to Do in Manitowoc
Manitowoc is the larger of these two cities nestled along the lakeshore. 
Known for its rich maritime history, Manitowoc is a quiet town with a recent resurgence in ti's downtown area. 
Manitowoc is also home to one of the endpoints of the car ferry, the USS Badger, that takes passengers across Lake Michigan to Ludington, MI. 
Wisconsin Maritime Museum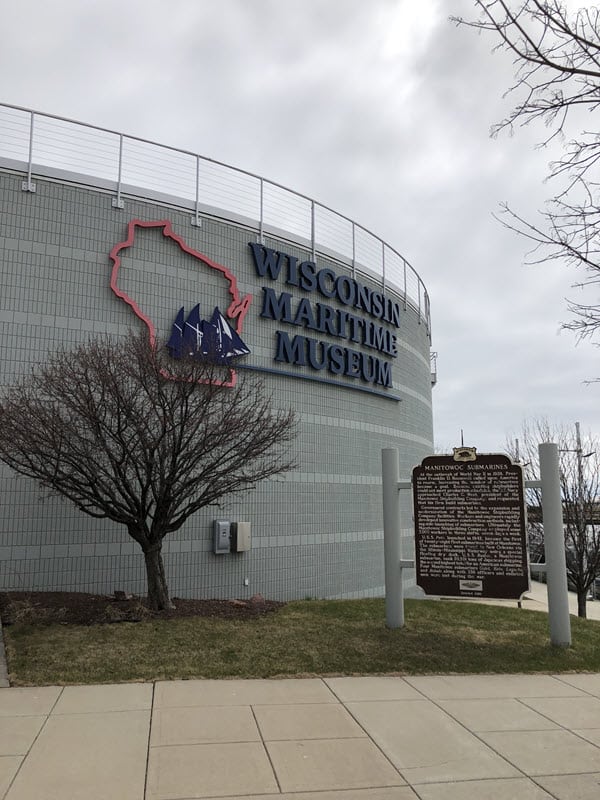 Locating on the shores of Lake Michigan, the Wisconsin Maritime Museum is an excellent stop on your Manitowoc/Two Rivers adventure.
The museum is full of maritime history, model ships, a steam engine, kid's activities, and an actual submarine from the World War II era. Both kids and adults will be entertained for hours with a trip to the Maritime Museum. 
The USS Cobia is one of the highlights of the museum. With your admission, you'll be able to tour the submarine and even experience what it felt like to be a submarine during an attack. 
And if you are interested in submarine life, you can book the submarine for an overnight adventure. 
West of the Lake Gardens
This one is for all you garden lovers out there. 
When driving between Manitowoc and Two Rivers, make sure to stop at the West of the Lake Gardens along the shoreline of Lake Michigan. These are some of the most immaculate gardens, and you can tell they are tended to with love. 
What started as the homeowner's love of gardening has blossomed through the years into a garden with various plants and types of gardens. 
It's free to enter, and the garden is open seasonally. Be sure to verify if the gardens are open before making the trek there. 
Mariner's Bike Trail
If you are traveling with your bikes, you are in for a treat. 
Protip: Even if you don't have your bike, taking a walk along this trail is rewarding. 
The Mariner's Bike Trail is one of the most scenic bike trails in Wisconsin. 
Located along the shoreline of Lake Michigan, this 5.5-mile paved trail runs between Manitowoc and Two Rivers. Gorgeous flower gardens decorate the trail in summer, and the views of the lake are hard to beat. 
The Manitowoc trailhead is located at the Manitowoc marina, and there is plenty of parking available. And the Two Rivers trailhead is located close to the Lighthouse Inn.
Rahr-West Art Museum
The free Rahr-West Art Museum is a great way to spend a few hours in Manitowoc if you like art museums and architecture. Housed in a historic mansion, the museum is home to works from notable artists such as Picasso, Georgia O'Keeffe, and Andy Warhol. 
They have beautiful annual exhibits and rotating exhibits that often showcase local and regional artists. In addition, the house is stunning, and you can even see where a piece of Sputnik IV landed in 1962!
Beerntsen's Confectionary
Take a step back into time at Beerntsen's Confectionary.
The motto at Beerntsens is "Preserving tradition one chocolate at a time." And that is precisely what it does. Using the same methods and equipment they did when they opened over 50 years ago, Beerntsens takes pride in its offerings. 
At Beerntsens, you can grab a few chocolates or perhaps some rock candy to go. Or you can take a seat and enjoy a sundae served in an old-fashioned ice cream glass.
The decor is stunning, with dark stained wood all around. The cute booths in the back will make you feel like you traveled back in time. 
Cedar Crest Ice Cream Factory and Parlor – aka "The Big Cow"
While you can't tour the factory, the real draw at Cedar Crest is the delicious ice cream and the "big cow" in front of the building.
If you are in the area and craving some ice cream, this is a unique place to stop. With indoor and outdoor seating and a wide variety of flavors and sundaes, everyone in your group will be sure to find something to their liking. 
And don't forget to take your picture in front of "The Big Cow."
More Things to Do in Wisconsin:
Fun Things to Do on Your Sheboygan Adventure
15 Things to Do in Sturgeon Bay
Things to Do in Waupaca
Things to Do Around Bayfield and the Apostle Islands
Places to Eat in Manitowoc
Ryans on York
For an upscale dining experience without the exorbitant prices, stroll over to Ryan's on York. The casual atmosphere, elevated bar food, and craft cocktails make this a can't miss.
You'll notice an entire section dedicated to fries with your first glance at the menu. From York Classic hand-cut and lightly salted to Mediterranean seasoned fries served with tahini and special relish, everyone has a choice.
You'll find traditional burgers mixed in with lemon naan and Korean tacos. Fried cheese mingles in the appetizer menu with curried green beans. A chicken breast sandwich hangs out alongside a steak shawarma sandwich. The mixing of flavors from around the globe means you'll get a unique dining experience with every visit.
The curated wine list adds a nice touch to create a fine dining experience. And the craft cocktails, including a list of specialty mules, make the experience hip and swanky. 
Courthouse Pub
From its inception as a beer hall in 1885, Courthouse Pub has gone through many iterations and is rich in history. Today, the business has come full circle and not only offers some of the best food in town, but they're also brewing its own beer.
Positioned between fine dining and gastropub status, the menu offerings vary from traditional Wisconsin fare to upscale entrees. 
The menu offers a wide variety of options, so every diner in your party will be sure to find something that will satisfy their cravings. 
The craft cocktail menu gets a little out of control, in a good way, with the plethora of traditional and proprietary concoctions. The in-house brewery serves up some traditional easy drinkers alongside a big boozy stout. 
Things to Do in Two Rivers
Two Rivers sit on a small peninsula that juts out into Lake Michigan just north of Manitowoc. 
And if heading there in the summer months, you'll most likely notice that it's "cooler near the lake.". It's a phrase Two River residents know all too well.  
But the lovely peninsula provides some incredible shoreline and history that will make Two Rivers a great spot to spend a few days exploring. 
Neshotah Park and Beach
Neshotah Beach is one of the best beaches in Wisconsin. 
This large sandy beach with picnic areas, volleyball courts, a snack stand, and sometimes live entertainment is a perfect spot for a day on the beach. 
The sand is soft, and there is ample parking. 
Hamilton Wood Type Museum
Run by the Two Rivers Historical Society, the Hamilton Wood Type Museum strives to share the history of letterpress printing. 
The museum houses the largest collection of wood type in the world, a rotating exhibition, and print equipment. It's a great stop to learn about the history of wood type and immerse yourself in creativity. 
Tours are free with a suggested $5 donation. 
Historic Washington House
Two River claims to be the "home of the ice cream sundae." And history has it that this momentous occasion happened at the Historic Washington House.
The Washington House was an inn built in the 1850s that now houses the Two Rivers Historical Society. 
Stop in for an ice cream sundae or take a tour and learn about Two Rivers' history. I
Point Beach State Forest
Beautiful anytime of the year, Point Beach State Forest is a great state park for camping, hiking, cross-country skiing, and biking. 
Point Beach State Forest is located along 6-miles of Lake Michigan Shoreline. The beach is swimmable if the lake water levels aren't too high. But if they are, simply head into town and check out Neshotah Beach.
The park is home to the Rawley Point Lighthouse. This lighthouse has been in operation since 1853, and its light can be seen from 19 miles away. While tours are not usually available, you can snap a picture from the beach.  
One of the best things to do while checking out Point Beach State Forest is bike the Rawley Point Bike Trail. This trail is a hard-packed limestone trail that twists and turns through the forest for 5-miles bringing you to the town of Two Rivers. It's a fun trail with many small ups and downs that make you feel like you are on a rollercoaster. 
A concession stand has camp supplies, ice, food, and ice cream. And they even serve a fish fry on Friday nights and breakfast on Saturday.
Protip: If you want a fish fry while in the area, check out Port Sandy Bay (a few miles down the road from the state forest). They have the best perch fry around. 
Woodland Dunes Nature Center and Preserve
Woodland Dunes Nature Center and Preserve is another nature lovers' paradise.
Recognized as a state natural area, this is a special place full of hiking trails, kayaking, and bird watching. It's a place to get away and immerse yourself in nature. 
There is a butterfly garden on-site and plenty of activities for the kids, including a natural play area. 
Protip: If traveling with kids, ask a naturist about the Adventure backpack. The backpack is full of activities that change with the seasons. 
Rogers Street Fishing Village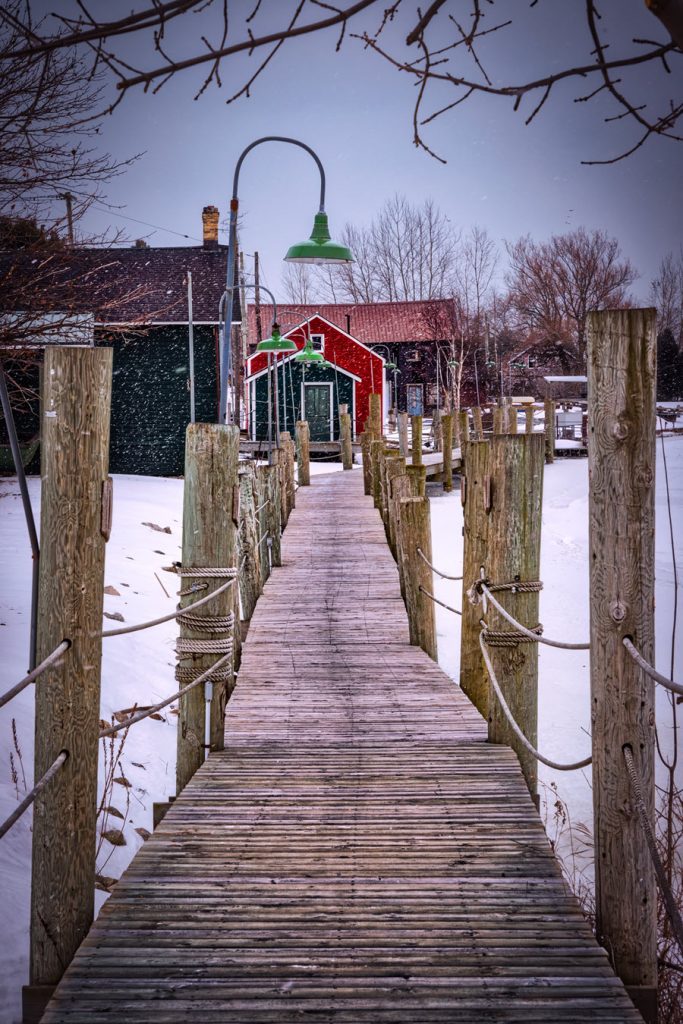 Open from May to October, the Rogers Street Fishing Village will take you back in time to when commercial fishing was the backbone of the local economy.
At the Fishing Village, you can explore a historic lighthouse built in 1886, shipwreck displays, and commercial fishing exhibits. 
It's a relatively inexpensive activity that both adults and kids will love. You can even skip the museum, walk along the river, and experience the "fishing village" buildings. 
Places to Eat in Two Rivers
Port Sandy Bay
Located close to Lake Michigan and the East and West Twin Rivers, Port Sandy Bay has a fantastic fish fry Wednesday through Friday. The fish is always fresh and lightly breaded to let the flavors shine.
While the fish fry is memorable, the handmade pizzas are the real stars. A scratch-made crust is smothered in their homemade sauce and loaded with toppings and cheese. They even make gluten-free crusts. 
Besides the signature Port Special, the Shipwreck is an absolute must-try, brimming with meats and veggies. 
Of course, you'll also find sandwiches and burgers on the menu alongside some unique appetizers, such as the spicy pickle fries. A fully stocked bar and big-screen TVs might convince you to stay a while longer to check out a game. And the kids will love the game room full of ways to win tickets that can be redeemed at the bar for treats.
Nicky's Good Eats and Treats
For a delicious sandwich or burger, stop by Nicky's Good Eats and Treats in Two Rivers.
These sandwiches and burgers are reasonably priced and something you'll come back for over and over again. What makes takes these sandwiches over the top, is the freshly made kaiser rolls and bread.
If you are on your way to Point Beach State Forest, make sure to stop in and grab a sandwich before you set up camp.
Kurtz's Pub & Deli
For a little bit of local history with your meal, check out Kurtz's Pub & Deli, which is nothing like your local sandwich shop. Established in 1904, this long-time Two Rivers staple serves up some of the best food around.
Set in a beautiful building with dark wood and stained glass, you'll immediately sense the German heritage vibe. And with sandwiches like Amish Braunschweiger and the Roll Braten, you'll get a little taste of Europe. But they also have classic deli sandwiches like the New Yorker, Reuben, or a fully loaded turkey club. 
If you're looking for something bigger, their house-smoked ribs are doused in homemade BBQ sauce and served only on Tuesday, Thursday, and Saturday. And, of course, there's a traditional fish fry with all of the sides served on Friday.