The Upper Peninsula of Michigan (commonly called the UP) is the perfect place for your next road trip adventure.
It's full of beautiful nature and outdoor adventures that will make your heart sing. You can go hiking, biking, camping, fishing, and boating in this area! And there are also many historical sites and museums for those who enjoy learning about history while on vacation.
Being a short 6-hour drive from the UP, we've completed several road trips to the area and can't wait to share our favorite road trip stops with you.
You won't want to miss out on all these fantastic things to do when planning your next road trip! We promise it will be an experience you won't forget anytime soon!
How Long Do You Need For an Upper Peninsula Adventure Road Trip
When planning your Upper Michigan road trip, you may be wondering how many days to spend in the Upper Peninsula?
Our answer is at least ten days to explore both the western and eastern sides of the UP. But we suggest two weeks if you can swing it to be sure to have enough time to explore it all without feeling rushed.
If you don't have 10-14 days, we suggest narrowing your trip down and picking one of the two sides to explore. Recently we spent one week in Western UP, and on a past road trip, we spent four days in Eastern UP.
When is the Best Time of Year for an Upper Peninsula Road Trip?
If we had to pick a "best" time, we would say Fall.
The fall colors in the Upper Peninsula are some of the best in the US. The exact timeframe for when the colors will be in full bloom is unknown, but you can estimate the end of September to mid-October. Fall is also a great time to visit to avoid some of those annoying bugs like mosquitos and black flies.
Our other picks would be Spring and Summer.
Winter is also beautiful in the Upper Peninsula, with many snowmobile trails and cross-country and downhill skiing. But we'd only recommend it in Winter if those were the activities you enjoy.
Related Post: Map of Michigan Campgrounds
Things to Know Before You Go on Your Upper Peninsula Road Trip
We weren't prepared for a few things when we embarked on our first UP road trip. Here are a few things to be aware of before you go so you won't be surprised. 
Minimal Cell Phone Coverage
The Upper Peninsula of Michigan, like most remote areas in America, suffers from low cell phone coverage. This means that there is no guarantee that you'll find a cell phone signal while traveling through this area.
While having no cell phone service can be a great thing if you are looking to get away from your busy day-to-day life, it can be problematic if you don't prepare for it.
Here is what you can do to prepare for minimal cell phone coverage in the UP
Download the map of the area you will be traveling in. Do this in whatever GPS mapping service you plan to use, like Google or Apple Maps.
Have a paper map with you. If you are a AAA member, you can request one from them. Or you get one on Amazon or for free at Welcome Centers.
Bring hard copies of all reservation confirmations.
Fill Up on Gas Often
The UP is not a heavily populated area. Therefore, there may be great distances between gas stations.
When traveling through the UP, make sure to fill your gas tank often. We suggest filling up as soon as you reach a half tank. That way you won't run the risk of running out of gas in an area with no gas stations and no cell phone service.
Must-Try Food of the Upper Peninsula
A road trip would not be complete without trying the tasty treats the region is known for.
Michigan's Upper Peninsula has a few local delicacies you will want to try before you leave the area. 
Pasties 
A Pasty is a baked pastry, usually containing a savory filling consisting of meat and vegetables.
It is a traditional dish from Cornwall in the United Kingdom, especially popular as a lunch item. It was historically a working man's food, but it has become popular with many other people.
Fresh Fish from Lake Superior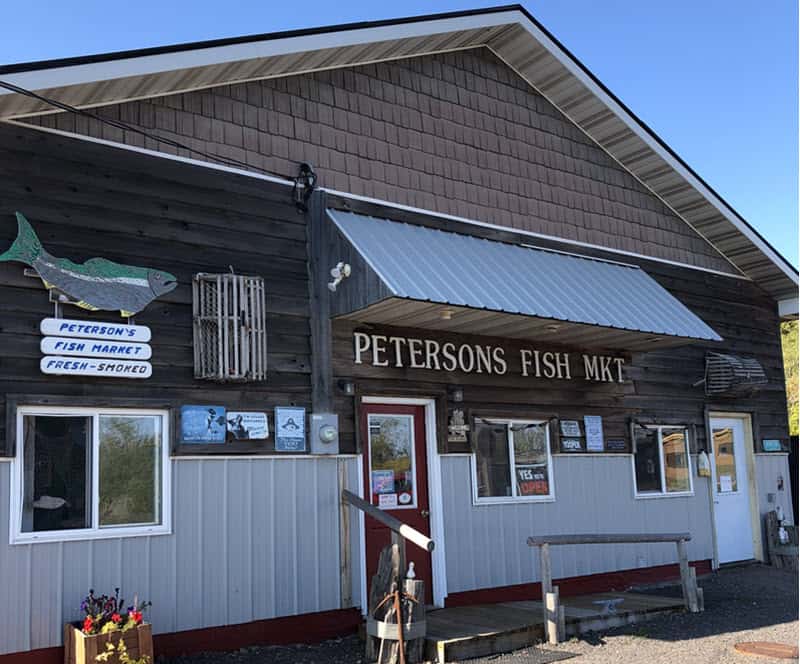 Don't miss out on the amazing fish sourced right from the Great Lakes.
You'll often find whitefish or lake trout offered as an entree at restaurants or make a point to stop at one of the fish markets, like Peterson's in Hancock, MI.
The smoked whitefish and lake trout are excellent, and we highly recommend trying them.
Thimbleberry Jam
If you are fortunate to be traveling the Upper Peninsula during Thimbleberry season (middle to late summer), don't miss out on trying some thimbleberry jam. Rarely seen outside the Upper Peninsula, this jam is a real treat.
The jam is sweet and tart with some floral notes and is a perfect treat for your weekend breakfast.
Must-See Stops for a Fantastic Upper Peninsula Road Trip
The Upper Peninsula of Michigan is absolutely stunning. And is a perfect place to experience the wonder of nature.
There is so much to see and so many ways to have fun when you visit this area.
Here is our list and map of favorite stops for you to consider when planning your Upper Peninsula road trip.
How to Use This Map: Click on the icon on the top left-hand corner. You will now see all of the layers of the map. Layers include places to see and driving directions. You can click the checkboxes to the left of the layer name to turn on and off the layers. Click on the map icons to get more info on each location.

To see the map in more detail, click on the [ ] in the top right-hand corner. This will bring to a larger map where the details of each point can be found by clicking on the location point name in the list on the left.

You can also save the map for your own use, click the to the right of ⭐ the map name. This will save the map to your Google Maps where you can make a copy and use it for your own trip planning.

Do you want to create your own Google Map? Check Out How to Plan a Road Trip With Google Maps
Porcupine Mountains State Wilderness Area
Known for its outstanding hiking trails, gorgeous scenery, and abundance of waterfalls, the Porcupine Mountains Wilderness Area (aka "The Porkies") is the Upper Peninsula's most popular state park.
Located on the shores of Lake Superior, it offers visitors a truly breathtaking experience that will stay with them for years to come.
It's known for its amazing backpacking trails with reservable campsites, cabins, and yurts throughout the park. But you don't have to be a backpacker to enjoy this gorgeous park.
We spent 3-days day hiking through The Porkies and felt it was a perfect amount of time to experience this gem.
If you don't plan on hiking, 2-days in The Porkies will be plenty of time to see the highlights including the Presque Isle Waterfall Loop and Lake of the Clouds.
Related Post:
Best Hikes to Explore the Porcupine Mountains
Waterfalls
With more than 130 waterfalls located in the UP, you'll be sure to want to add a few to your road trip itinerary. Check out our digital map of Michigan waterfalls to help you plan your trip.
Some of the favorites that aren't otherwise mentioned in this post include:
Hiking
One of our favorite things to do on a road trip is to explore the area on foot.
If this is your thing, too, then the UP will not disappoint.
The Upper Peninsula has some of the best hiking in the Midwest. We had to fortune to hike through old-growth forests to beautiful vistas and waterfalls during our two road trips.
Here is a list of our favorite hikes:
Copper Mine Tour
In the late 19th and early 20th centuries, copper mining was one of the Upper Peninsula's most important industries.
And there are many old copper mines left for you to explore during your UP road trip.
Two of the favorites among the Upper Peninsula Travel Facebook group are Quincy Mine and Adventure Mine.
The Quincy Mine and Museum offers visitors an up-close and personal experience of Upper Peninsula mining history.
Tour guides will show you how copper ore was mined and tell interesting stories of the people who once worked in this mine.
Adventure Mine is for all those looking for a bit of excitement. During this tour, you can rappel down a mine shaft to really experience what it was like to work in the copper mine. And if rappelling isn't your thing, there are plenty of other worthwhile tours you can take to learn about the history of this mine.
Keweenaw Peninsula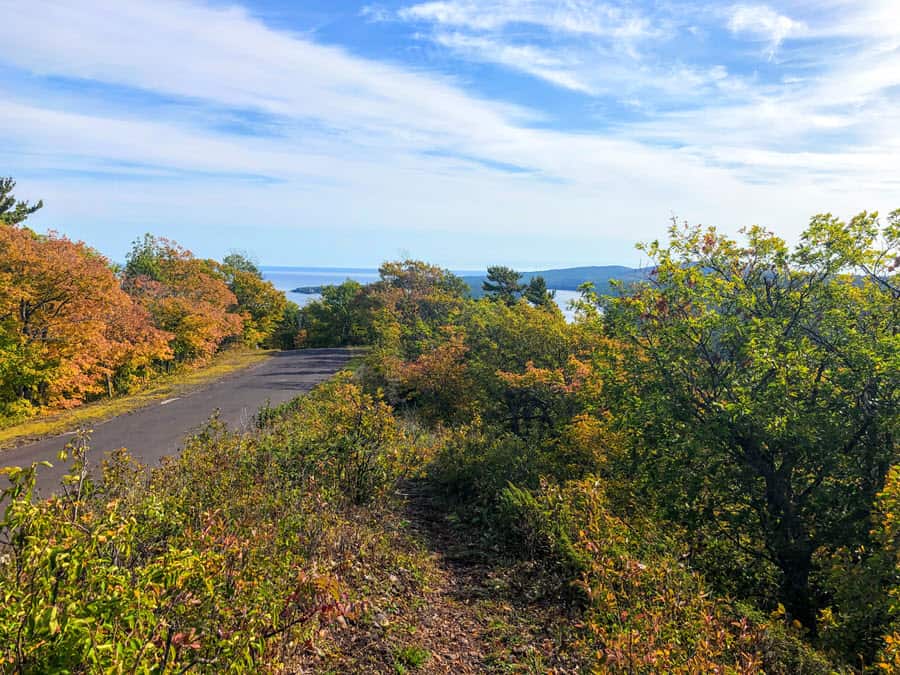 The Upper Peninsula's Keweenaw Peninsula is a must-see for any Upper Peninsula Road Trip.
This area has some of the most beautiful scenic drives, hikes, and viewpoints in Michigan. This is also a great area to grab some delicious food.
Try to allow two days to explore the Keweenaw Peninsula.
Here are our favorite stops on the Keweenaw Peninsula:
Related Post:
Must-See Things to Do in the Keweenaw Peninsula
Map of Michigan Waterfalls
Map of Michigan Campgrounds
Pictured Rocks National Lakeshore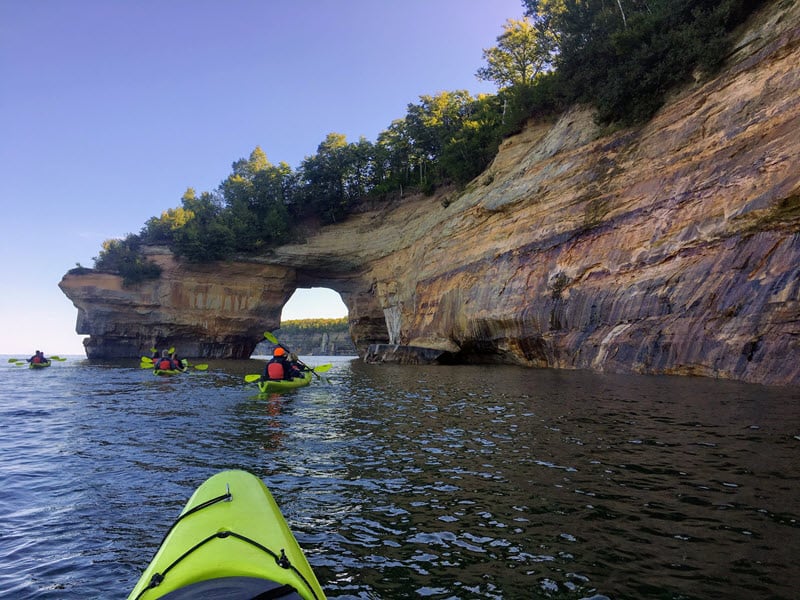 Pictured Rocks National Lakeshore, designated as a national lakeshore in 1965, features nearly 40 miles of stunning Lake Superior shoreline. We recommend spending 2-3 days exploring this area.
With towering sandstone cliffs and crystal blue water, the scenery in Pictured Rocks National Lakeshore is mesmerizing.
There are many ways to experience this landscape, too. And we recommend both experiencing from land and water.
From land, you can tackle some of the many hiking trails in the park. Or, if you aren't into hiking, there are incredible viewpoints within the park for you to experience the beauty.
Now from water, there are options for boat tours that take you along the colorful sandstone cliff giving you a different perspective on which to view the park. There are also kayak tours that allow you to get up close and personal with the water and cliffs.
We chose to do a trip with Pictured Rock Kayaking and had one of our favorite outdoor experiences.
Tahquamenon Falls State Park
Home of one of the largest waterfalls east of the Mississippi, Tahquamenon Falls is a stop not to miss on your Upper Peninsula Road Trip.
At the Upper Falls, you will take a short 0.3 walk to take you to 94 steps that will take you down to the Upper Falls viewing platform. When you arrive at the Upper Falls observation platform, do not be surprised if a crowd is already watching and photographing the Upper Tahquamenon Falls.
While the size of this waterfall makes it spectacular, the amber color of the water caused by the tannins in the water adds an extra special flair.
You can also check out the Lower Falls area of the park, where you'll find five beautiful cascades. Here you can also get a different perspective of the falls by renting a rowboat.
Tahquamenon Falls State Park is also a great stop if you are hungry because there just so happens to be a brewery and pub located on the property.
Sault Ste. Marie and the Soo Locks
Sault Ste. Marie is a charming city full of history and beautiful waterfront views.
It also happens to be home to the Soo Locks, which allow ships to travel between Lake Superior and the rest of the Great Lakes.
If you love marine life or boat watching, this stop should undoubtedly be on your Upper Peninsula Road Trip.
You can visit the Locks by taking a boat tour or just watching from the observation decks.
Kitch-iti-kipi
Kitch-iti-kipi (meaning big cold spring in the Ojibwe language) is Michigan's largest spring-fed, clear freshwater springs.
This spring is a sight to see. You can see old decaying trees, vegetation, and fish below the surface with its crystal blue water. It's like looking into a whole other world.
Swimming here is not allowed, but you can view it from a self-propelled raft that will take you to the middle of the spring.
More Road Trip Adventures:
West Virginia Road Trip: 17 Wild and Wonderful Stops