Madeline Island, located just off the shore of Bayfield, Wisconsin, is one of the many fun things to do in the Bayfield area. This island allows visitors to take a step back from the hustle and bustle of daily life and indulge in its natural beauty and rich history. 
Madeline Island is accessible via a ferry line and is ideal for outdoor activities and reconnecting with nature. But it's also a great place to shop, indulge in a cocktail, or grab a bite to eat.
There are many things to do on Madeline Island. Whether you're looking for a quiet escape, an adventure-packed weekend, or an opportunity to indulge in shopping and eating delicious food, Madeline Island has something to offer everyone.
Related Post: Things to do in the Bayfield and Apostle Islands
How to Get to Madeline Island
The only way to get to Madeline Island is via a ferry ride. 
The Madeline Island Ferry Line operates throughout the summer and takes about twenty minutes from its initial departure point in Bayfield, WI. We recommend purchasing tickets in advance during the peak season to avoid long lines at the ticket counter.
We suggest staying on the island for a few days to make the most of your trip. But it's also a good day trip to explore some parks and the marina area. 
There are many lodging options available to suit any budget. Whether you're looking for a hotel, cabin, or camping spot, you will find something that fits your needs.
Should You Take Your Car To Madeline Island
YES. You should bring your car if you plan on exploring the various sights around Madeline Island. 
The island has many places to explore, and seeing it all on foot is impossible. While it is possible to explore the island by bike, having your car makes it much easier and quicker to get to different locations around the island. 
Whether for a day trip or a multi-day trip, bring your car and explore the many attractions like Big Bay State Park.
However, bike rentals are available for daily use if you prefer an eco-friendly solution for getting around.
What to Pack for a Trip to Madeline Island?
When packing for a trip to Madeline Island, ensure you are prepared for all kinds of weather. 
If you plan to spend time outdoors, bring plenty of layers and rain gear if the weather turns. 
Also, remember to pack extra sunscreen, bug spray, and water if you plan to be out in the sun for extended periods. Also, bring a hat, sunglasses, and comfortable shoes for walking around.
Things to Do on Madeline Island
You must visit Madeline Island at least once in your lifetime. It's a great place for outdoor enthusiasts, history buffs, and foodies. 
So, let's take a closer look at what Madeline Island offers!
Bike Around the Island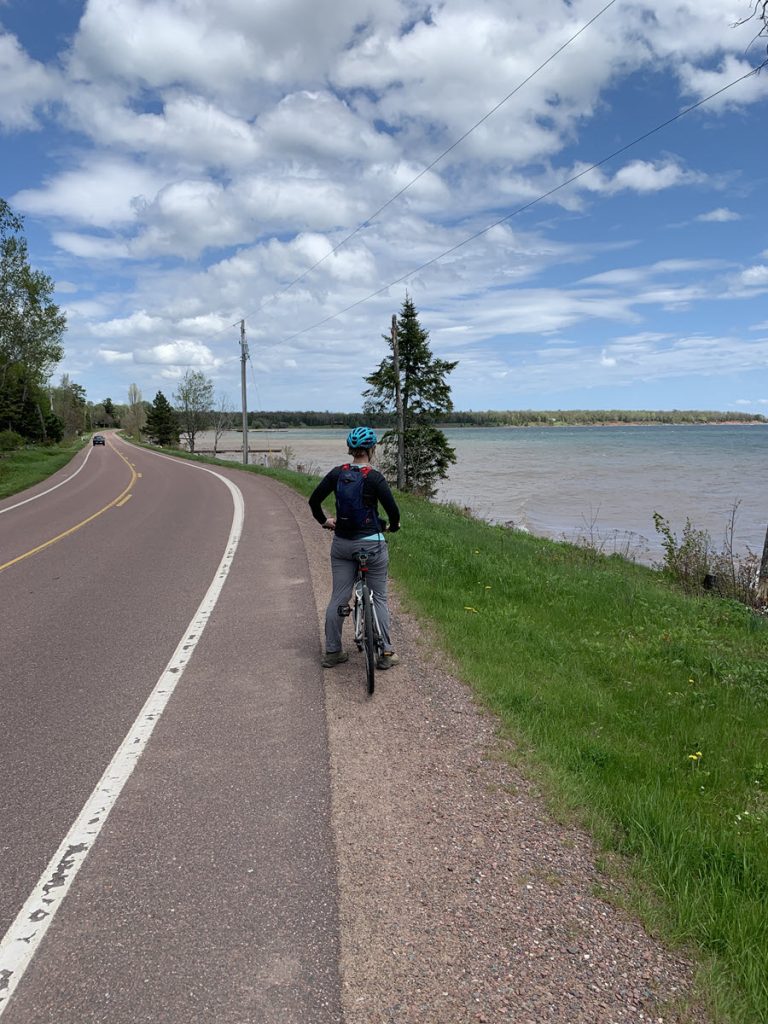 Biking around the island is an enjoyable way to spend a few hours on Madeline Island. You can easily bike from the marina to the other side of the island to explore some of the island's parks. 
It's a flat route and covers around 22 miles, which is easy for most skill levels. You can bring your bike along or rent one on the island. Motion To Go is the most popular bike rental service on the island and offers a range of bikes for different ages and skill levels.
Hike in the Beautiful Parks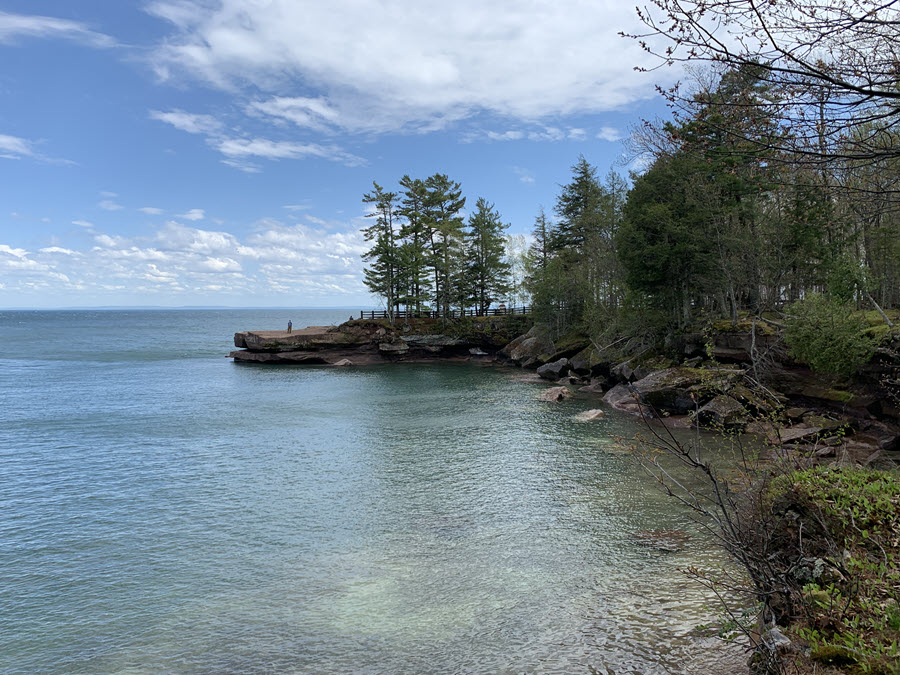 For nature seekers, Madeline Island has a diverse range of parks to choose from. Big Bay State Park and Big Bay Town Park are two parks on the island.
Big Bay State Park is situated on 2,350 acres of the Madeline Island shoreline.
It is a mixture of wetlands, sandstone bluffs, and forests, making it an ideal destination for birdwatchers and hikers. There are over 7 miles of hiking trails available, which includes a 1-mile boardwalk that takes you through the vast wetlands of the state park. 
During peak season, the Friends of Big Bay State Park offers educational programs for visitors, such as guided nature walks, bird watching, and history tours.
Big Bay Town Park is another popular beach day and/or picnic park. This park has a beautiful lagoon where visitors can rent canoes, paddleboards, or kayaks. 
It offers something for everyone, including people of all ages, and is an ideal location for families. The lagoon is a protected area with calm, shallow waters and is perfect for beginners or those looking for a relaxing paddleboarding or canoeing experience.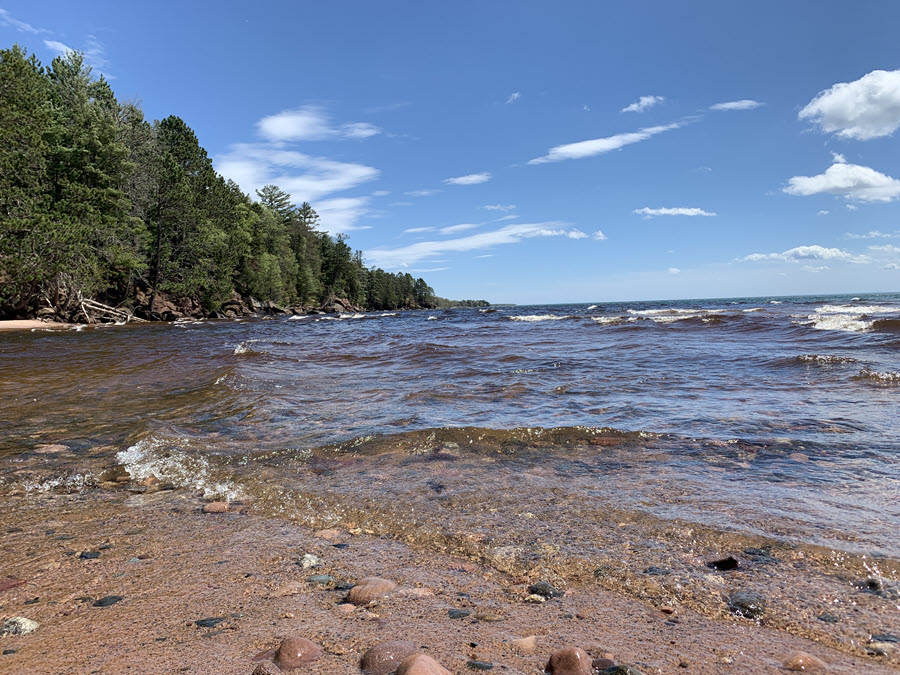 Visit the Madeline Island Museum
The Madeline Island Museum is worth visiting if you're searching for a more indoor activity or learning about the island's rich history. 
The museum has several exhibits and interactive displays that tell the story of the island's first inhabitants and its commercial and cultural development throughout the centuries. Some of the exhibits in the museum include art collections that depict the life and culture of the island's original residents, as well as historical photographs and documents.
Canoe the Lagoon at Big Bay Town Park
If you love water adventure activities and nature, then canoeing the lagoon at Big Bay Town Park is worth trying. 
Bog Lake Outfitters LLC offers affordable canoe, kayak, and paddleboard rentals on this beautiful lagoon. 
You can paddle through the lagoon, surrounded by greenery and wildlife, which makes for a serene and peaceful experience. This activity is perfect for people of all ages.
Shop in La Pointe
If your idea of a fun vacation includes shopping, La Pointe has several shops that offer anything from local art pieces and souvenirs to specialist foods. 
Wood's Hall is one of the most popular shops and offers locally-made pottery, jewelry, books, and other unique souvenirs that will remind you of your time on the island. 
If you're looking to combine shopping with a glass of wine or coffee, Bell Street Gallery is a great option that offers a variety of unique art pieces alongside food and drink.
Places to Eat and Drink on Madeline Island
Of course, no trip to Madeline Island is complete without trying some of the local eateries and bars. There are several restaurants located on the island, offering a range of cuisine.
Tom's Burnt Down Cafe
Tom's Burnt Down Café is a unique experience on Madeline Island. And if you aren't paying attention, you may mistake it for a junkyard. 
It is situated in what remains of a burnt-down old building. It has a laid-back atmosphere that is mainly made up of several decks in an airy atmosphere. 
With signs throughout and tarps for a ceiling, you will not forget your night at Tom's. 
And in the summertime, they provide live music and entertainment.
The Beach Club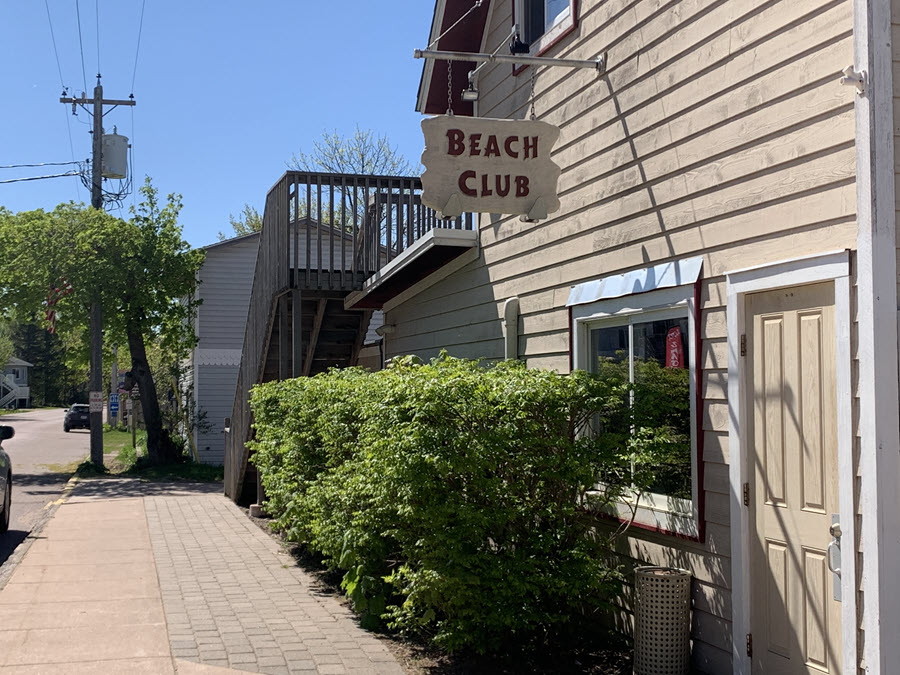 The Beach Club is an excellent option for a more casual dining experience with stunning views of Lake Superior.
The menu offers Wisconsin favorites like cheese curds as well as tasty sandwiches and salads. The outdoor patio area is perfect for relaxing during the day.
The Inn on Madeline Island
The Inn on Madeline Island is an upscale eatery with a great pub with waterfront views. 
The menu is locally-sourced and specializes in fresh seafood dishes, as well as classic Midwestern staples. It is a great option for those who seek quality food with waterfront views.
Grandpa Tony's
Grandpa Tony's is a casual and family-friendly restaurant serving classic Italian-American cuisine. 
The menu is affordable, and the portion sizes are large. The restaurant has a cozy interior, perfect for a casual night out with family and friends.
Farmhouse Restaurant
Farmhouse Restaurant is a must-visit option for locals and tourists alike. Their menu features locally-sourced and organic ingredients, and they specialize in farm-to-table cuisine. The restaurant has a warm and inviting atmosphere, with indoor and outdoor seating options.
From a rainy day afternoon to a sun-filled vacation, Madeline Island has something for everyone. Pack plenty of sunscreen, bug spray, and comfortable shoes to explore this beautiful place! With its array of activities and attractions, it's sure to be the perfect destination for your next vacation!
More Wisconsin Adventures:
Map of Wisconsin Waterfalls + 2 Itineraries
Best Things to Do in Boulder Junction, Wisconsin