If you're looking for a place to explore where nature meets adventure, Wisconsin's Bayfield and Apostle Islands region is just the spot. From outdoor activities like kayaking and hiking to historical sights and cultural attractions, here are some top things to do in this stunning location.
Activities Around Bayfield and the Apostle Islands
Explore the Apostle Islands from the Water
No trip to Bayfield and the Apostle Islands is complete without a trip out on the water. Rent a kayak or book a boat tour to get close to this stunning natural wonderland. 
Explore sea caves, visit lighthouses, paddle around Madeline Island, and take in the breathtaking views of Lake Superior.
If kayaking is your thing, check out these local outfitters and tour guides:
If a leisurely boat tour is more up your alley, check out these options for Apostle Island Cruises:
For more info, this post from Agnes at Travel on the Reg does a great job reviewing different cruise options: Are Apostle Islands Cruises Worth It?
Hike the Apostle Islands National Lakeshore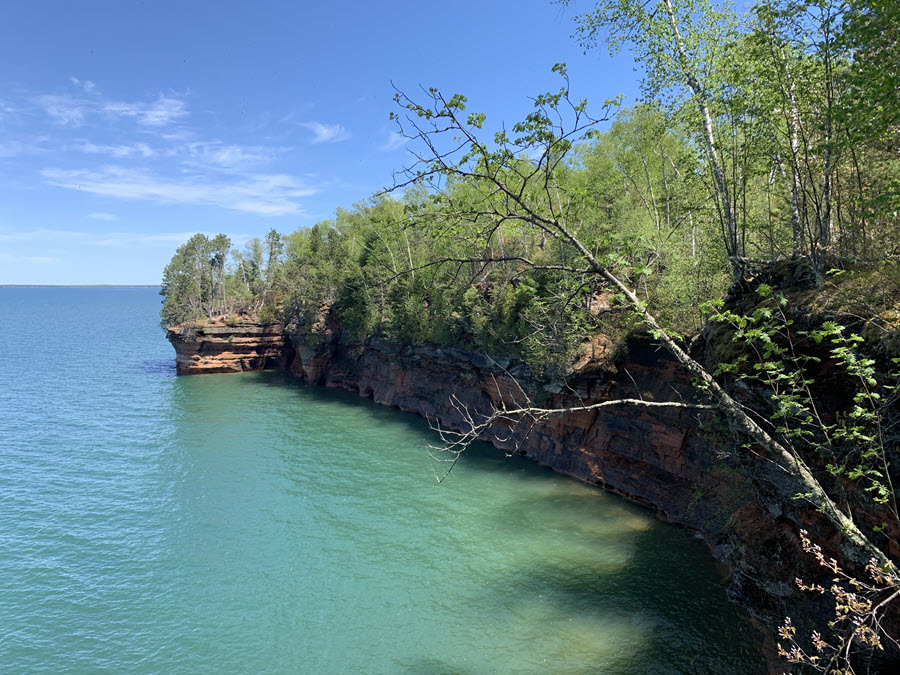 The Bayfield and Apostle Islands are home to various beautiful landscapes, from rugged cliffs and hidden islands to stunning beaches and secluded coves. Take a hike on one of the many trails in the area, or explore untouched forests and sandy shorelines. There's something for everyone to discover!
Meyers Beach Trail to Sea Caves is one of the most beautiful and unique hikes you'll experience in Bayfield and the Apostle Islands. This 4.6-mile, out-and-back trail takes you to a spectacular lake shore featuring numerous sea caves carved out by the wind, waves, and time. The hike is rated as moderate, but it's well worth the effort for the incredible views of Lake Superior and the sea caves.
Take the Ferry to Madeline Island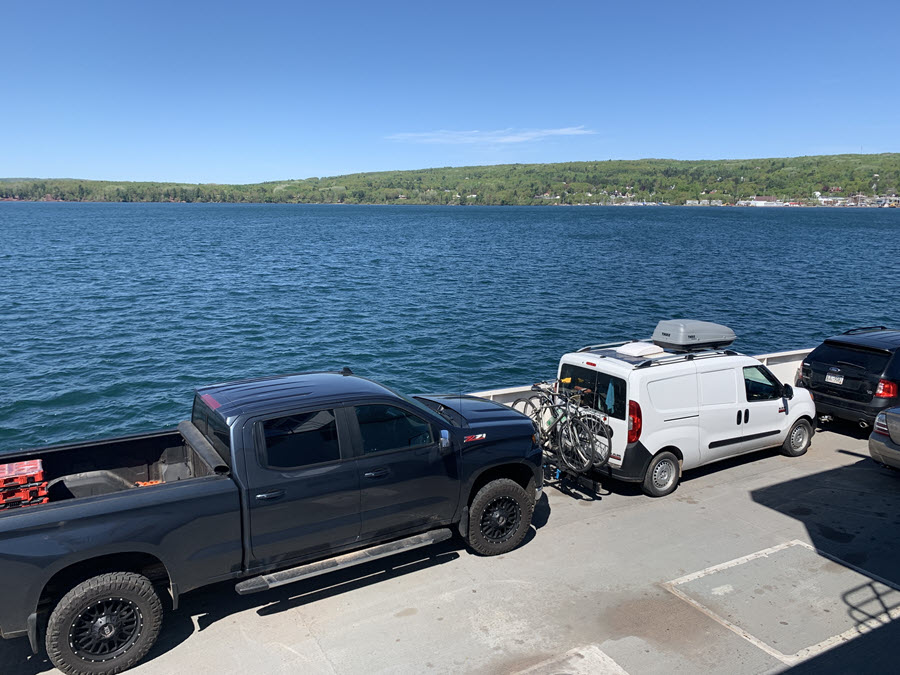 You could also start your Bayfield and Apostle Islands exploration with a visit to Madeline Island, the group's largest island.
Hop on the ferry from the mainland and take a peaceful 20-minute journey to the island. Once you arrive, there are many things for to do on the island.
You can rent a bike or moped to get around and explore all Madeline Island offers. Spend your day picnicking at Big Bay State Park, browsing local shops and art galleries, or relaxing on one of the many beaches.
Another fantastic and unique attraction is Tom's Burned Down Cafe. The Cafe burned down in 1992, but that didn't stop them from doing business. Now, they host live music, movie nights, and other events in the remains of the building, giving it a unique charm that you won't find anywhere else.
Related Post: Fun Things to Do on Madeline Island
More Wisconsin Adventure:
Things to Do in Boulder Junction
Things to Do in Prarie du Chien
Things to Do in Sturgeon Bay
Hike to Lost Creek Falls
The Lost Creek Falls trail is one of the most popular hikes in Bayfield and the Apostle Islands. 
This easy, out-and-back takes you through a peaceful forest to a stunning waterfall that cascades into a lagoon surrounded by stunning green scenery. You can also walk behind the waterfall, so this is the trail for you if you want a truly magical experience.
This 2.5-mile hike can be completed in under two hours, and the reward of seeing Lost Creek Falls is worth every step. Plus, you can take in some of the area's most stunning scenery along the way.
Stroll through Houghton Falls Nature Preserve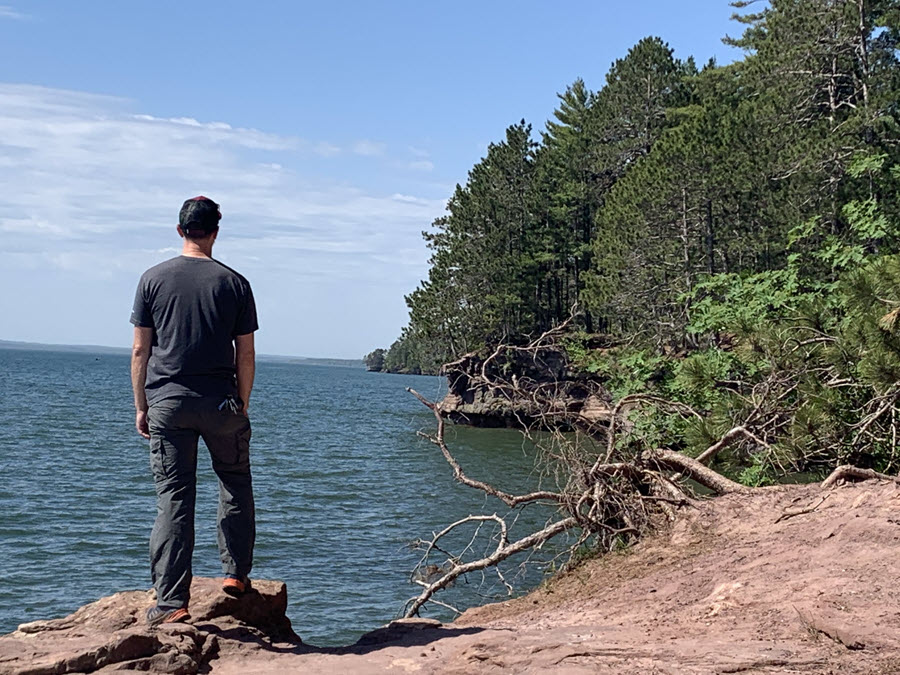 Another option for nature lovers, the Houghton Falls Nature Preserve, is a great place to explore the area's diverse plant and animal life. This 76-acre preserve features numerous trails that meander through forests, creeks, wetlands, and wildflower meadows. The highlight of this preserve is Houghton Falls – a stunning waterfall that cascades into an old millpond and the peaceful shoreline of Lake Superior.
Whether you're a nature enthusiast, birdwatcher, or just looking to get away from it all, Houghton Falls is the perfect place to spend an afternoon. Stop by and explore this unique area and take in the tranquility of its natural beauty.
Bayfield Maritime Museum
For a rainy afternoon, nothing beats the Bayfield Maritime Museum – a fantastic place to learn about the history of Bayfield and the Apostle Islands. You can explore exhibits detailing the area's logging industry, maritime heritage, lake ecology, and more. You can also view artifacts from ships that have been lost around this area.
The museum also houses an extensive collection of photographs and documents and a gift shop with unique souvenirs. Whether you're interested in the area's history and culture or looking for something to do on a rainy day, visit the Bayfield Maritime Museum.
Shop along Rittenhouse Avenue
Rittenhouse Avenue is the main thoroughfare of Bayfield, and it is located near the ferry dock. 
Here you'll find a variety of unique shops and boutiques, with everything from local art to vintage clothing. Whether you're looking for a souvenir or want to browse the local stores, Rittenhouse Avenue has something for everyone.
Stop at a Fish Market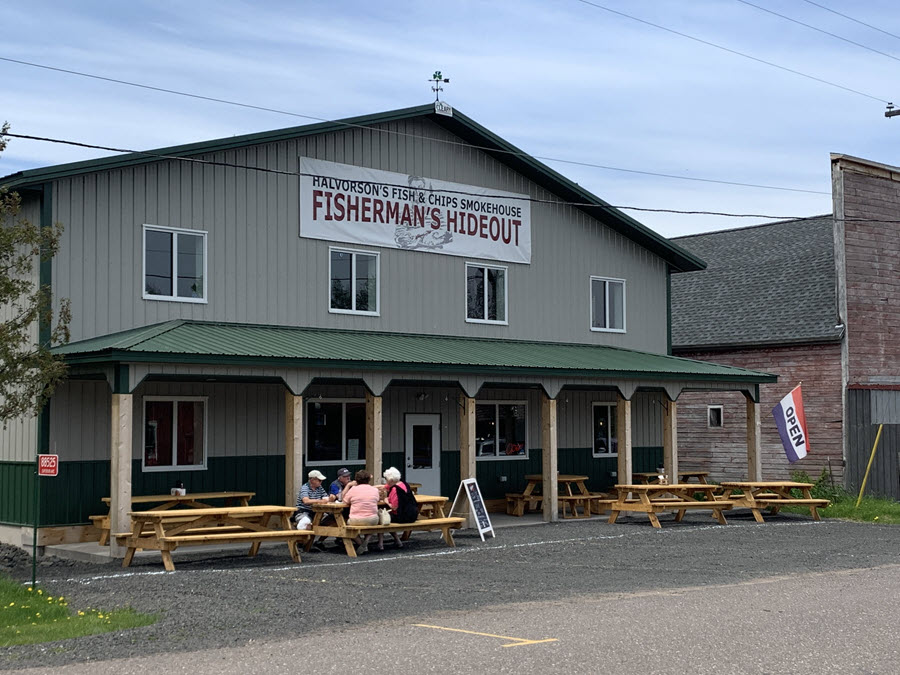 A trip to the shores of Lake Superior would only be complete with a stop at a local fish shop. 
Two favorites in the area are Halverson's in Cornucopia and Hoop's Fish Market in Bayfield. 
At both places, you'll be able to scrap up some delicious locally caught smoked fish and grab some lunch if you are hungry. 
Drive the Lake Superior Byway
If you enjoy cruising along scenic byways, the Lake Superior Byway should be on your list of things to do in Bayfield and the Apostle Islands. This drive takes you along some of the most beautiful roads in Wisconsin, with breathtaking views of Lake Superior. You'll also get a chance to stop off and explore small towns like Ashland, Red Cliff, and Bayfield and learn more about the area's history.
Whether you take it slow or race along the byway, this is a great way to experience the beauty of Lake Superior and the Apostle Islands. Plus, if you have time to spare, there are plenty of out-of-the-way attractions to explore.
Places to Eat and Drink Around Bayfield and the Apostle Islands
Of course, no getaway is complete without sampling the local cuisine. Bayfield and the Apostle Islands have plenty of places to eat and drink, from cozy cafes to classic pubs. Here are a few of our favorites:
Adventure Club Brewing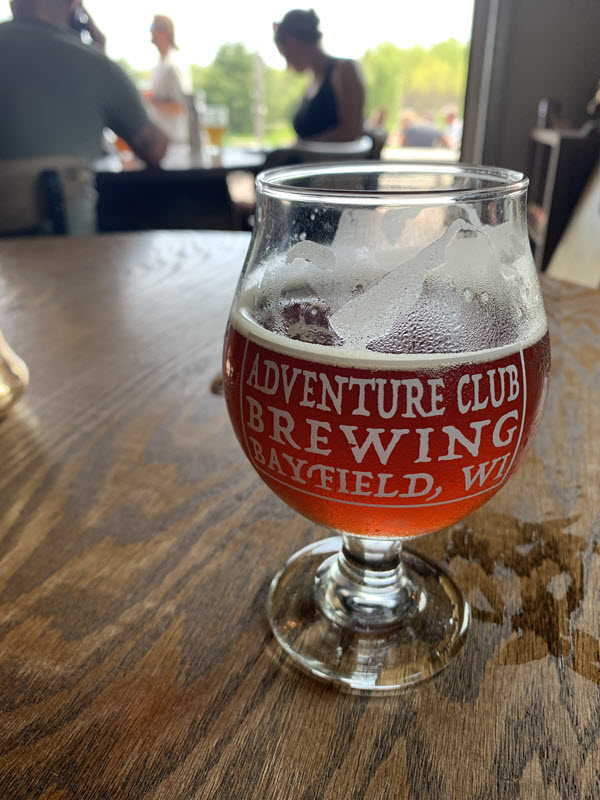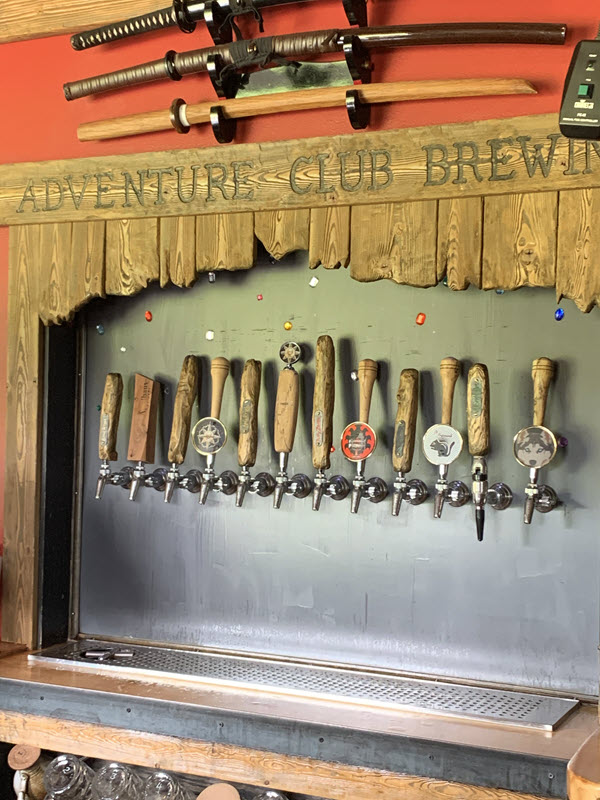 Adventure Club Brewing is a  local brewery and is the perfect place to stop for a beer after a long day of exploring. They offer an array of craft brews, plus some tasty snacks.
Bayfield Winery and Blue Ox Cider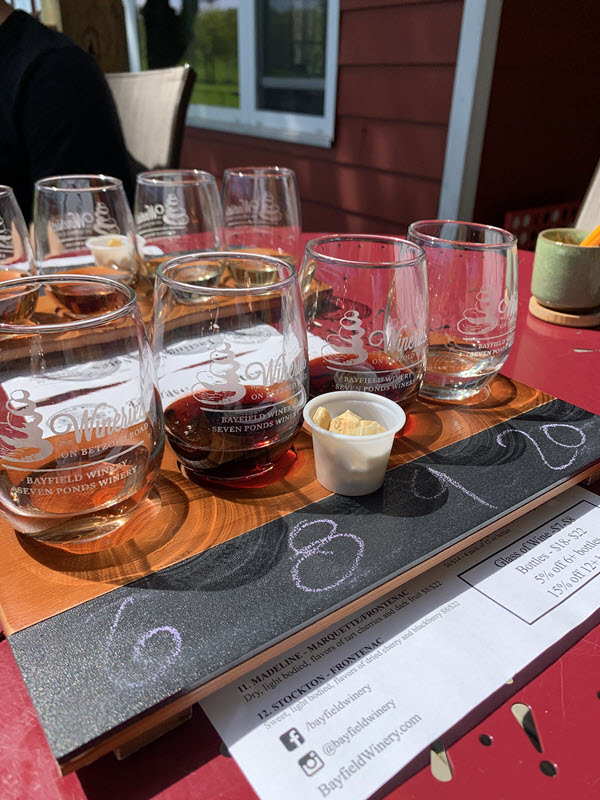 Bayfield Winery and Blue Ox Cider is a perfect place to stop and relax in a peaceful setting overlooking the vineyard.  
Check out their website to see if they have live music when you are in the area, and plan your visit then!
Belltower Bar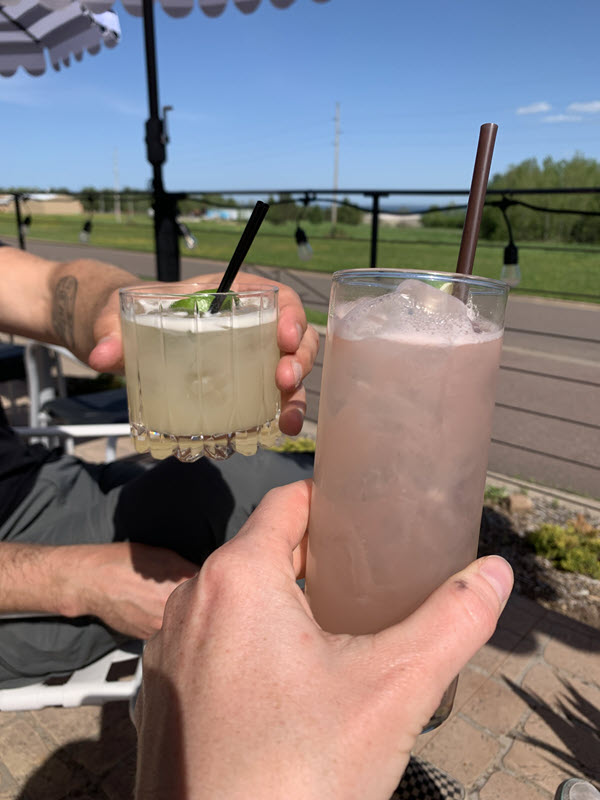 Belltower Bar is a trendy bar with fantastic cocktails.  The interior is decorated to perfection, giving the space a sophisticated and welcoming vibe.  If you are hungry, they have snack boxes that are a must-try. 
Copper Crow Distillery
If you're looking for a unique experience, check out Copper Crow Distillery. 
Here you can sample some of the best spirits in Wisconsin and learn about the distilling process. There's a reason their slogan is "An experience like nothing else."
Their tasting room is welcoming, and they have a lovely outdoor space where you can relax with your new favorite spirit. 
The Deck at the Bayfield Inn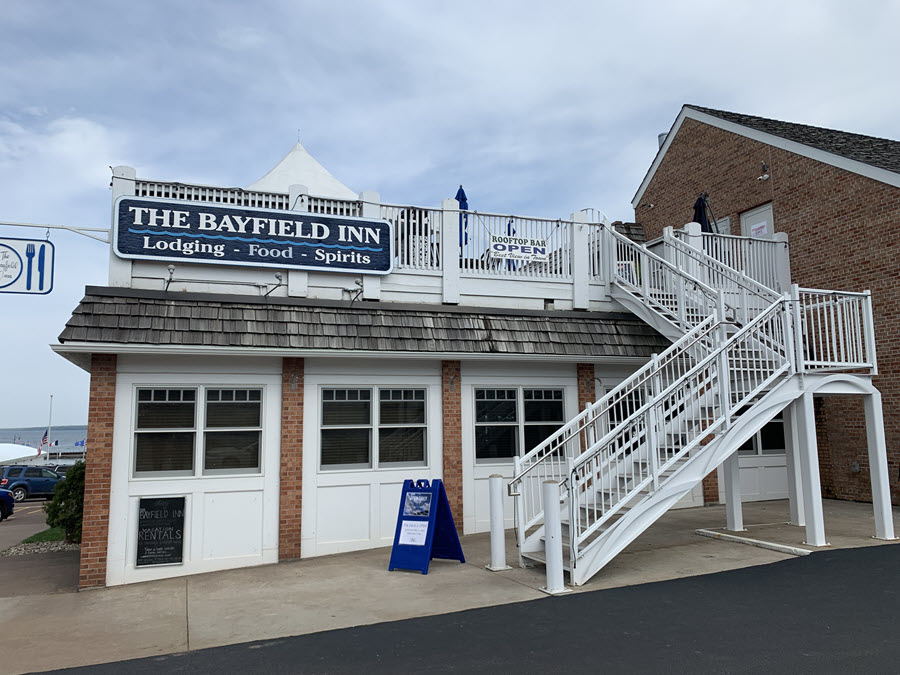 Whether you are looking for an afternoon cocktail or need a little lunch, The Deck at the Bayfield Inn is the place to go. 
This outdoor space has stunning views overlooking Lake Superior and Madeline Island. 
Copper Trout
Copper Trout serves up fresh, locally-sourced seafood dishes made with sustainable ingredients. It's the perfect spot for a romantic dinner for two or a fun night out with friends.
DaLou's Bistro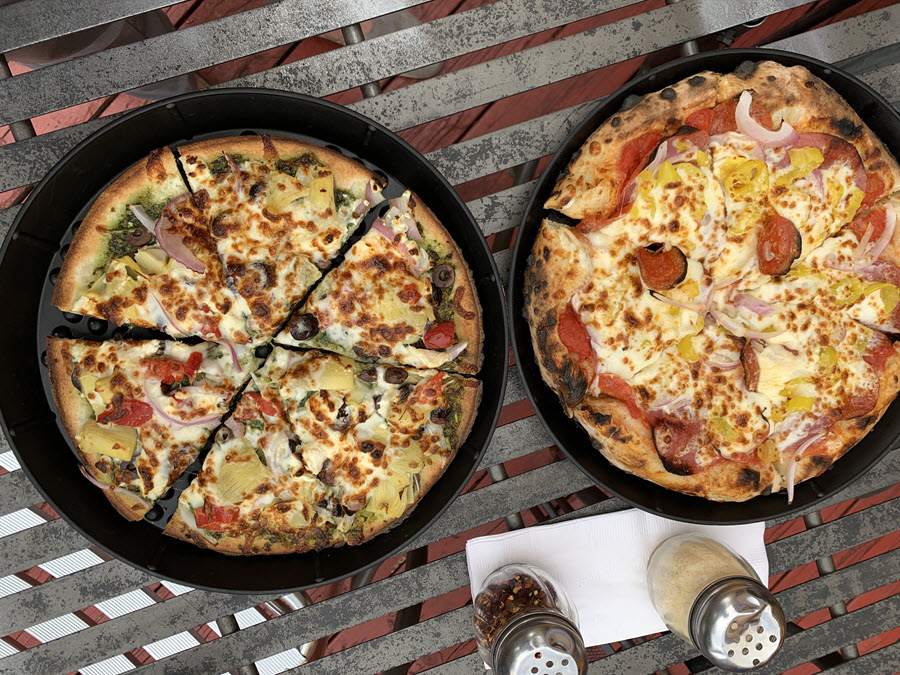 Last but not least, everyone's favorite pub in Bayfield, DaLou's Bistro. Here you can grab some of the finest wood-fired pizza and wings in the area, plus tasty craft beers.
No matter how you spend your time in Bayfield and the Apostle Islands, you're guaranteed a unique and unforgettable experience. From outdoor adventures to cultural attractions, you won't be disappointed with all this region offers. So grab your gear and get ready for an experience of a lifetime.