The Porcupine Mountains Wilderness State Park (aka "The Porkies") is one of the midwest's finest outdoor gems. And is a must-see stop on any Michigan Upper Peninsula Road Trip. 
Within the park, you'll find amazing hikes, waterfalls, and scenic overlooks.
And if you travel there in the fall, you'll have a chance to see some of the best fall colors shows in the United States. 
The Porkies are known for their fantastic backpacking trails with reservable campsites, yurts, and cabins along the way. 
But if you are like us and are not up for carrying your supplies on your back for several days, there are many jaw-dropping day hike options to explore the Porkies.
Here are our favorite day hikes in the Porcupine Wilderness State Park.
Best Day Hikes in the Porcupine Mountains
We picked three day hikes to help you explore the Porcupine Mountains on foot. 
Each of these hikes is in a different scenic area of the park, allowing you to explore the varying landscapes The Porkies offer. 
Escarpment Trail – Lake of the Clouds Scenic Area
Length: 8.6 Miles (But can be made shorter)
Type of Trail: Out and Back (4.2 miles one way)
Difficulty: Moderate
Elevation Gain: 1,666ft
If you only have time for one hike in the Porcupine Mountains Wilderness State Park, make it this one.
This trail runs along an escarpment, a long steep slope, and brings you to sweeping views of the Lake of the Clouds and the park's interior. 
During this hike, you'll hike along the high rocky bluffs for a while and then duck back into the forest several times. Each time you come back out onto the ridges, your jaw will drop in disbelief that you are in Michigan. 
This hike gives you the option to start at one of three trailheads: Lake of the Clouds, Government Peak, and a midway point. 
We recommend starting at the Government Peak Trailhead for the best views, but honestly, you'll have great views either way.
Whatever trailhead you start on, you will start your hike with a steady incline. But don't let that discourage you. The work is most definitely worth it. 
This hike can be long, but the good news is that you don't have to do the entire length of the trail if you don't want to. You can turn around at any point. 
After hiking 3 miles from the Government Peak Trailhead, we turned around and drove to the Lake of the Clouds overlook. We did this to avoid going back up an incline as we were done with hills for the day. 
This is definitely a choose your own adventure hike.
East and West River Trail Loop – Presque Isle Scenic Area
Length: 2.8 Miles 
Type of Trail: Loop
Difficulty: Moderate due to rough terrain on the West Trail 
Elevation Gain: 400ft
If you love a good waterfall as we do, this hike is for you.
We loved making this waterfall hike into a loop, but if you are short on time or want a more leisurely hike, then stick to the east river trail with its boardwalks and viewing platforms. 
On this hike, you will get to see three impressive waterfalls along the Presque Isle River. It's a great hike that is a great bang for your effort.
What you will love about this hike is your ability to walk down and get up close and personal with some of the waterfalls. The landscape allows you to step out onto rocks to explore the falls easily. 
While this hike can easily be completed in 90 minutes, you'll want to plan for much more time than that. There are many places to sit along the way and appreciate the scenery and so much to explore!
For more Upper Michigan waterfalls, check out our digital Michigan waterfall map.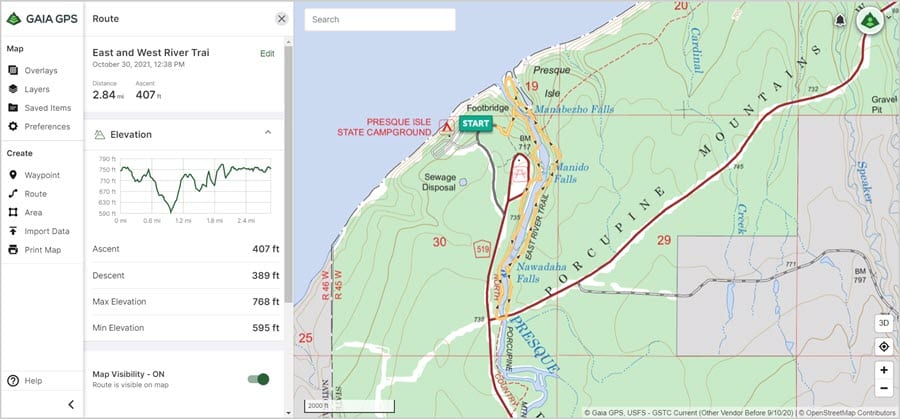 Beaver Creek to Little Carp River to South Mirror Lake to Summit Peak Loop – Summit Peak Scenic Area
Length: 4.7 Miles 
Type of Trail: Loop
Difficulty: Moderate
Elevation Gain: 622ft
This is a lovely trail that takes you through a beautiful marsh, lake, and forest. 
While enjoying this hike, you'll come across fun boardwalk crossings and dense forests. It's a great hike if you want to feel surrounded by nature and the beauty of an old-growth forest. 
Take the trail clockwise so that you end your hike with the highlight of climbing Summit Peak Tower. Summit Peak Tower is the highest point in the park and gives an impressive 360° view of the Porcupine Mountain Wilderness. 
How Many Days to Spend in the Porcupine Mountains
Ideally, you'll want to plan three days for a visit to the Porcupine Mountains. 
The park is quite large, so three days allows you to spend a day in each of the three scenic areas: Presque Isle, Summit Peak, and Lake of the Clouds.
If you only have two days, we suggest checking out the Presque Isle and Lake of the Clouds Scenic areas.
And if you only have one day, then the Lake of the Clouds Scenic Area would be our suggestion. 
Best Time To Visit the Porcupine Mountains
In our opinion, Fall is the best time to visit the Porcupine Mountains, especially when the forest erupts with breathtaking fall colors. 
Most people visit the Porcupine Mountains from May to October. But beware that if you plan to go from mid-May to late July, it's black fly season, and those suckers are annoying and bite. 
If you plan to go in Spring when the forest is starting to wake up for its winter slumber, make sure to bring appropriate shoes and boots as the trails will likely be muddy. 
Where to Stay in the Porcupine Mountains
Campgrounds
There are two campgrounds within the Porcupine Mountain Wilderness State Park. 
The Presque Isle Campground is a rustic campground situated on the far western side of the park. Rustic campgrounds have pit toilets and hand pump water but no bathroom facilities or electricity.
On the eastern end of the park is a modern campground, Union Bay, with showers and electrical sites. This is a very popular campground, so make sure to book early if looking for a spot here. The sites along Lake Superior are outstanding, so scrap one of those up if you can. 
Cabins Rentals
If camping isn't your thing, renting a cabin while visiting the Porcupine Mountains is necessary. 
There are several resorts to choose from and plenty of Airbnb's to rent. Look for places around White Pine and Ontonagon, as these are some of the closest towns to the Porcupine Mountains. 
Close to the park, you'll find Mountain View Lodges. Situated on Lake Superior, this is a perfect spot for your adventure. 
More Michigan Upper Peninsula Fun:
Michigan's Upper Peninsula Road Trip: Must-see Stops
Must-See Things to Do in the Keweenaw Peninsula
Digital Michigan Waterfall Map