The Upper Peninsula in Michigan, known to most as the UP, is a truly unique destination. 
And at the very top lies the Keweenaw Peninsula, a destination known for its rich natural beauty as well as its one-of-a-kind attractions and shops.
There is always plenty to do in the Keweenaw Peninsula, no matter which time of year you arrive. 
Check out some of our favorite things to do in the Keweenaw for your next Upper Peninsula Road Trip.
Visit a Copper Mine
Native Americans had been mining copper from the Western portion of the UP and Lake Superior area as early as 5000 BC. But a 1941 report on the pure copper (native copper) abundance from Michigan State Geologist Douglass Houghton set off a mining rush.
For 99 years, Quincy Mine, known as "Old Reliable", consistently produced copious amounts of native copper. Today, you can tour the mine itself, see the world's largest steam-powered hoist, and take a short ride on the Cog Rail Tram. Guided tours are given daily.
If you like to set your own pace, stop by Delaware Copper Mine to take a self-guided tour of the mining operation that ran for 40 years. You'll see the first level of the mine (since all of the other levels are flooded), and you can tour the grounds to see the pump house, hoist house, old equipment, and even some trains.
Stop at a Fish Market 
It only makes sense that Lake Superior, the largest of the Great Lakes, has a large fishing industry. And because the Keweenaw Peninsula juts right into Lake Superior, you're going to find some of the freshest fish anywhere on the planet.
If you're looking for a one-stop-shop, be sure to visit Peterson's Fish Market and Four Suns Fish & Chips. In the same location, you can grab a few fresh filets and feast on some of the best fish fry in the area. The smoked whitefish in the market is amazingly tender with just the right amount of smokiness that never overpowered the flavor of the fish.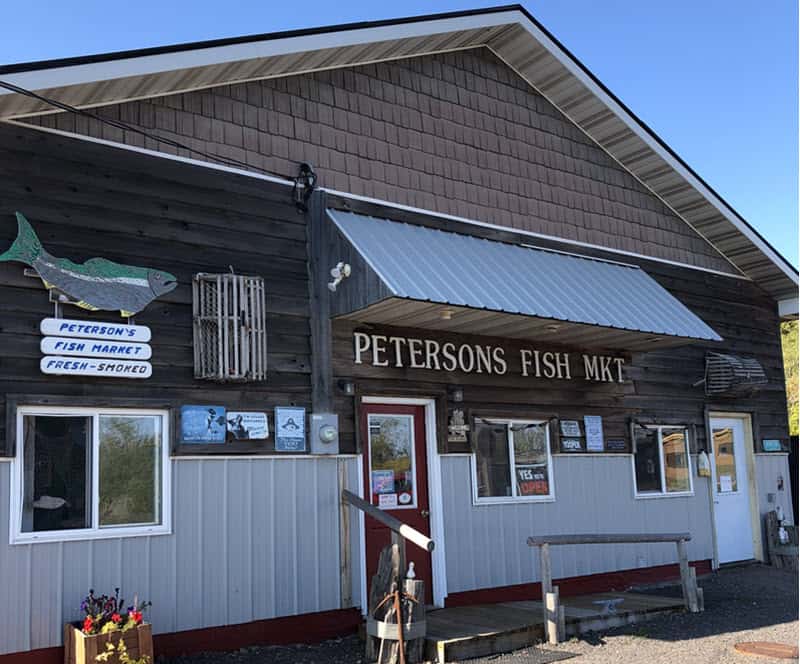 Head over to Jamsen's Fish Market and Bakery, located right on the shore of Lake Superior when you are in the Copper Harbor area. You can grab some fresh or smoked fish for later while indulging in some fresh donuts, muffins, and other sweet morning delights. And don't forget to grab a great cup of coffee while you're there.
The Jampot
The Jampot has no equal. 
What began with the residents of the Holy Protection Monastery harvesting berries to make preserves has evolved into the UP's tiniest gourmet food store. 
Folks come from miles around to wait in the long lines to escape with the most decadent fruitcakes, fresh muffins, handmade chocolates and candies, baking mixes, and specialty coffees. 
We went home with a highly recommended Jamaican Black Fruit Cake. While we only got the smallest size, it seemed to weigh 5 lbs. It was unbelievably flavorful and soaked in fine Jamaican rum and port wine. I'd advise avoiding a large slice before driving to your next destination. 
The store is only open seasonally, but make sure to get there early to avoid an extremely long line.
Take a Scenic Drive
Hiking or biking in the Keweenaw Peninsula is always an excellent option. But taking a scenic drive can be just as satisfying. 
One of the most picturesque routes is Brockway Mountain Drive. Here you'll drive to the highest point above sea-level drive (1,320 feet) between the Rockies and the Alleghenies.
There are several panoramic viewpoints to stop at and view the untamed wilderness and Lake Superior. Grab some chairs and follow the crowds to the western-facing parking area to enjoy one of the most breathtaking sunsets you'll encounter.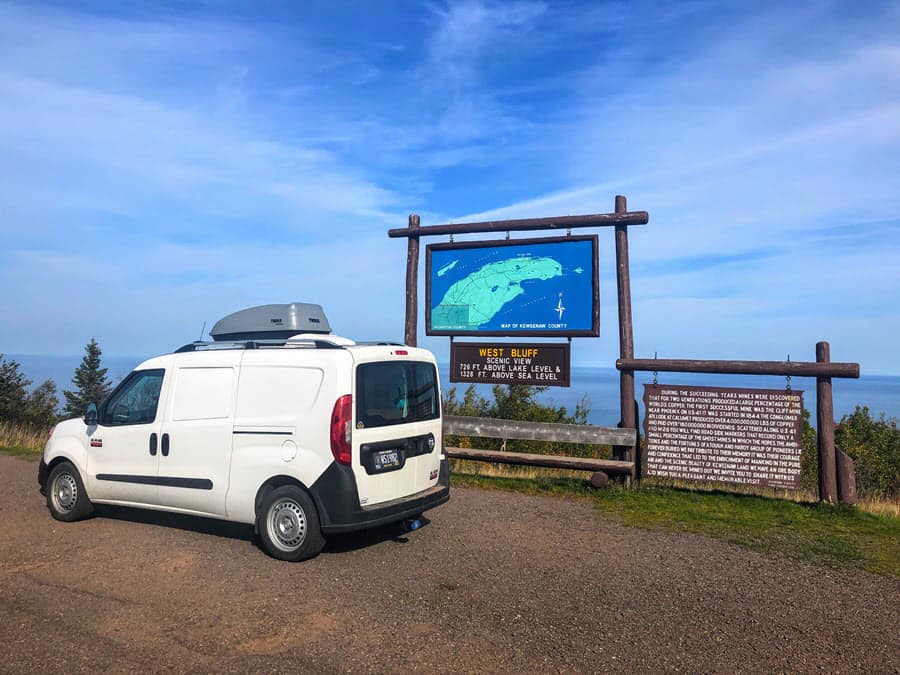 Going a little off the beaten path is always part of the adventure in the UP. While ideal to take in the spectacular fall colors, driving down Covered Road in any season will be a unique experience.
While driving on this quiet dirt road through a canopy of trees, you'll feel closer to nature and an instant sense of serenity. The road does have a few rough spots but is generally smooth and accessible with any type of vehicle. 
Chase Waterfalls
No trip to the Keweenaw Peninsula would be complete without visiting some of the magnificent regional waterfalls.
Hungarian Falls
Hungarian Falls is one of the most spectacular falls in the area. Hike to the top to experience the 100-foot drop into the gorge below. Most spectators will have to view from there, as getting down into the valley to get a better view can be a bit tricky.
Jacob's Falls
If you're heading over to the Jampot for some fantastic treats, make sure you take the short walk from the parking area to check out Jacob's Falls. It's a modest 40 feet but is still worth seeing. It's conveniently located right off the road, so no hiking is necessary. 
Eagle River Falls
Another spectacular waterfall that is very easily accessible is Eagle River Falls. Simply cross the pedestrian bridge to get an awe-inspiring view of the falls as the water splits and cascades down the broad rocky facade.
Manganese Falls
Manganese Falls is a nice little stop to make if you're in Copper Harbor. These aren't the more traditional falls like the others mentioned before it. Instead, from your vantage point on the trail, the water snakes around and eventually seems to disappear in the mossy green rocks. 
Montreal Falls
The approximately one-mile hike to Montreal Falls is well worth the effort for people seeking a little more adventure. The hike along the lakeshore to the Montreal River is breathtaking. Once you arrive at Montreal Falls you'll witness the, powerful cascade directly pouring into Lake Superior.
If you want more adventure, follow the trail up the river about another half mile to check out Upper Montreal Falls.
The trail to the falls is located on private property (the owners allow hikers to use the trail). Be aware that the length of this hike can vary based on whether or not a gate is open for car traffic. If the gate is closed, you may have to walk an extra ¾ of a mile down a dirt road if it's not.
For more Michigan waterfalls, check out our digital Michigan Waterfall Map.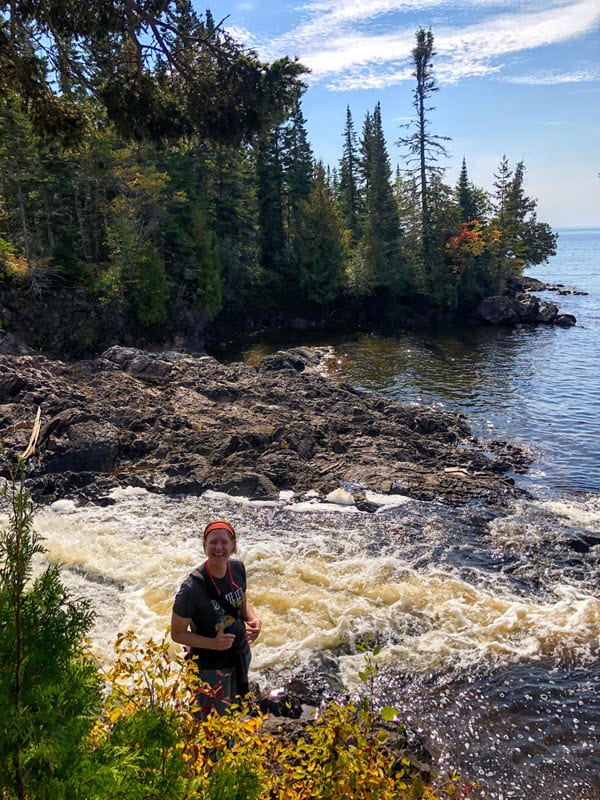 Go for a Hike
Speaking of hikes.
There's no shortage of great hiking trails in the Keweenaw Peninsula. With all the wild forests, rivers, and rocky bluffs overlooking Lake Superior, you're bound to find something that's right up your alley, regardless of your skill level.
Bare Bluff Trail
A favorite hike in Keweenaw is the remote Bare Bluff Trail on the Russell and Miriam Grinnell Memorial Sanctuary. This one was a little trickier to find, but it well worth the hunt.
Once you're on the main trail, you'll come to the beginning of a 3-mile loop where you'll make your way through some trees and emerge to find the rocky bluffs and amazing views of Lake Superior. 
The reviews on this hike note that the trail along the bluff can't get a little hairy and should be reserved for adventurous hikers. To avoid this and still experience the fantastic views, you can hike this trail as an out-and-back by going clockwise around the loop and then doubling back. 
Mount Baldy
The 6.4-mile out-and-back Mount Baldy hike begins with a fairly flat dirt trail in the woods. After about a mile the trail turns into a steady incline making you work for that view. 
The work you put in will be well worth it when you reach the peak where you'll take in dramatic panoramic views of the untamed forest and nearby lakes. If you go during the fall, the intensity of the colors is unlike anything you'll ever witness.
Estivant Pines Nature Sanctuary
If a more relaxing hike is what you're after, then look no further than the Estivant Pines Nature Sanctuary. Here, you can walk two one-mile loops and feast your eyes on ancient 300-500-year-old white pines, which are the star of the show. But bird watchers and lovers of wildflowers will not be disappointed in the varieties of species that dwell in this old-growth forest.
Keweenaw Rocket Range
One of the most unique attractions in the area is the hidden and abandoned Keweenaw Rocket Range. 
Before you decide to start your trek, it's important to note that this is only accessible by vehicles with high clearance. To get there, you'll be driving on very uneven terrain and over large embedded rocks that stick out the ground.
The rocket range in and of itself isn't anything particularly spectacular. It's merely a cement slab with what looks like a gravestone attributing its historical significance. However, the adventure of getting there and enjoying a great view of Lake Superior will make it worth your while.
Fort Wilkins Historic State Park
Another Keweenaw Peninsula must-see for history buffs is Fort Wilkins Historic State Park. The fort was originally built to keep the peace as American settlers flocked to the area during the copper rush.
Today, it's more of an outdoor museum, as visitors can walk the grounds and explore the old restored buildings. You'll find plenty of artifacts and anecdotes about pioneer army life and the buildings themselves during your self-guided tour. 
Fort Wilkins is a family-friendly destination with even a few interactive displays. The beauty is that you can spend 30 minutes or three hours, depending on your interest level.
Horseshoe Harbor Beach
Horseshoe Harbor Beach is another hidden gem located at the very top of the Keweenaw Peninsula. Nestled in the Mary Macdonald Preserve, you'll reach the rocky beach after a short half-mile hike through the woods.
Once you emerge from the trees, you'll feel as though you entered a private beach. Lined with bedrock cliffs that stretch the shoreline, you'll feel like you are a secluded beach in the middle of nowhere. Unlike any of the white or black sand beaches found in the area, these igneous rock formations have a natural beauty all their own. 
This is a peaceful and ideal place to relax and enjoy our lunch. And during non-peak season, you may be lucky enough to have it all to yourself.
Where to Eat in the Keweenaw
The view is often just as important as the food itself when you're in the Keweenaw Peninsula. Thankfully, there are several excellent options where you can have both.
Harbor Haus
Harbor Haus in Copper Harbor is an upscale restaurant that utilizes lots of local ingredients in its flavorful dishes. From local Lake Superior trout and whitefish to European delicacies like schnitzel and pork cutlets, you'll find something for everyone. 
Their extensive wine list and dessert menus make it an indulgent destination for discriminating diners. Harbor Haus is only open seasonally and only takes reservations. Be sure you check their website before planning your dining experience.
Fitzgerald's Restaurant
A favorite dining experience is Fitzgerald's Restaurant in Eagle River, Michigan. Boasting "Real Smokehouse Barbeque, Fine Whiskey, Craft Beer" this restaurant not only has delicious food but also has one of the best views in the Keweenaw.
The barbecue was indeed outstanding, as was the freshly caught whitefish. If you are a beer enthusiast, their impressive tap craft beer list will have your mouthwatering.
Fitzgerald's only accepts reservations, and they fill up rather quickly. Make sure you don't miss this exquisite dining destination and make your reservations well before your visit.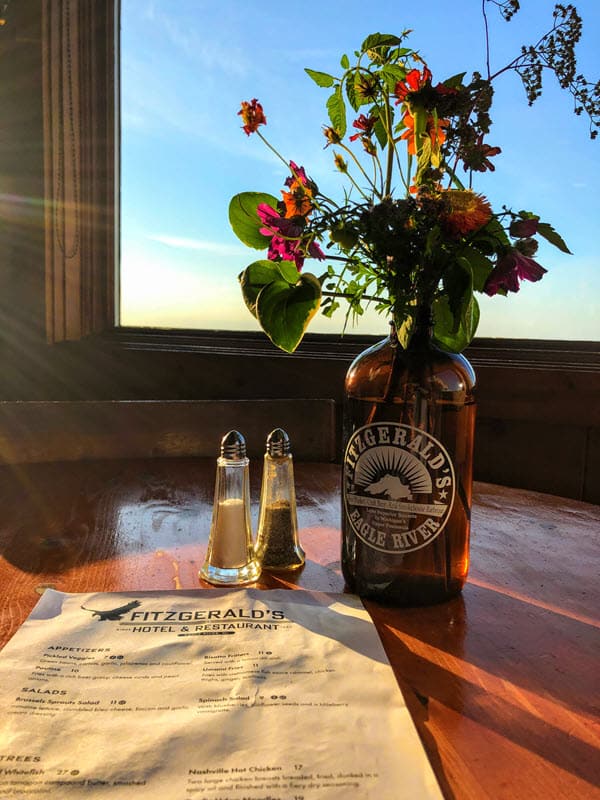 Keweenaw Mountain Lodge
The historic Keweenaw Mountain Lodge is another excellent choice for dining. With a reservation-only main dining room and the adjoining Little Cabin Cafe, you can choose between more formal dining or quick and casual.
There are tons of activities to enjoy on the resort property, so you might as well make a day of it and enjoy some excellent food in a glorious wilderness setting.
Eagle Harbor Inn
For a more casual but equally scenic dining experience, stop by Eagle Harbor Inn in the town where it gets its namesake. It's only a block from the rocky Lake Superior coastline and only a few more to reach the Eagle Harbor Lighthouse; it's a destination in and of itself.
The menu consists of typical pub fare and hand-tossed pizzas that can also be made with a house-made gluten-free crust. The pizzas are the star here and include everything from traditional toppings to specialty lobster pizza with a rich garlic butter crust.
You Got This
The Upper Peninsula in Michigan is vast and full of adventures. But it's worth going to the very top to enjoy all that the Keweenaw Peninsula has to offer.
Whether you enjoy history, hiking, or fine dining, there's something for everyone to enjoy.
Are you ready for your Keweenaw Peninsula adventure?
More Upper Peninsula Fun:
Best Day Hikes to Explore the Porcupine Mountains
Michigan's Upper Peninsula Road Trip: Must-see Stops
Upper Michigan Waterfall Map
Map of Michigan Campgrounds