Welcome to your go-to guide on where to stay in Milwaukee for a thrilling Brewers game at American Family Field (formerly Miller Park)!
Just 5 miles west of downtown, this park is easily accessible and offers plenty of accommodations nearby. Whether you want a hotel within walking distance, one that provides a free shuttle service, or you prefer exploring other options, we've got you covered.
If it were us picking a hotel, we'd choose one of the hotels near a bar that offers a shuttle. Doing this allows you some flexibility in the type of hotel you book, and there are a lot of cool Milwaukee hotels you can enjoy if you choose this route. 
Here are our top picks for Milwaukee stays to get the most out of your Brewers experience! 
Map of Recommended Hotels for American Family Field
Hotels Within Walking Distance of American Family Field
There are only a few hotels near American Family Field that would be within walking distance. 
Below are two great options if walking to the park is your ultimate goal or if you aren't interested in exploring other areas of Milwaukee. 
But don't fret if these two options aren't exactly what you are looking for. We have plenty of other options in this article. 
Best Western Plus – Milwaukee West
The Best Western Plus Milwaukee West is a short 1-mile or 20-minute walk to American Family Field. They also have a shuttle service if the weather takes a turn or you aren't up for walking. 
This no-frills hotel is a perfect spot if walking to American Family Field is your goal. Get brunch at Mad Rooster before the game. Or stop at the nearby Kegel's Inn for an authentic German meal. 
Get a Free Custom Milwaukee Itinerary
Want a custom Milwaukee itinerary created just for YOU?
Click below and fill out the Google Form. And we'll create your custom Milwaukee adventure!
Fairfield Inn & Suites – Milwaukee West
Another great option for a hotel within walking distance of American Family Field is the Fairfield Inn and Suites. 
This hotel is less than a mile from the park, which makes it a perfect place for those who want to be close to the action at American Family Field. 
Hotels near American Family Field with Shuttle Service 
Since American Family Field is outside of the Milwaukee city center, many bars and hotels offer free shuttle services to and from the park. 
Taking a shuttle is a perfect option for those that want to explore Milwaukee and have an easy way to get to and from American Family Field. 
Our Top Local Pick: Brewhouse Inn and Suites
Brewhouse Inn and Suites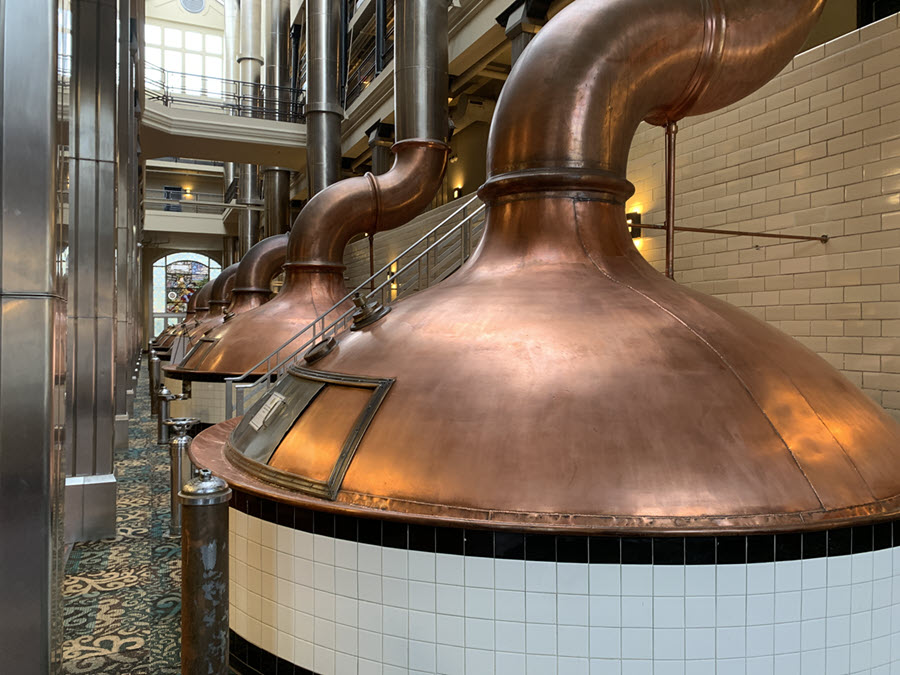 Beer history and a Brewers game? Sounds like a perfect Milwaukee trip! The Brewhouse Inn & Suites, situated in the historic Pabst Brewery complex, gives you just that.
Situated near attractions like the Harley-Davidson Museum and the Milwaukee River, this cool hotel is at the heart of it all. Love original features? Check out the vintage copper brewing kettles previously used to brew Pabst beer!
Whether you're in a studio or two-bedroom suite, enjoy a kitchen right in your room.
Oh, and that Brewers game? You're covered. The adjacent bar, On Tap, provides a free shuttle service.
Ambassador Hotel
The Ambassador Hotel is situated in downtown Milwaukee and is your comfortable base for a Brewers game weekend. This Art Deco marvel from 1927 sits close to Marquette University and, importantly, offers a free shuttle to American Family Field.
Want to unwind after the cheers and chants? Relax in a King Suite with a whirlpool tub right in your room.
Feel like reminiscing about the game? Head to their on-site bar, a cozy throwback to the 1920s. It's your perfect post-game hangout.
Sonesta Milwaukee West Wauwatosa
The Sonesta in Wauwatosa is a great option if you are looking for a hotel with a shuttle and also one that is not in downtown Milwaukee.
Make sure to book the Brewers Package. It includes a welcome bucket of four beers and a shuttle service to and from the game. 
Hampton Inn and Suites
Another hotel option that is not in downtown Milwaukee is the Hampton Inn and Suites in West Allis.
American Family Field is within a 5-minute free shuttle ride. They also offer free breakfast and have an indoor pool to enjoy. 
While you are in the area, check out Ope! Brewing Company for delicious local beers and West Allis Cheese Shop for some of the best sandwiches and Bloody Marys. 
Alternative Hotel Options near American Family Field 
Hotel shuttles aren't the only way to get to American Family Field. 
There are numerous bars around the city that also offer shuttle services. These are our favorite hotel options for Brewer games. This is because these hotels are located in vibrant neighborhoods offering plenty of other things to do in Milwaukee.
And if shuttle services aren't your thing, you can always park at the ballpark or use a ride-share service. 
In this section, we'll map out all the bars with Brewer shuttles. You can use this map to find hotels around those bars. And we'll also list a few of our recommendations for hotels near bars with shuttle services to American Family Field.  
Note: Some bars have drinks per person requirements. Check with each establishment for their requirements for riding their shuttle. 
Our Top Local Picks: County Clare for cozy; Kimpton Journeyman for high-end
Map of Milwaukee Bars with Brewer Shuttles
Check out our Milwaukee Brewers Shuttle Guide and Map.
How to Use This Map: Click on the icon in the top left-hand corner. You will now see a list of the bars offering shuttle service to Brewers games pinned on the map.

To see the map in more detail, click the [ ] in the top right-hand corner. This will bring to a larger map where the details of each point can be found by clicking on the location point name in the list on the left.

You can also save the map for your own use by clicking the ⭐ to the right of the map name. This will save the map to your Google Maps, where you can make a copy and use it for your own trip planning.

To find your saved map on your phone, go to your saved maps and click on the beer map to load it onto your phone.

For more details on how to download the map and view it on your phone here: How to Plan a Trip with Google Maps
Recommended Hotels Near Bars with Brewer Shuttles
County Clare Irish Inn and Pub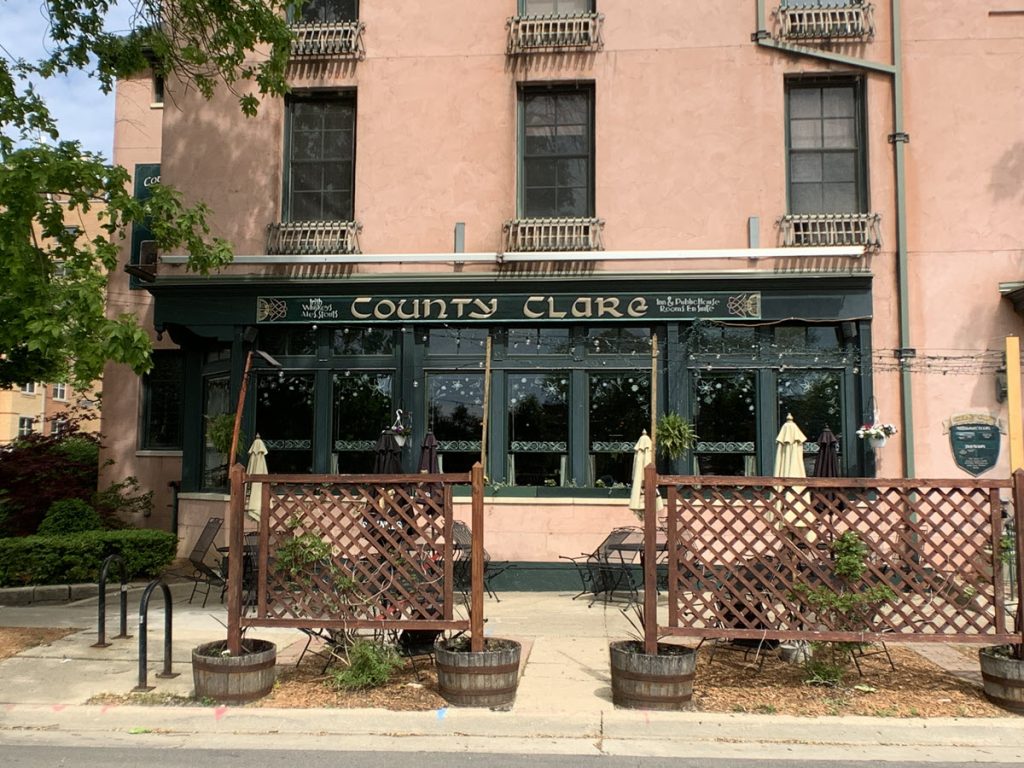 Closest Brewer Shuttle Locations:
WurstBar: 1.0-mile
Jack's American Pub: 1.0-mile
Craving for a dash of Irish charm during your Milwaukee Brewers getaway? Look no further than County Clare, a traditional Irish Inn and Pub nestled in the heart of the city.
Its cozy rooms equipped with whirlpool tubs promise a restful retreat, while a tasty continental breakfast awaits you each morning, complete with an omelet station and a bakery assortment.
Positioned within walking distance of the Milwaukee Art Museum, Summerfest grounds, Brady Street, and the Historic Third Ward, you're surrounded by local attractions. Best part? It's within a mile of two bars offering free shuttles to the Brewers games.
Don't forget to grab a meal at County Clare's pub, where you can savor traditional Irish cuisine so good you'll feel you've stepped into Dublin. 
Saint Kate – The Art Hotel
Closest Brewer Shuttle Locations:
Who's On Third: 0.5-mile
Milwaukee Brat House: 0.5-mile
If you're an art lover heading to a Milwaukee Brewers game, Saint Kate – The Art Hotel is just for you. Located north of Milwaukee's Historic Third Ward and close to city theaters, this hotel fuses art and luxury into one unforgettable stay.
At St. Kate, art is everywhere, celebrating Milwaukee's history and culture through regional artists' works.
Enjoy spacious rooms, each bursting with unique touches: local art, a record player, a ukulele, in-room butcher paper with crayons, and sweeping city views. Choose a premier room for even better vistas.
Looking for a bite or a drink? Saint Kate is also a culinary hotspot. Swing by the downstairs bar pre-game or visit the champagne bar, Giggly, for a fun night out.
And the Brewers game? You're just a half-mile walk away from two bars offering free shuttles. It's art, luxury, and baseball all in one.
The Pfister Hotel 
Closest Brewer Shuttle Locations:
Who's On Third: ¾-mile
Milwaukee Brat House: ¾-mile
Eyeing a Brewers game trip with a touch of history and luxury? The Pfister Hotel, an iconic Milwaukee landmark since 1893, has welcomed everyone from presidents to celebrities.
Nestled downtown, this hotel boasts the largest collection of European art outside of Europe.
The rooms? Plush, comfortable, and brimming with modern amenities. Plus, you'll have your pick from several restaurants and bars, an indoor pool with stunning city views, and a top-rated spa.
Got a furry friend? The Pfister is one of the top pet-friendly hotels in Milwaukee.
After the game, elevate your night at BLU Lounge and Bar on the 23rd floor, where stunning views and tasty cocktails await.
And getting to the Brewers game is a breeze. You're a 3/4-mile walk away from two bars providing free shuttles. 
Kimpton Journeyman Hotel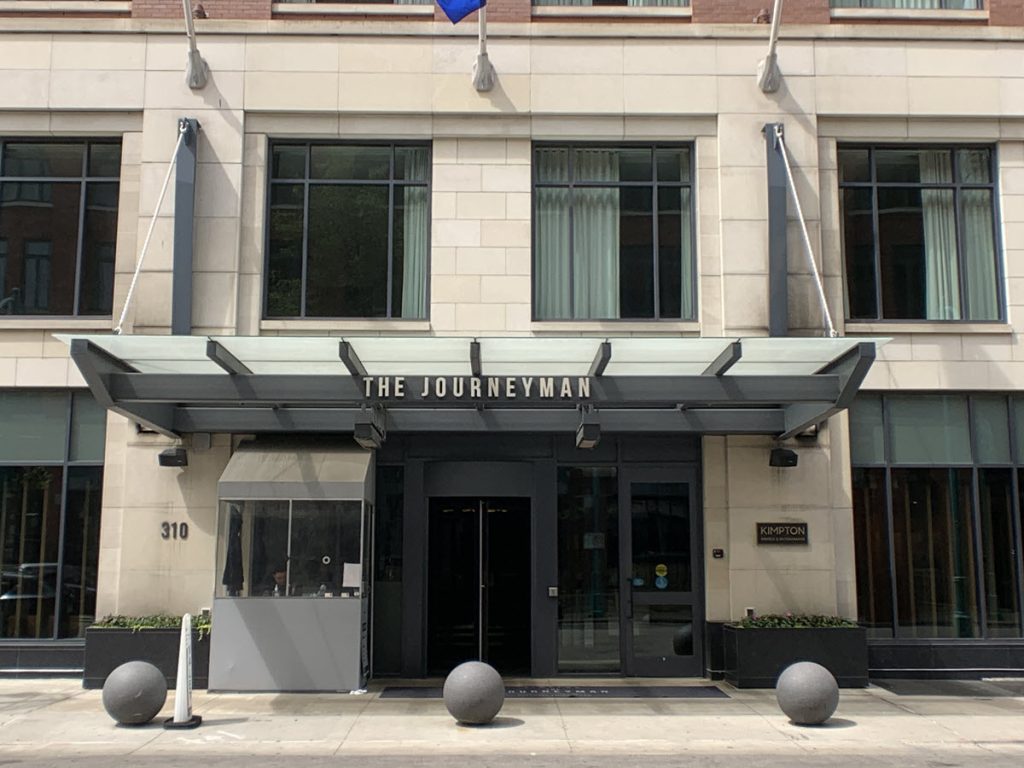 Closest Brewer Shuttle Locations:
O'Lydia's Bar and Grill: 0.5-mile
Steny's Tavern and Grill: 0.9-miles
Planning your Brewers game trip and seeking a hotel with warmth, comfort, and a dash of luxury? The Kimpton Journeyman Hotel is your perfect pick in Milwaukee's historic Third Ward district.
As you step into the lobby, a welcoming fire sets the tone for your stay. The Kimpton standard of excellent service, plush beds, and designer toiletries assures luxury in every corner.
Each room showcases art pieces by local artists, sure to ignite exciting discussions. Got a pet pal? They're welcome too, with pet amenities at no extra charge.
Savor a peaceful evening at the on-site restaurant or bar. For an unforgettable nightcap, visit The Outsider, one of the city's best rooftop bars on the 9th floor.
Your Brewers game? You're a half-mile walk from one of Milwaukee's best bar shuttles to the game, O'Lydia's. And to make it even better, O'Lydia's has some of the best pub food in the city.
The Iron Horse
Closest Brewer Shuttle Locations:
O'Lydia's Bar and Grill: 0.3-mile
Steny's Tavern and Grill: 0.5-mile
Want a stay that's unique and a bit 'gritty'? Look no further than The Iron Horse Hotel.
Motorcycle enthusiasts or not, this place offers a great stay. Its rooms, echoing Milwaukee's industrial past, are paired with modern amenities like flat-screen TVs and free Wi-Fi.
In-house dining? Check. Start your day with a hearty breakfast and enjoy a relaxing dinner after the game.
Their patio becomes one of the city's best spots for outdoor dining and drinks in warmer months.
And the Brewers game? You're within walking distance of two bars that provide free shuttles.
Springhill Suites by Marriott
Closest Brewer Shuttle Locations:
Who's On Third: 0.3-mile
Milwaukee Brat House: 0.3-mile
For a more budget-friendly option, look into the Springhill Suites by Marriot. 
It's in a great location near the 3rd Street Market Hall, the Milwaukee Riverwalk, and the Historic Third Ward.