Wondering How Can I Spend 2 Days in Milwaukee?
Situated on the shores of Lake Michigan, Milwaukee is an underrated city with plenty of things to fill up your weekend adventure.
How do I know?  I have lived in Milwaukee for the last 15 years, and one of my favorite things to do is be a tourist in my city. 
From its rich history to the drool-worthy food scenes, and from our swanky hotels to those secret speakeasy bars (shh!), there's so much I want you to experience. And hey, let's not forget about our beer – because Milwaukee brews some of the best in the business. And Craig has tried them all!
So, if you're down for a weekend packed with all the local favorites and hidden treasures, you've landed on the right page. 
Let's dive in. 
Where to Stay for a Weekend in Milwaukee
There are two neighborhoods I recommend for a home base for a 2-day Milwaukee adventure. These are Juneau (East) Town and Kilbourn (West) Town. 
The Milwaukee River separates these two neighborhoods. These neighborhoods are centrally located and offer plenty of options for hotels.  
Check out our full post on Where to Stay in Milwaukee for our specific suggestions on where to stay.
I recommend utilizing Milwaukee's amazing hospitality industry for your accommodations instead of a short-term rental. Our hotels provide the perfect home base for exploring Milwaukee without disrupting the housing market for our residents. 
Recommended Places to Stay in East Town
The Pfister Hotel: Named one of the top historic hotels in the US by USA Today, this hotel is a beacon of luxury in Milwaukee. With its opulent interiors, unparalleled service, and renowned art collection, this iconic hotel promises a stay steeped in elegance and history. The perfect upscale choice for your Milwaukee weekend.
Dubbel Dutch: A seamless blend of 1898 charm and contemporary finesse, the Dubbel Dutch is a testament to Milwaukee's dedication to preserving its history. From ornamental fireplaces in select spaces to its boutique setting, guests are promised an intimate and truly distinct Milwaukee stay.
Hilton Garden Inn: Housed in a stunning historic building, it offers budget-friendly convenience without compromising style or amenities. With an on-site restaurant, bar, and fitness center and just a stroll away from key attractions, it's an unexpected gem in the city's heart.
Drury Plaza: This is the best bang for your buck regarding downtown Milwaukee hotels.  Housed in a beautifully restored historic building, Drury Plaza Hotel blends Milwaukee's storied past with modern comfort. Guests can enjoy spacious rooms, top-tier amenities, and the signature complimentary evening drinks and snacks. Located in the heart of downtown, it's an ideal base for exploring all that Milwaukee offers.
Recommended Places to Stay in West Town
The Trade: A modern testament to Milwaukee's rich history and progressive spirit, The Trade encapsulates the city's dynamic essence. Situated next to the Fiserv Forum, this hotel offers rooms that are more than just a stay—they're a sanctuary. 
From smart, thoughtfully designed interiors to a rooftop bar that offers panoramic city views and delectable dining, The Trade promises both luxury and a genuine taste of downtown Milwaukee.
Saint Kate – The Arts Hotel: Not just a hotel, but a celebration of the arts. Saint Kate seamlessly marries luxury with a deep appreciation for creativity. Each space is adorned with curated artwork, making guests feel they're staying within a living gallery. 
Located in the heart of Milwaukee, this upscale option doesn't only offer lavish rooms and amenities and an immersive cultural experience. Saint Kate is the place to be for those who appreciate the finer things in life and have a penchant for artistic flair.
Brewhouse Inn & Suites: This one is for the Beer Lovers. A masterful nod to Milwaukee's brewing legacy, this inn is housed in the refurbished Pabst Brewery, showcasing much of the original architecture and vintage equipment. 
With a unique blend of historic charm and modern amenities, guests at the Brewhouse are treated to an authentic taste of Milwaukee's past while enjoying the comforts of contemporary accommodations. It's a stay that brews a story in every room.
Aloft Hotel: A gem for the budget-conscious traveler, Aloft Milwaukee combines modern design with value. Guests are treated to tech-friendly amenities and chic rooms, all without breaking the bank. 
Its vibrant in-house bar and close proximity to city attractions make it a prime choice. Aloft is the savvy traveler's dream: stylish, energetic, and wallet-friendly.
Daily Itinerary Suggestions for a Weekend in Milwaukee
Every visitor brings unique interests to Milwaukee, and our city has something for everyone. Recognizing the diversity of our travelers, this section is dedicated to offering daily itineraries tailored to various passions. 
Whether you're an art enthusiast, a foodie, or simply seeking to soak in the local vibe, we've got you covered. Mix and match these suggestions to craft your 2-day Milwaukee escapade. 
Itinerary Option 1: The History Lover
Milwaukee, Wisconsin's most populous city, is a tapestry woven with rich history and vibrant culture.
Beer enthusiasts and history buffs will rejoice in Milwaukee's deep-rooted German lineage and brewing traditions. Beyond the brews, a plethora of museums beckons the curious heart.
Stop 1: Brunch
Cafe Benelux in the Third Ward is a bustling European-inspired bistro celebrated for its extensive beer selection and delectable Belgian fare. Its rooftop dining offers splendid views, making it a favorite spot for locals and visitors seeking a unique Milwaukee experience.
Another option is Cafe at the Plaza, which is becoming my favorite brunch spot in the city. Nestled in a historic setting, this eatery offers delectable dishes in a charming setting with a classic diner counter. It's a blend of classic Milwaukee and modern culinary delights. A must-visit for food lovers!
Stop 2: Take a Historic Milwaukee Walking Tour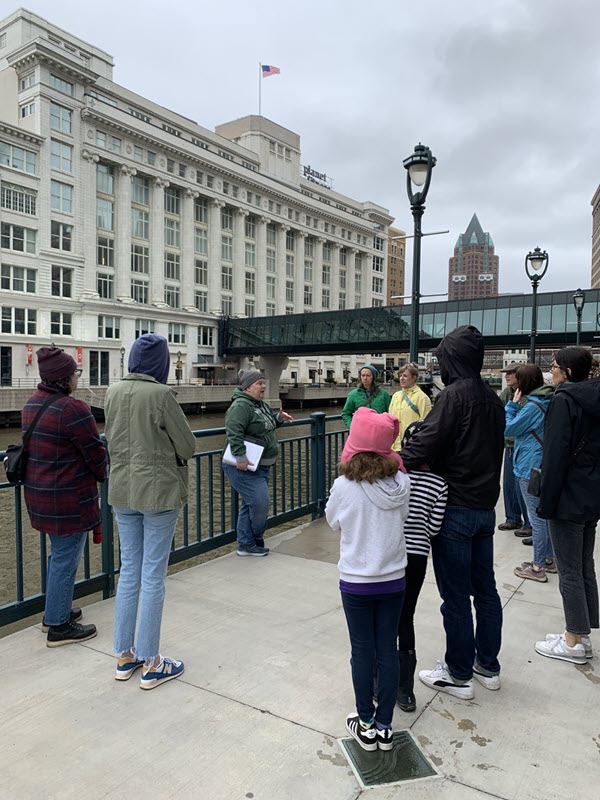 Dive deep into Milwaukee's rich architectural past with Historic Milwaukee walking tours led by passionate volunteers. Traverse prestigious buildings from the Mackie Building to the Milwaukee Art Museum, explore on the Hop streetcar, or opt for seasonal neighborhood and themed tours. A must for history buffs!
Stop 3: The Historic Third Ward
Venture to the Historic Third Ward for a blend of shopping and delectable eats. Dive into the gastronomic delights at Milwaukee Public Market or savor a meal at the much-loved Bavette La Boucherie.
Stop 4: Take a Walk Along the Milwaukee River
Saunter along the Milwaukee Riverfront. Don't miss a fun photo-op with the city's beloved Bronz Fonz.
Stop 5: Step into Brewing History at the Pabst Mansion
Discover the luxury of Milwaukee's Gilded Age with a tour of the Pabst Mansion. Once home to beer magnate Captain Frederick Pabst, this grand residence offers a captivating glimpse into late 19th-century luxury. 
As you wander its ornate rooms and halls, you'll delve into the city's brewing history and the lavish lifestyle of one of its most iconic families. It is a must-visit for history enthusiasts and architecture admirers alike.
Stop 6: Eat like a German
Craving an authentic German experience? Mader's on Old World Third Street transports you to Deutschland with its heartwarming fare and enchanting ambiance.
Stop 7: Relax with a View
End your day on a high note at Blu, perched atop the historic Pfister Hotel. Here, enjoy panoramic city views with a drink in hand. And while at the Pfister, marvel at an art collection rivaling Europe's finest, making it one of Milwaukee's crown jewels.
Itinerary Option 2: The Foodie
Milwaukee doesn't just wear its history on its sleeves – it serves it on a plate! For those with a culinary compass, this route serves up an epicurean escapade through the city's finest bites and brews.
Stop 1: Brunch Boost at Uncle Wolfies
Begin your day with a brunch spread at Uncle Wolfies. Its cozy atmosphere perfectly complements its mouth-watering dishes, setting the right tone for the gourmet journey ahead.
Stop 2: A Hoppy Affair at Lakefront Brewery
Dive deep into Milwaukee's brewing tradition at Lakefront Brewery. Lakefront is one of the best breweries in Milwaukee. Their tours are phenomenal; if it's nice, they have one of the best riverfront patios. Try a Riverwest Stein for a Milwaukee classic or some of their more inventive beers. They also have some of the best gluten-free beers. 
Stop 3: Stroll and Savor in the Historic Third Ward
The Historic Third Ward is not just about vintage charm; it's a food lover's paradise:
The Milwaukee Public Market brims with local delights waiting to be sampled.
Swing by Bavette La Boucherie for an exquisite charcuterie board feast for both the eyes and palate.
Take a break with a cocktail at the Tied House.
Stop 4: A Culinary Odyssey at Odd Duck
For dinner, Odd Duck beckons. Renowned for its innovative dishes, it takes you on a delectable local and global journey. A dining experience here is nothing short of culinary storytelling.
Stop 5: Nightcap at Bryant's Cocktail Lounge
As the day approaches, sink into the vintage charm of Bryant's Cocktail Lounge. At Bryant's, there is no menu. Tell the bartender or waitstaff what you are looking for, and they will surprise you with something you love. 
Itinerary Option: The Beer Lover
Embark on a hop-filled journey through Milwaukee, a city renowned for its storied beer heritage. This itinerary is tailored for beer aficionados, blending scenic strolls, historic brewing landmarks, and some of the city's finest craft beers.
Stop 1: Walk along the Lakeshore
Start at Collectivo on the Lakefront for coffee and delicious bakery, and then head across the street to walk along the lakeshore path. 
Stop 2: Lakefront Brewery Tour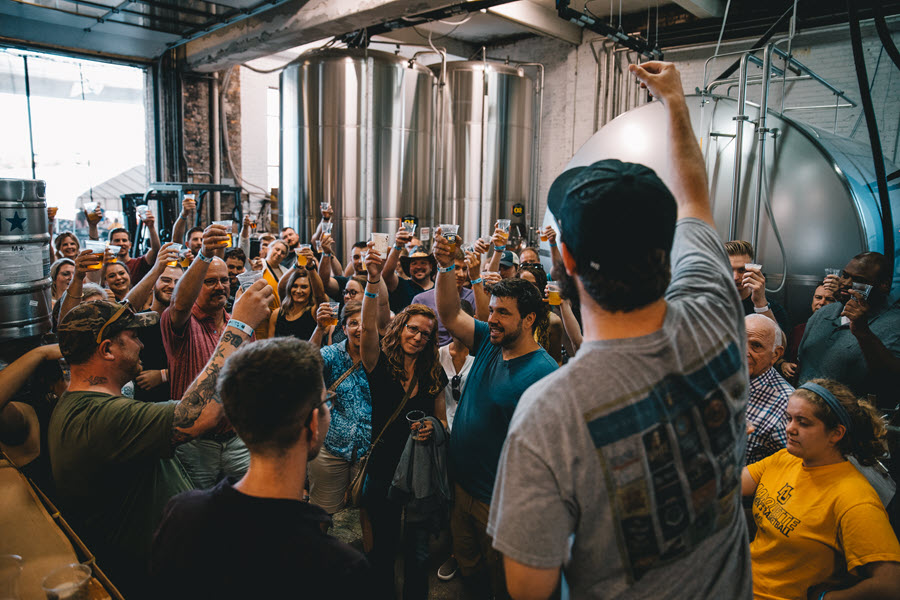 By far the best Brewery Tour in Milwaukee, Lakefront Brewery is a perfect start to your Milwaukee Beer adventure. 
Stop 3: Eagle Park 
Eagle Park on Hamilton has some of Milwaukee's most inventive craft beers. They also have great food. I love the wings and nachos! 
Stop 4: Step into Brewing History at Best Place (the future Pabst Brewery)
This is one of my favorite tours in Milwaukee. 
Experience Milwaukee's brewing legacy with the Beer History Tour at Best Place. Wander through original Pabst brewery complex buildings, learn their stories, and raise a glass to the city's storied beer past. A nostalgic journey for beer enthusiasts!
Head across the street to the Brewhouse Inn and Suites, where you can see the gorgeous copper kettles used in the Pabst Brewery.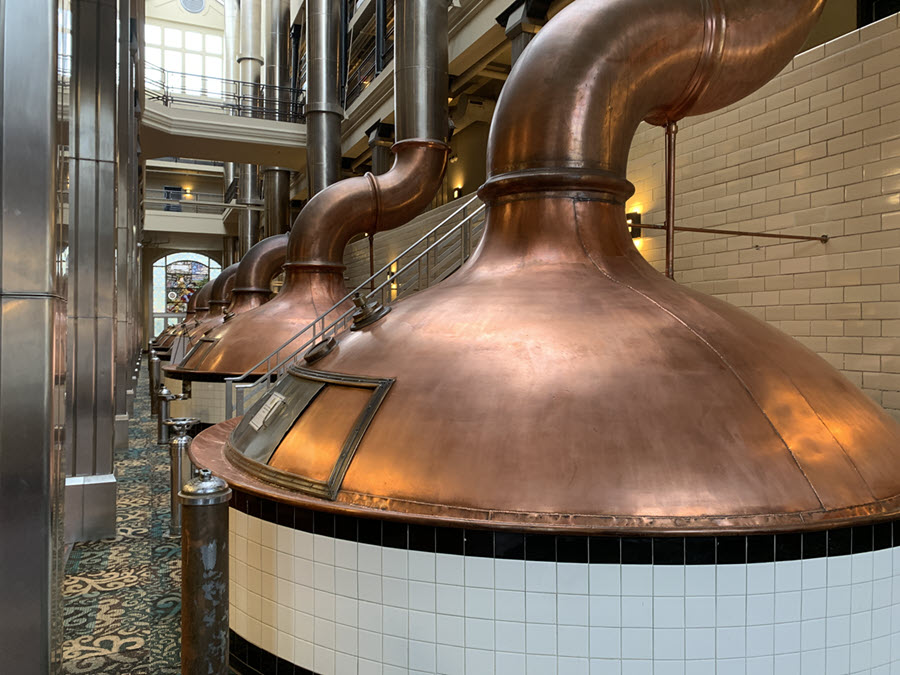 Stop 5: Stroll Along the Riverwalk Toward the Historic Third Ward
Walk off some of that beer and head towards the Historic Third Ward. Stop at the Milwaukee Public Market for a snack or stroll along Broadway Street for some shopping. 
Stop 6: Dinner and a Beer at Camino
Camino has one of the best burgers in town, and after a day of drinking beer, I have a hunch a juicy burger will hit the spot. 
Right down the street is Indeed Brewing if you are still up for another beer after dinner.
Itinerary Option 4: Local Favorites and Hidden Gems
Stop 1: Brunch at Wicked Hop
For one of the best Bloody Marys in town, get brunch at Wicked Hop. While the food isn't spectacular, it's decent for brunch and worth it for that Bloody Mary. 
If you just want a Bloody Mary, grab a seat at the bar and maybe grab a bite to eat over at the Milwaukee Public Market. 
Stop 3: Grab a drink at Boone and Crocket
Boone & Crockett in Milwaukee's Harbor District is a hipster's haven known for its expertly crafted cocktails, rustic ambiance, and spacious patio overlooking the river. It's a prime spot for those seeking a laid-back vibe with top-tier drinks in a distinctive setting.
Stop 4: Enjoy the best small plates at La Merenda
La Merenda serves globally inspired tapas in a cozy, welcoming setting. With dishes crafted from local ingredients, it's a hotspot for those craving a culinary journey without leaving Milwaukee. Don't miss their patio for al fresco dining!
Stop 5: Reserve a mini-bowling lane at Koz's
Koz's Mini Bowl offers a quirky, retro bowling experience with mini lanes and manual pinsetters. A beloved local gem, it pairs old-school charm with cold brews, making for a fun outing. Perfect for those seeking nostalgia with a twist.
Itinerary Option 5: Bay View Neighborhood
Welcome to Bay View, a buzzing enclave in Milwaukee that blends historic charm with modern flair. As one of the city's trendiest neighborhoods, Bay View offers a mix of eclectic eateries, unique bars, and indie boutiques, all with a local spirit. 
Whether you're craving artisanal bites, craft brews, or a dose of culture, this itinerary unveils the best of Bay View in true local style. Dive in and discover what makes this neighborhood a must-visit!
Stop 1: Escape the Midwest at Barnacle Buds
Barnacle Buds offers a hidden waterfront escape reminiscent of a coastal shack. And as you arrive, you may think you've taken a wrong turn. But trust Google Maps. It will get you to this hidden gem. 
With its casual vibe, seafood specialties, and picturesque views of the Kinnickinnic River, it's a summer favorite for those seeking an unpretentious, laid-back dining experience by the water.
Stop 2: Stroll along the Lakeshore at Southshore Park
This is my favorite walk in Milwaukee. Start at the South Shore Park Pavillion and stroll down the Oak Leaf Trail (to the south) as far as you would like. Turn around whenever you would like. Going south, it feels like you left the city, and going North, the view of the city skyline is stunning. 
After your walk, grab a drink at the best beer garden in Milwaukeek, South Shore Terrace. 
Stop 3: Grab a Sausage at Vanguard
Vanguard stands out as a haven for sausage enthusiasts, offering an eclectic mix of traditional and inventive links, including vegan options. Coupled with its laid-back atmosphere and diverse craft brews and cocktails, it's a must-visit for foodies seeking a unique Milwaukee culinary experience.
Stop 4: Have a drink at Burnhearts or Nonfiction
Burnhearts is known for their curated craft beer offerings and cozy neighborhood atmosphere. A beloved spot among locals, it pairs Milwaukee's genuine bar culture with the coziness of home. 
Nonfiction Natural Wines is a newcomer to the Bay View bar scene. What started as a wine shop became my go-to place for a glass of wine and a snack. The bartenders are amazing. You'll surely walk away with a glass of wine you love. 
Stop 5: Dinner
There are several amazing options for dinner in Bay View. 
My first pick is Lulu Cafe if you are craving a delicious burger, pita, salad, or sandwich. Make sure to get their homemade chips with blue cheese dipping sauce!
Hungry Sumo is great if you are up for some sushi. Get a seat at the sushi bar, and you may just get a few "extras" to try. 
Stop 6: After Dinner Drinks at At Random
At Random is a time-honored Milwaukee gem serving vintage vibes with its mid-century decor and iconic ice cream cocktails. Tucked away in Bay View, this lounge offers patrons a nostalgic journey, complete with mood lighting and classic tunes, ensuring a memorable night out.