Featured Image Courtesy of Lakefront Brewing.
Welcome to Milwaukee, also known as "Brew City," – where the beer flows like the Milwaukee River (only drinkable 🙂)
With Milwaukee's rich brewing history that includes big names like Miller, Pabst, and Schlitz, it's no wonder Milwaukee has earned its reputation as a beer lover's paradise. 
But it's not just the big names that make Milwaukee special. Over 25 craft breweries call Milwaukee home, each with a unique style and flavor.
And what better way to experience all this deliciousness than with a brewery tour? Whether you're a beer connoisseur or simply like to enjoy a cold one a brewery tour is one of the best things to do in Milwaukee.
Over the years, we've been on quite a few brewery tours. Sometimes just for fun. And sometimes to show visiting friends and family how amazing the city of Milwaukee is. 
Unfortunately, since Covid, the number of brewery tours available has decreased. But don't worry, the best ones are still around. 
So, here is a list of our favorite brewery tours in Milwaukee for you to explore. We'll also include a list of available brewery tours, a few beer history tours, and tours where you'll be guided through the city, stopping at multiple breweries.
Let's grab a pint or two and dive in!
Related Post: Best Milwaukee Tours: Top Picks for Visitors
List of Brewery Tours in Milwaukee
Best Brewery Tours in Milwaukee
Lakefront Brewery
Length: 45 min
# of Tastings: 4 – 8oz pours
If you can take only one brewery tour while in Milwaukee, Lakefront Brewery is what you are looking for. 
Lakefront Brewery has been a Milwaukee staple since 1987. Founded by two beer-loving brothers, Russ and Jim Klisch, Lakefront Brewery has been bringing joy to Milwaukee with their delicious brews and fun atmosphere.
Not only do they have something for everyone (even those avoiding gluten), but their flagship beer, Riverwest Stein, is so popular it's in almost every bar in Milwaukee. 
But let's be real. The best part of Lakefront Brewery is the tour. It's like a 45-minute party, complete with fun facts, jokes, and of course, beer. You'll get to sample four- 8oz pours of their finest brews and even take home a souvenir pint glass.
And if you ask most beer-loving Milwaukeans, they'll tell you they've been on the Lakefront Brewery tour several times. It's perfect for entertaining visitors. And even without visitors, the tour is simply a good old time shared with beer-loving friends. 
Before or after the tour, don't forget to hit up their beer hall for some delicious grub. And if you are lucky enough to be there on a Friday, their fish fry is one of the best in town. 
If you aren't hungry, take some time to bask in the beauty of their outdoor patio along the Milwaukee Riverfront. 
The Lakefront Brewery Tour is a must-do for any Milwaukee resident or visitor. 
Related Post: Best Craft Breweries in Milwaukee: As Rated by a Local Beer-lover
Miller Brewing
Length: 1 hour
# of Tastings: 3 tastings
Touring a small craft brewery is fun, but seeing the enormous scale of a major brewery like Miller Brewing is an experience you won't want to miss. 
Walking through Miller Valley is like taking a stroll through beer heaven. From the old-school charm of the Miller Inn to the high-tech brewing facilities, you'll see it all on this guided walking tour.
And of course, it's not a Milwaukee tour without a beer in hand, so you'll start with a cold one. Hey, it's Wisconsin, what did you expect?
But the real highlight of the tour is the underground Miller caves. These things are so cool they'll give you chills (literally). Plus, you'll get to see the historic Bavarian-style Miller Inn and the ginormous modern operations of the Brew House, Packaging, and Distribution Centers.
All in all, the Miller Brewery Tour is a must-do for any beer lover visiting Milwaukee. It'll leave you with a newfound appreciation for Milwaukee's rich beer history. 
Beer History Tours
Best Place Beer History Tour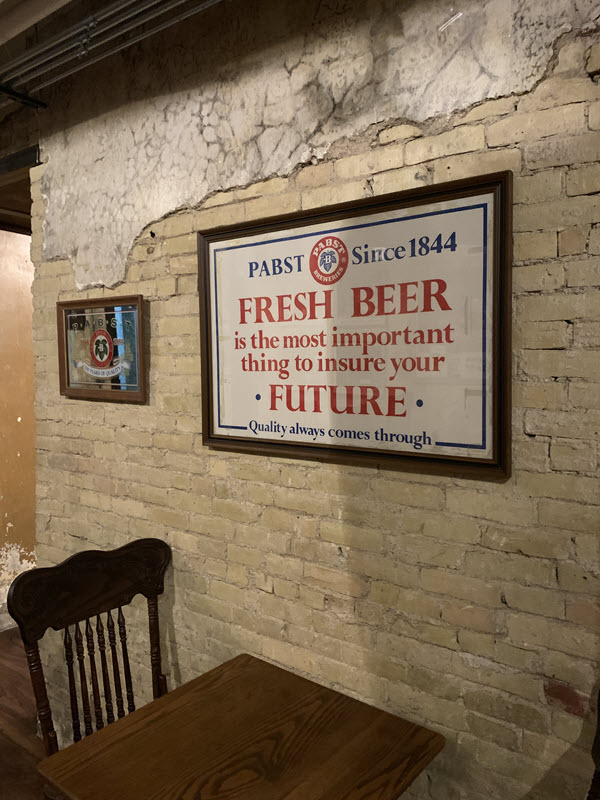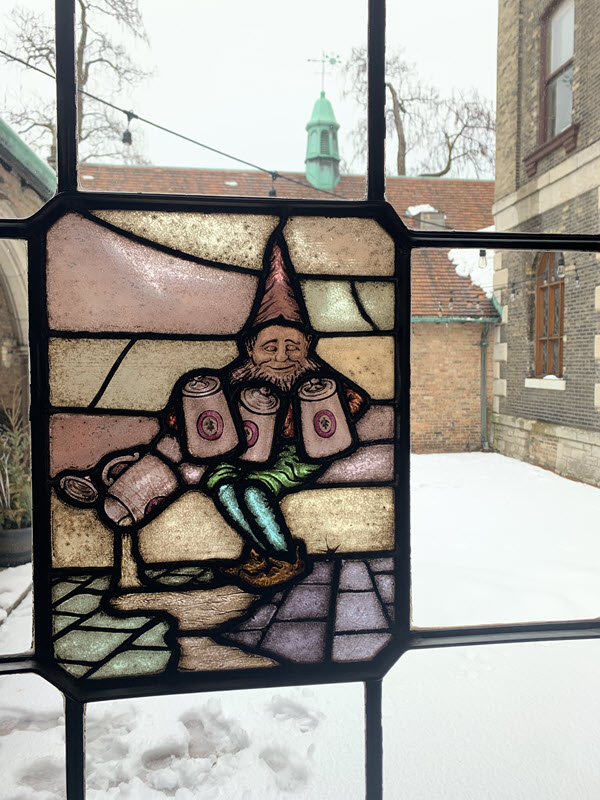 Length: 1 – 1.5 hours
# of Tastings: 1 pint
If you're a history buff who loves a good brew, the Best Place Beer History Tour is the bee's knees. Trust us, it's not your typical snooze-fest.
To kick things off, you'll get a refreshing beer or soda. Then, get ready for a quick video on the history of Best Brewery, which later became the iconic Pabst Brewery.
The tour takes you through some of the remaining buildings that once made up the Pabst Brewery complex, and let me tell you, the folks at Best Place have done an amazing job restoring them. It's like stepping back in time, but with better beer.
And don't miss your chance to sit at Captain Pabst's desk in the main wedding hall. You might just feel like a captain yourself (no judgment here).
But let's be real, the show's real stars are the tour guides. They're witty, funny, and know their stuff when it comes to the story of Pabst beer. You'll learn all about how it rose to fame, fell from grace, and then made a triumphant comeback to become the beloved brand it is today.
So, come for the beer, stay for the history, and soak up the friendly Gemütlichkeit. This tour is a must-do for anyone looking for an entertaining and educational experience. Prost!
Pabst Mansion
Length: 1 hour
If you're looking for a true taste of German Milwaukee, look no further than the Pabst Mansion. It's the real deal, y'all.
This preserved 1890s Gilded Age Mansion is a must-visit for anyone who loves history and beer (which, let's be honest, is basically everyone in Milwaukee).
Once home to Captain Pabst, his wife, and a whopping 10 children (though only 5 made it to adulthood), this place is steeped in history. And we're not talking about the boring kind of history you snoozed through in school. We're talking juicy details that will make you feel like you're part of the Pabst family.
Now, you can do a self-guided tour, but we highly recommend the guided tour. Why? Because the tour guides are passionate about the history, and they'll give you all the deets you wouldn't get on a self-guided tour.
The guided tour takes you through the first through third floors of the mansion and shares everything you could want to know about the Pabst Mansion, the Pabst family, and the incredible architecture and furnishings of the home. Trust us, you won't want to miss this.
So, come get your history and beer fix all in one place at the Pabst Mansion. It's the perfect way to immerse yourself in the German Milwaukee experience.
Multiple Brewery Tours
Fun Beer Tours
Length of Tour: 2.5 – 3 hours
Alright, beer-loving friends, I've got the inside scoop on one of Milwaukee's best-kept secrets: Fun Beer Tours. These tours are truly a one-of-a-kind experience. 
Fun Beer Tours keeps its prices low by letting you choose your own drinks and snacks. That way, you can customize your experience and try all the beers your heart desires. And for all the non-drinkers out there, you won't have to pay for someone else's suds.
And can we talk about the options? Fun Beer Tours has tours that cater to every interest. Whether you're all about the beer or want to learn some Milwaukee history too, they've got you covered.
Choose from the "Beer is Famous Tour" or the "Beer + Everything Else Tour" and prepare to have a blast. You can even ask them to create a specialized tour for a group outing like a bachelor or bachelorette party. 
But the real star of the show is your guide, Paul. He's not just a beer history buff, he's a craft brewery co-founder, collector of historic brewery artifacts, and a 30-year history teacher. Let's just say he knows his stuff.
So, if you're looking for a fun and unique way to experience Milwaukee's beer culture, Fun Beer Tours is the way to go. Trust me, you won't regret it.
Milwaukee Food and City Tours: Craft Brewery and Distillery Tour
Length of Tour: 3.5-4 hours
The Craft Brewery and Distillery Tour is all about discovering new craft brews and spirits before they hit the mainstream. So if you want to hit multiple establishments in the comfort of a bus, this tour is for you.
The tour lasts between 3.5 to 4 hours, with 4-5 stops at some of Milwaukee's finest breweries and distilleries. It's the perfect way to explore the local scene and support our city's up-and-coming stars. While learning a bit along the way.
So, if you're looking for a fun and authentic way to experience Milwaukee's craft brewery and distillery scene, Milwaukee Food and City Tours is another way to go.
More Milwaukee Content
Cool Hotels in Milwaukee for a Memorable Visit
Best Things to Do in Milwaukee
Best Cheap Eats in Milwaukee
Best Hotels in Milwaukee with Hot Tubs in the Room
More Milwaukee Content:
Best Things to Do in Milwaukee
Best Cheap Eats in Milwaukee
Cool Hotels In Milwaukee