Welcome to Milwaukee!
Yes, we're famous for our cheese, beer, and bratwursts. There is no denying it. But Milwaukee has much more to offer, hiding in its most peculiar nooks and crannies.
As a proud local, I'm thrilled to take you beyond the typical tourist hot spots. And to show you our city's unique charm, as only a resident can.
Our city? It's quirky, offbeat. We thrive on the unexpected. How do we make it through our brutal Midwest winters?  
From the oldest sanctioned tenpin bowling alley in the United States to a tiki bar that makes you think you took a wrong turn and ended up in Key West, FL, Milwaukee has something unique to offer our visitors. 
And these aren't your everyday visitor hotspots. These are Milwaukee's hidden gems, the local secrets. It's time to take you off the beaten path, deep into our wonderful city's heart.
So, are you ready to discover Milwaukee's quirky and unusual side? Let's dive in!
Get a Free Custom Milwaukee Itinerary
Want a custom Milwaukee itinerary created just for YOU?
Click below and fill out the Google Form. And we'll create your custom Milwaukee adventure!
Escape to Barnacle Buds
Next stop; we're going seaside. Or at least, it'll feel like it.
Welcome to Barnacle Bud's. It's got the vibes of a hidden coastal retreat. And guess what? It's hiding right in the heart of Milwaukee.
Getting there is like a mini adventure. Behind warehouses, down a gravel road. And there it is, our little slice of the seaside. It's got a rustic charm that screams 'beach shack'.
Seafood? They've got you covered. From shrimp to oysters, it's all fresh. All delicious.
Sit on the patio. Enjoy the breeze along the Kinnickinnic River. Listen to the chatter of fellow adventurers. Savor that clam chowder. And watch huge forklifts drop in boats at the next-door marina. It's like an impromptu seaside vacation.
Barnacle Bud's. Unusual? Absolutely. Unforgettable? You bet.
Experience Milwaukee's Bowling History
Milwaukee and bowling? It's a love story. A love story that's centuries old. And we've got three unique spots that make this romance alive.
First off, let's travel back in time to the Holler House. This isn't your run-of-the-mill bowling alley. This is the oldest sanctioned tenpin bowling alley in the United States. 
At the Holler House, the bowling lanes are tucked in the basement. Pinsetters are, wait for it, human. It's a sight to behold.
Next, we head over to Riverwest. The Falcon Bowl opened in 1915 and is more than a bowling alley. It's a part of our history. Over a century old and still bowling strong. 
And then we've got Koz's Mini Bowl. It's the last original duckpin bowling in the US. And it's a new take on bowling: small balls, shorter lanes, and a lot of fun. 
Keep in mind Holler House and Koz's Mini Bowl require reservations. So, plan ahead.
Enjoy a Meal in Bernie's Chalet
Ever dreamt of dining in a chalet? No, not in the Swiss Alps. Right here in Milwaukee. But it's not just any chalet. It's Bernie's Chalet.
Who's Bernie? He's our beloved mascot, Bernie Brewer. He's our beloved mascot, Bernie Brewer. When our Brewers hit home runs at County Stadium, Bernie would zoom into a giant beer mug.
And his chalet? It found a new home when County Stadium was torn down to build American Family Field. Now, it's nestled in Lakefront Brewery. A piece of our city's history, in a brewery.
Here's the fun part. You can reserve Bernie's chalet for dinner for two amidst the aroma of brewing hops. Talk about a home run!
So, here's your chance. Dine in Bernie's chalet. Bask in nostalgia. And make some home-run memories of your own.
Also, Lakefront Brewery is one of the best breweries in Milwaukee and one you should not miss on visiting this great beer city. 
Wet Your Whistle at Three Breweries and One Distillery Under One Roof
Milwaukee is the city of breweries. We're steeped in a deep love affair with beer. But let me take you somewhere special, somewhere with breweries and a distillery. All cozily tucked under one roof.
This hidden gem is The Lincoln Warehouse in the lively Bay View neighborhood. It may seem like just another building from the outside. Inside? A microcosm of flavors awaits.
Meet Component Brewing first. Here, craft beer is a science, an art. Only essential ingredients find their way into their brews. They're the "components" of a greater good, indeed!
Now, New Barons Brewing Cooperative steps in. Milwaukee's only lager-focused brewery. The result of a beautiful beer democracy. Unique? You bet. Delicious? Even more so.
And then, we visit Torzala Brewing Company, small in size, big on tradition. This nano-brewery specializes in traditional beers. Every sip is a nod to the past, a celebration of the present.
But hold on; we're not done. We've got Twisted Path Distillery. A distillery where crafting spirits goes hand in hand with a conscious philosophy. Intrigued? Wait till you try their concoctions.
Best Place at the Historic Pabst Brewery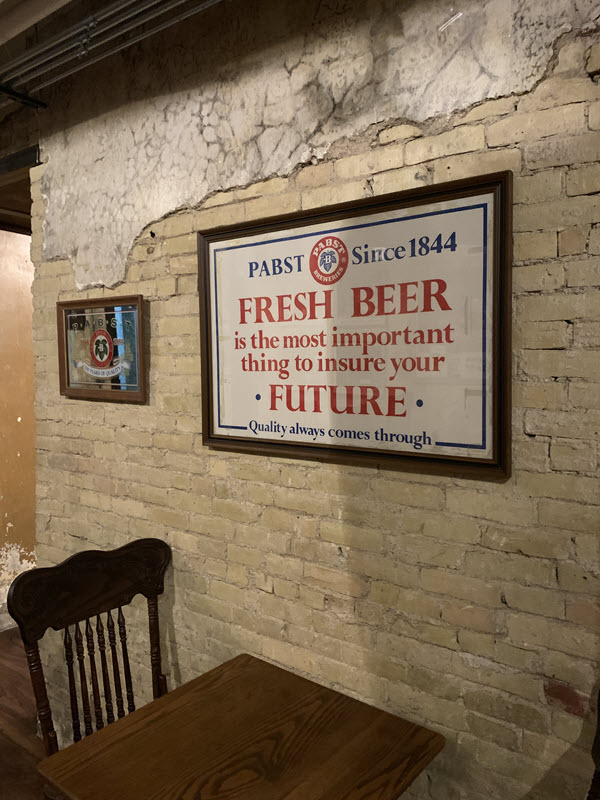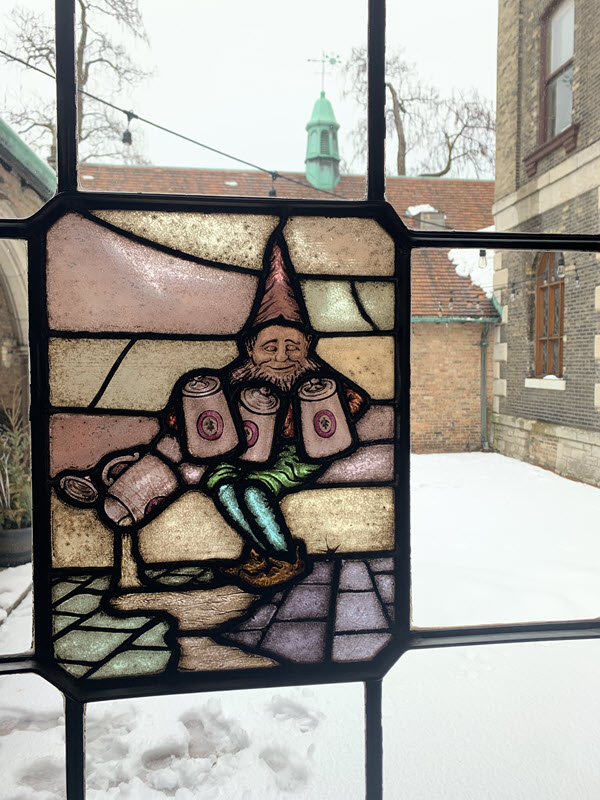 Get ready to step back in time. Back to Milwaukee's brewing heyday. Welcome to Best Place at the Historic Pabst Brewery.
This isn't just any old place. This is where Pabst Brewing Company sprouted its roots. The vintage tavern. The cobblestone streets. The 19th-century charm. It's like walking into a time capsule.
The hour-long tour is a must-do in Milwaukee, but many visitors don't know about it. 
On the tour walk the same halls as the brewers of old. Listen to the tales of triumphs, the stories of struggle. It's fascinating. It's intoxicating.
Here's a highlight: Captain Pabst's office and his desk. You can sit in it. Yes, you read that right. For a moment, you're the captain of this historic brewery.
A cold Pabst Blue Ribbon in hand, history all around, and a seat at Captain Pabst's desk. What could be more Milwaukee than this?
And don't forget the gift shop on your way out. Pick up a memento of your historic visit.
Afternoon Tea at The Pfister Hotel
Afternoon Tea at The Pfister Hotel is an experience that takes you back to a more elegant era. Held on Friday, Saturday, and Sunday afternoons, this is an experience you'll remember. 
The Pfister Hotel isn't just any hotel. It's an icon. It's a Milwaukee tradition. And Afternoon Tea? It's an experience to savor.
Imagine this. A tableside tea blending, presented in gleaming silver service. A Pfister Tea Butler at your service. You'll learn about each tea variety's origins, unique flavors, and health benefits. You'll even discover the art of blending and pairing teas.
And the food? Oh, the food! Fresh scones, dainty sandwiches, delicate pastries. Your taste buds are in for a treat. They even have gluten-free options upon request. 
Here's the catch. It's a summer-only affair. So, check their website for booking info.
Afternoon Tea at The Pfister Hotel, it's not just tea. It's an experience. A memory you'll treasure. A very Milwaukee-esque memory.
Check out the Milwaukee Speakeasy Scene
Ready for a hush-hush adventure? Let's tiptoe into Milwaukee's speakeasy scene. Two names, two stories. Shanghai. Mosler's Vault.
Let's start with Shanghai. Hidden in plain sight in Black Cat Alley. Amid eye-catching murals, look for a discreet gate marked with a small circular "S". Miss it, and you've walked right past one of Milwaukee's best-kept secrets.
Hit the button on the call box. Wait to be buzzed in. A secretive back alley where the surprises don't stop. Remember, it's not a test of strength; the door doesn't need a powerful tug. Just give it a look.
And then, we have Mosler's Vault. A cocktail bar in an old bank vault. It's all in the name, after the vault door manufacturer.
Three experiences are up for grabs. A 75-minute a la carte option. A 90-minute journey with four half cocktails. And for the brave, a six-course tasting of half cocktails in a two-hour tour de force.
Remember, these are no ordinary watering holes. They're memories waiting to be made, secrets waiting to be discovered. Just another quirky side of our beloved Milwaukee.
Bottoms up to secret sips in hidden spots!
St Paul's Fish Market Outdoor Palapa
Now, let's set sail for a seafood adventure. We're docked at St. Paul's Fish Market. But wait, this isn't your average fish market.
Picture this. A tropical palapa right here in Milwaukee. A palm-thatched hut creates a vacation within your vacation.
What's the soundtrack? Music that sweeps you away to sandy beaches, to swaying palm trees. It's your little escape, right in the heart of the city.
And the crew at the helm? The bartenders. They're not just serving up drinks; they're serving up a good time. It's not just a job for them. It's a party.
Now, let's talk about food. The seafood here? Top-notch. Fresh, flavorful, fantastic. Every bite is a celebration of the sea.
So, seafood aficionado or not, this is a spot you can't miss. It's fun; it's flavorful; it's quintessentially Milwaukee.
Grab a Drink at a Milwaukee Vintage Cocktail Bar
Next up, let's dive into the world of vintage vibes and velvety cocktails. We're heading to Bryant's Cocktail Lounge and At Random.
First stop, Bryant's. Milwaukee's oldest cocktail lounge. Step inside, and you'll feel like you've stepped into a bygone era. The ambiance is low-lit and intimate. The drinks? Crafted with care and creativity.
Their menu? There isn't one. Just tell the bartender your preferences, and voila! A cocktail made just for you. Now that's service.
Next, let's amble over to At Random. A mid-century cocktail lounge that's all about vintage charm. Their specialty? Ice cream cocktails. That's right, your childhood favorite meets your adult beverage of choice. The result? Pure magic.
What's more, At Random has a magical garden patio – the Love Shack. Cozy, colorful, and completely captivating. Perfect for those warm Milwaukee nights.
So, whether you're craving a classic cocktail or looking to try something new, Bryant's and At Random have got you covered.
Grab a Beer at a Milwaukee Beer Garden
Let's take a little detour and visit some of Milwaukee's best open-air taverns. Oh yes, I'm talking about our beloved beer gardens. Two words: South Shore Terrace and Estabrook.
First up, South Shore Terrace. This is no ordinary beer garden. It's a summertime soiree. Situated along Lake Michigan, it boasts some of the most amazing views of the city.
Nurse a cold brew. Take in the view. Feel the breeze. You're in a postcard-worthy spot in the heart of Milwaukee. Could life get any better?
Now, let's head over to Estabrook. An authentic beer garden nestled by the Milwaukee River. It's not just a beer garden; it's an experience.
Hear the river's flow. Smell the hops. Taste the tradition. You're not just drinking a beer but savoring a piece of Milwaukee's history.
So, whether you're a beer aficionado or simply a fan of great views and good times, these beer gardens are calling your name. A toast to our city's unique love for all things beer. Prost!
Visit Milwaukee's Past at Forest Home Cemetary
Ready for something offbeat? Let's detour to the Forest Home Cemetery & Arboretum. You might be thinking, "A cemetery? Really?" Oh, absolutely.
But this is no ordinary cemetery. It's a quiet haven, an arboretum, a storyteller of our city's past. Rolling green spaces, whispering trees, stories carved in stone.
It's here that some of Milwaukee's most notable figures rest. These aren't just graves. They're chapters in our city's history.
Take Christopher Sholes, for example. The journalist and the inventor of the typewriter. His legacy? Imprinted in every keystroke.
Then there's William Davidson. Co-founder of that legendary motorcycle company. Hear the roar of the engines? That's his spirit, cruising on.
And, of course, our beer barons. Joseph Schlitz and Frederick Pabst. Their names echo in every frothy pint poured in Milwaukee.
This isn't just a visit to a cemetery. It's a journey through time. An appreciation of the personalities that shaped our city.
So, come. Explore. Reflect. Celebrate Milwaukee's rich history. All under the tranquil canopy of Forest Home Cemetery & Arboretum.
Milwaukee FAQ's
What is the Best Neighborhood to Stay in Milwaukee?
In my opinion, the best neighborhoods to stay in Milwaukee are the Historic Third Ward or Walker's Point. But there aren't many hotel options in both of those neighborhoods.
Therefore, for plenty of hotel options check out East Town. Hotels on this list in East Town are The Pfister, Hilton Garden Inn, and Hotel Metro.
Historic Third Ward
If you stay in the Historic Third Ward, you will be close to many of the main things to do in Milwaukee. There will be no need for a car as you can walk or grab a quick ride share to most things in the city.
Walker's Point
Just south of the Historic Third Ward is Walker's Point. This neighborhood has its own excellent restaurants and bars and is also a short walk to the Historic Third Ward.
How many days should you spend in Milwaukee?
Two days is the perfect amount of time to get a feel for how amazing this underrated city truly is. In two days, you can sample some of Milwaukee's finest craft breweries, visit a museum, and eat and drink your way through the city.
What are the Safest Areas to Stay in Milwaukee?
Most visitors stick to the area of Milwaukee closest to the lake. This includes the Historic Third Ward, Bay View, Walker's Point, the East Side, and Brewer's Hill.
As with any major city, stay aware of your surroundings.