Fall in Wisconsin is stunning. And in almost every area of the state, there are top-notch places to see and experience the fall colors. 
Fall in Wisconsin is one of our favorite times of year to venture out of the big city of Milwaukee and enjoy some outdoors. And over the years, we've seen some pretty amazing colors.
So whether you are looking for a gorgeous hike in a Wisconsin State Park, a scenic drive, or a weekend getaway, this list of our favorite places to see fall colors in Wisconsin has you covered. 
Before you head out, make sure to check out the Fall Color Report.
When Are Peak Fall Colors in Wisconsin?
This answer will depend on where you want to go to see the fall colors. We always use the Fall Color Report to help us make decisions on when to visit a particular area.
A good rule of thumb is the last week of September to the middle of October.
Best Wisconsin State Parks for Fall Colors in Wisconsin
Copper Falls State Parks
Copper Falls State Park shines in fall when the copper-colored water flows and the leaves change color. 
With beautiful cascading waterfalls and excellent hiking trails, this park is a must-see in the Fall. 
The park has two main hiking trails. 
The Doughboy Trail is one of the most scenic hikes in Wisconsin. It takes you past two waterfalls and a series of cascades. Around every corner, your jaw will drop.  The trail is well-maintained, making it accessible to many skill levels. '
The Red Granite Falls trail is a bit longer, but you will be rewarded with an up close and personal look at Red Granite Falls. We highly recommend not skipping this hike if you have time, especially in the fall. 
Rib Mountain State Park
Located in Wausau, Rib Mountain State Park sits on top of a billion-year-old hill, one of the earth's oldest geological formations. And it's the highest elevation in Wisconsin. 
The elevation makes this an excellent spot for viewing the fall colors of the surrounding area. A ski hill on the north face of the hill offers the perfect way to see the fall colors. A chair lift!
Riding the chair lift up to the top of Rib Mountain in the fall is a must-do for every Wisconsin State Park enthusiast. 
Devil's Lake State Park
Devil's Lake State Park is one of the best spots in Southcentral Wisconsin for fall color viewing. 
If you want a relaxing fall day with a picnic on the lake, this is the place for you. Or, if you want a more active fall adventure, some of the best hiking in Wisconsin will lead you to the best views of the bluffs and surrounding fall colors. 
If visiting Devil's Lake for a gorgeous fall hike or picnic, do yourself a favor and scrap up a campsite or get there bright and early to avoid waiting in line to get into the park.
Peninsula State Park
The fall colors in Peninsula State Park are stunning. And with a backdrop of the blue waters of Green Bay, these colors glow.
Fall is an excellent time of year to visit this popular park. The crowds in Door County have died down, the weather is cooler, and the mosquitos are withering away. 
Take a hike along the Eagle Trail for stunning views of the bay, fall colors, and the cliffs. 
And for those that aren't into hiking, take a stroll up the newly opened Eagle Tower to treat yourself to gorgeous views without all the work.  
Pattison State Park
Pattison State Park is home to the largest waterfall in Wisconsin, Big Manitou Falls. But that's not the highlight when viewing fall colors in the park.
Take a hike along the 2.0-mile Beaver Trail loop for the best fall colors. This trail takes you around Interfalls Lake. 
If you are hungry while in the area and love a good Wisconsin supper club like we do, check out Dreamland. 
Best Hikes for Viewing Falls Colors (not in State Parks)
Chippewa Moraine Segment of the Ice Age Trail
This 7.6-mile segment is one of the most scenic segments along the Ice Age trail, and it's even more beautiful in fall. 
The trail passes through more than 20 kettle lakes. Several water crossings are making it a fun hike. You can treat this as an out-and-back or make it into a 5.0-mile loop.
St Peter's Dome and Morgan Falls Hike 
Located in the Chequamegon-Nicolet National Forest near Mellen, WI, the hike to St Peter's Dome with a detour to Morgan Falls is among the best in the state. And in the fall, the top view is much more spectacular. 
This 3.8-mile out-and-back trail is moderate with about 500 feet of elevation gain. The trail is well-maintained, but rocky in parts. 
Seven Bridges in Grant Park – South Milwaukee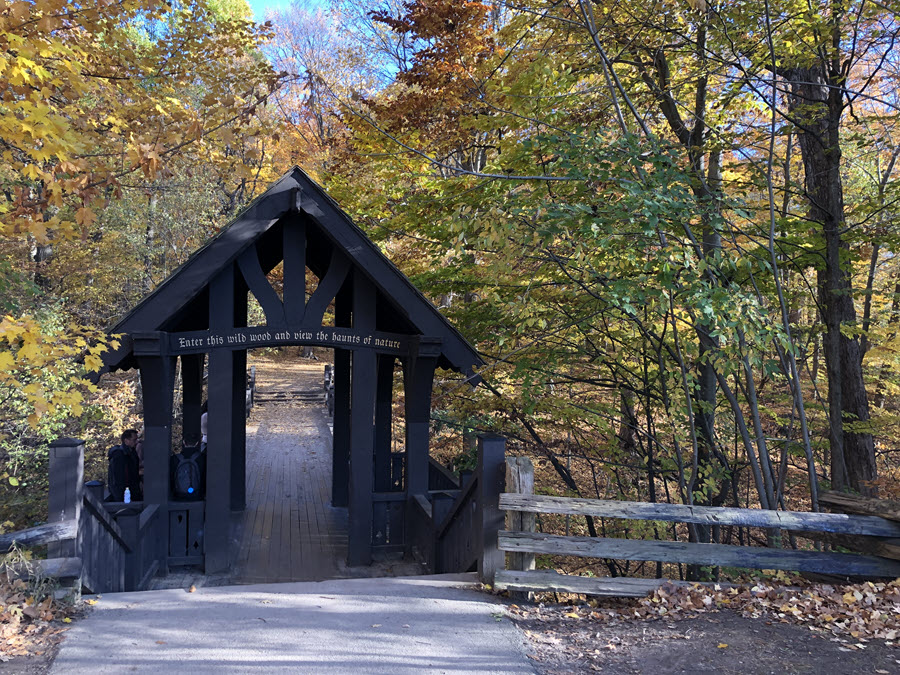 Seven Bridges Trail winds through a ravine with some of the best fall scenery in Wisconsin. 
With the golden colors painting the ravine's sides and the blue waters of Lake Michigan, you'll forget you are just 15 minutes from downtown Milwaukee. 
Make a day of it and pack a lunch to enjoy a fall day on the beach, watching the waves come in. 
Holy Hill Segment of the Ice Age Trail (PS. You can skip the hike)
The Holy Hill Segment of the Ice Age Trail is a 6.8-mile point-to-point trail with beautiful panoramic views perfect for experiencing the changing fall colors.
The trail takes you past Holy Hill Basilica, a national shrine to Mary Help of Christians. The Basilica sits on top of a 1330-foot kame, one of Wisconsin's highest points. 
The area's elevation makes it a perfect place to view fall colors. And if you aren't up for a hike, you can park at the Basilica and walk around the grounds to enjoy the colors. Note: you will have to climb several sets of stairs to reach the best viewpoints. 
More Wisconsin Content:
18 Wisconsin Weekend Getaway Ideas
Wisconsin Supper Club Digital Map
Best Wisconsin Weekend Getaways for Fall Color
Marinette County Waterfall Tour
Want to combine your love of waterfalls and fall colors into one trip? Then we have the weekend getaway for you. 
Marinette County, located in Northeast Wisconsin, claims to be the waterfall capital of Wisconsin, with 14 waterfalls to explore. 
We did a Northeast Wisconsin waterfall tour in spring and loved it. And we can imagine how incredible the area would be in the fall. 
The waterfalls are all located within short hikes from the parking areas, making it easy to see several in a day. We did the tour in 3 days, but you can do it in 2 if you want. 
Check out our full post for more details: Explore 15 Waterfalls on this Northeast Wisconsin Waterfall Tour
The Great River Road National Scenic Byway
Traversing the edge of the Mississippi River, the Great River Road National Scenic Byway is a fall lover's dream.
As the season shifts, the byway becomes a vibrant tapestry of red, orange, and gold hues, reflecting beautifully on the shimmering river waters below. The 250-mile route meanders through picturesque river towns, each offering a unique blend of history, culture, and stunning autumn vistas.
From bluff-top lookouts to low-lying marshes, the diversity of landscapes is matched only by the myriad of colors on display. Whether you're seeking a tranquil drive, a scenic photo opportunity, or a cozy riverside café to take in the views, this byway is a quintessential Wisconsin fall experience.
Door County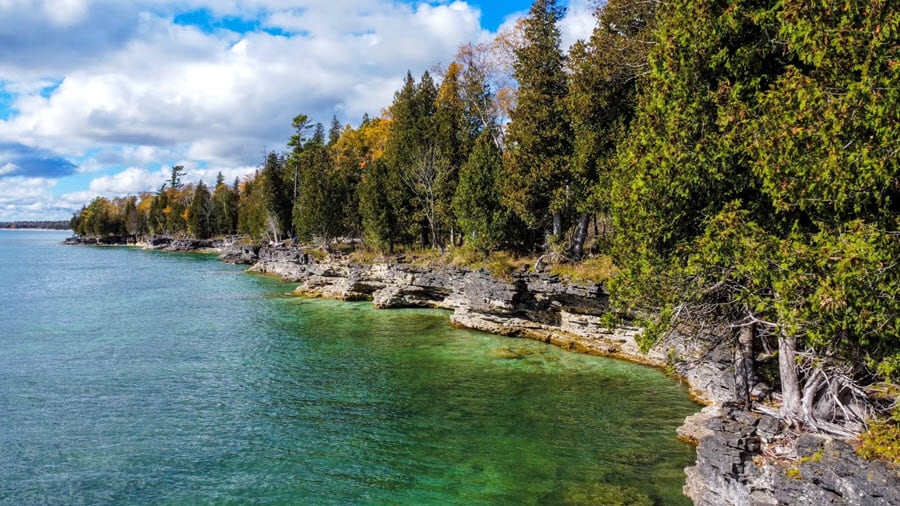 Door County is one of Wisconsin's well-known gems not to be missed in the Fall.
With crowds thinning out, it's a perfect time to relax on the peninsula for a weekend and check out the fall colors. A fall weekend in Door County will be memorable with fantastic fall color viewpoints. 
Spend the day driving along the Door County Coastal Byway for jaw-dropping scenery and fall colors. Stop at an orchard along the way for some apples and maybe a hike at Ellison Bluff County Park. 
Related Post: Things to Do in Sturgeon Bay
Lake Geneva 
The Lake Geneva area is stunning any time of year, but in Fall, it really shines. And there are fall activities for everyone. 
Spend a day hiking the 26-mile shore path, viewing the fall colors, houses, and landscapes. PS, you don't have to walk the entire trail. Pick a section and make it an out-and-back hike.
After your hike, relax with a boat tour to see the colors from a different vantage point. 
If a scenic drive is more your thing, check out Rustic Road 11. Named one of Wisconsin's "prettiest nooks and crannies" by Midwest Weekends Magazine, this gently winding road passes through maple, oak, and hickory trees that will sparkle with color. You also may see some llamas and alpacas along the route!
Spring Green
Spring Green is one of our favorite locations in Wisconsin for a weekend getaway.
Book a stay at the Silver Star Inn and prepare for a gorgeous fall weekend with landscapes and architecture to keep you entertained. 
Take a hike in Governor Dodge State Park and then surround yourself with architecture at either House on the Rock or Taliesin. 
House on the Rock is a quirky house with oddities t throughout. In comparison, Taliesin is an architectural masterpiece designed by and once the home of Frank Lloyd Wright. 
Bayfield
While I love Lake Michigan, Lake Superior is my choice for gorgeous coastlines and crystal blue water. And Bayfield is one of Wisconsin's best places to take in Lake Superior's beauty.
Bayfield is a hilly town situated along the shores of Lake Superior. The hills are covered with trees, making it a beautiful spot for viewing fall colors.
Stop for a drink at The Deck, located in the Bayfield Inn. Here, you can take in the scenery and watch the ferry go back and forth between the mainland and Madeline Island. 
If you are looking for a hike, head down to Houghton Falls Nature Preserve. Take a snack and hang out on the shoreline for a bit. 
A fall kayak trip to the sea caves is also a great way to experience fall in Bayfield.
Kettle Moraine Area 
Love a good old-fashioned road trip? Then, this fall weekend getaway is for you.
Spend a weekend driving the 115-mile Kettle Moraine Scenic Drive. This drive will take you through six Wisconsin Counties. And along this route, you'll find numerous parks, the Ice Age Trail, and quaint Wisconsin cities to explore. 
The drive goes from just southeast of Whitewater to Elkhart Lake.
Trempealeau
On the shores of the Mississippi River, Trempealeau is the perfect place for a fall weekend getaway.
There are many outdoor activities in the area and plenty of delicious food and drink options as well.
Spend the day hiking in Perrot State Park or biking on the Great River State Trail or the Elroy-Sparta Trail nearby.
After a day of activity, check out the Elmaro Vineyard for a glass of wine among the grape vines. And for dinner, head to the Trempealeau Hotel or Sullivan's Supper Club.
Wisconsin Fall Color Facts
When is the Best Time to View Fall Colors in Wisconsin?
Typically the best time of year is mid-September to mid-October. But each year is different, and every part of the state is different as well. Check out Travel Wisconsin's Fall Color Report for the most up-to-date fall color conditions.