Winter in Milwaukee? Oh, it's more than just snow and ice. It's a haven for those looking for a magical weekend getaway or a delightful day out with the house.
From gliding on ice rinks to warming up in renowned breweries, the city knows how to keep things exciting even when the mercury dips. 
Whether you're a local searching for something new or are a visitor eager to experience a winter like no other, Milwaukee has a flurry of surprises ready for you. Come along, and let's uncover the most incredible things to do in Milwaukee this frosty season!
Things to Do in Milwaukee in Winter
Attend a "Secret" Concert
Are you looking for a unique musical treat in Milwaukee this winter? Sofar Sounds is the answer.
It's not your typical concert. It's intimate, hosted in unconventional venues like cozy living rooms.
The artists are often local gems, just waiting to be discovered. And the audience is small, so every performance feels personal. 
And the best part! You don't know where the venue is until 36 hours before the show!
We did one of these in March and loved it! We ended up at a brewery where they were closed to the public for the night. 
Milwaukee's Sofar is a perfect way to spend a Milwaukee winter night. 
Go Bowling
Milwaukee's bowling tradition goes deep, especially during winter. This isn't just a pastime; it's woven into the very fabric of the city's culture. From classic lanes that resonate with history to quirky twists on the game, there's something for every enthusiast.
Falcon Bowl in Riverwest has been rolling since 1920, offering a taste of Milwaukee's rich bowling heritage. If retro vibes are more your style, Landmark Lanes in East Side serves up a vintage feel that's a perfect strike.
For a unique twist, don't miss Koz's Mini Bowl. It's mini bowling, and it's a blast. Imagine all the fun of traditional bowling but with smaller balls, shorter lanes, and human pinsetters. It's a different game altogether.
With these options, bowling in Milwaukee becomes more than a winter activity; it's a way to connect with the city's soul. Whether you're seeking nostalgia or novelty, Milwaukee's lanes are calling.
Create Your Own Letterpress Poster
Craving creativity this winter in Milwaukee? Bay View Printing Co has something special for you.
Welcome to Drink & Ink Nights. For just $35, you can explore the world of letterpress printing. Make your own 11×17 poster with antique wood type, paper, and ink.
And here's the fun part: you can bring your own snacks and beverages. Enjoy them while you create!
These sessions run most Thursdays from 6-9 PM. Only ten guests at a time, so it feels personal and cozy.
Last winter, we went and had a blast! Ended up designing a poster that's now a prized wall hanging.
Bay View's Drink & Ink classes perfectly escape the usual winter routine. Check their calendar and book fast because spots fill up. Here's to a crafty winter night in Milwaukee!
Escape Winter at a Tiki Bar
Craving a tropical escape from Milwaukee's frigid winter air? The city's Tiki Bars are your passport to a faraway land right in the heart of Wisconsin.
Foundation, tucked away in the Riverwest Neighborhood, is a festive haunt with Polynesian decor and a playful vibe. Tropical drinks, an ample rum list, and island charm make it a perfect winter hideaway.
Up on the rooftop of Hotel Metro, you'll find Pufferfish. It's more than a bar; it's a throwback to a time forgotten, where the drinks flow easily and time stops.
Trader Nick's in Cudahy flaunts pirate flags and beckons you into a Polynesian/Caribbean paradise. Cudahy's first and only tiki bar, it's a hidden gem for those seeking winter warmth.
And then there's The Palapa at St Paul's Fish Market in the Historic Third Ward. Here, tiki meets seafood, resulting in a culinary and sensory delight. And you'll find some of the city's most friendly and fun bartenders. 
Milwaukee's Tiki Bars aren't just places to drink; they're escapes, experiences, and tropical antidotes to a Wisconsin winter. Slip into a Hawaiian shirt, order a Mai Tai, and let Milwaukee whisk you to a sunny shore. Aloha, winter!
Play Shuffleboard 
Indoor shuffleboard in Milwaukee brings a fresh twist to winter fun. Two spots stand out for those looking to enjoy this engaging game without braving the cold, whether you're an expert or a beginner.
First up is the Northsouth Club. It's not just a place to play; it's a social hub. With shuffleboard courts that beckon, you'll immerse yourself in the game and the lively atmosphere. You can also test your arm with some axe throwing. 
Then there's the 3rd Street Market Hall. It's a market, it's dining, and yes, it's shuffleboard. You can engage in a game or two between bites of delicious local fare. It's casual and fun and adds a playful note to your winter dining experience.
These two venues turn shuffleboard into more than a game. It's a Milwaukee winter experience that combines sport, socializing, and a sprinkle of local flavor. 
Take a Brewery Tour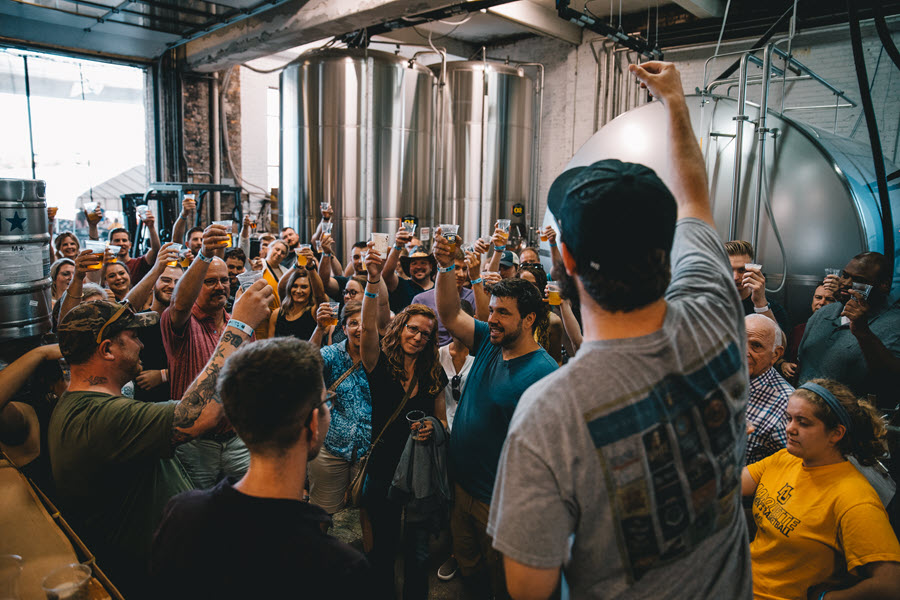 Brewery tours in Milwaukee are a must, and winter is no exception. The city's rich beer heritage comes alive in these tours, offering insights, flavors, and stories that go beyond the ordinary pint.
Lakefront Brewery is a local favorite, renowned for its engaging tours that blend humor, history, and beer tasting. Whether you're a craft beer aficionado or new to the brew, Lakefront's welcoming atmosphere is a delight.
Miller is another legendary name, offering tours that take you through the heart of one of America's most iconic breweries. Walk through the vast brewing halls and witness the art and science behind a household name.
For a unique twist, consider the Beer History Tour at Best Place. This isn't just about tasting; it's a journey through time, exploring the heritage and evolution of Milwaukee's beer industry.
These tours are more than a way to escape the cold; they celebrate Milwaukee's brewing legacy. From hops to history, they provide a flavorful way to experience the city in winter.
Learn About Milwaukee by Taking a Tour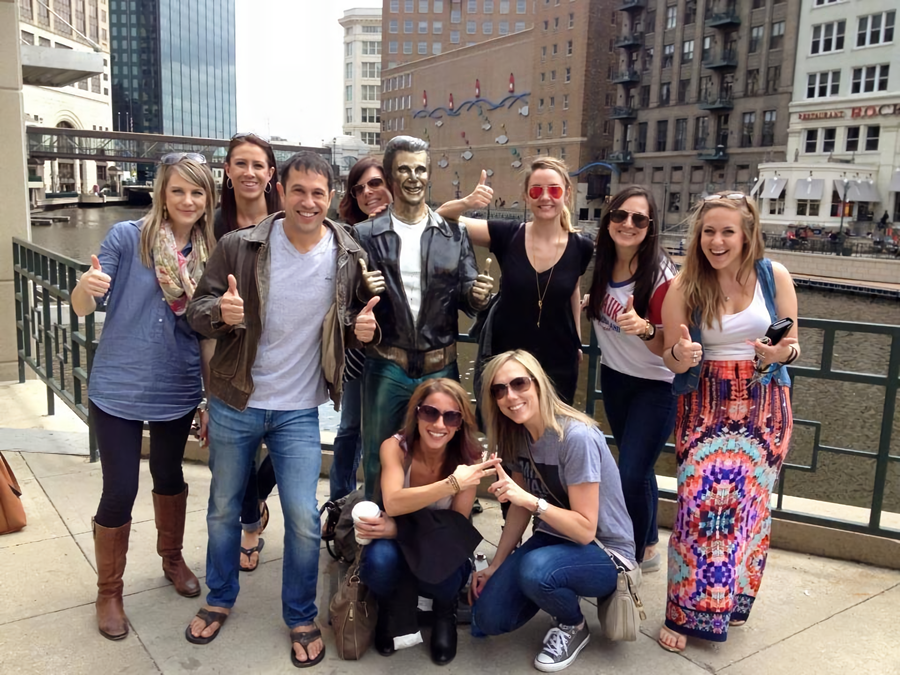 Milwaukee in winter is a landscape waiting to be explored, and what better way to discover its charm than through guided Milwaukee tours? 
These tours offer something unique, perfect for locals wanting to see a familiar place with fresh eyes and visitors eager to soak in the city's rich culture and history.
The Historic Milwaukee's Skywaukee Tour brings a new perspective to downtown exploration. An indoor tour, it guides you through the skywalk system, unveiling significant landmarks one story up. This is a warm, intriguing, and unique winter exploration at its finest.
Untapped Tours goes a step further, hopping you onto a bus and whisking you around Milwaukee's treasures. Over two hours, your guide, passionate about the city, paints a vivid picture of Milwaukee's culture and history. It's educational, entertaining, and genuinely local. Visitors adore it, and locals (including me) can't recommend it enough!
These tours aren't just about sightseeing. They're journeys into the heart of Milwaukee, sharing stories, secrets, and the warmth of a city that embraces winter with open arms. Whether on foot or on wheels, touring Milwaukee is a winter adventure not to be missed.
People Watch at the Public Market
The Milwaukee Public Market is one of our favorite places to escape to in the chilly winter months. And one of my favorite things to do at the Market is people-watch! 
Start with a glass of wine at Thief Wine Bar. The atmosphere is chic, the wines are exquisite, and the people-watching opportunities are prime. It's a perfect perch for observing the market's bustling rhythm.
Next, indulge your sweet tooth. Whether it's a scoop of creamy ice cream or a piece of decadent chocolate, the market has treats to warm your heart on a chilly day. Savor and watch; the market's colorful crowd never disappoints.
And don't forget to take a piece of Wisconsin home with you. Stock up on favorites like cheese curds and brats. They're the flavors of Milwaukee, and they're waiting for you at the market.
Take a Cooking Class
Milwaukee Public Market hosts a variety of classes, from sushi rolling to gourmet cupcakes. It's a culinary playground for chefs and food lovers alike.
Braise Culinary School offers a farm-to-table experience, focusing on local ingredients and seasonal recipes. It's perfect for those who want to connect with Wisconsin's rich agricultural roots.
Sur La Table at Bayshore Town Center has classes for all skill levels. Whether you're a kitchen novice or a seasoned home cook, there's something to stir your culinary creativity.
And if you are a Milwaukee resident, check out the Milwaukee Rec Department for their reasonably priced cooking classes. 
Ice Skate at Red Arrow Park
Red Arrow Park is the place to be for outdoor ice skating in Milwaukee.
It's more than just skating. It's a Milwaukee winter tradition. Right in the heart of downtown, the park transforms into a winter wonderland.
Strap on those skates and glide through the crisp winter air. Whether you're a pro or just finding your balance, it's all about enjoying Milwaukee in winter. 
Want a break? Grab a hot cocoa at the rink-side Starbucks.