Welcome to the hidden gem of the Midwest: Milwaukee, Wisconsin!
Recently named by National Geographic as one of the best travel destinations of 2023, our city is brimming with rich culture, history, and warmth, ready for you to explore.
As a proud local, I'm thrilled to guide you through Milwaukee's distinctive neighborhoods, each with unique charm and appeal. Milwaukee is truly underrated so I'm ecstatic that you are planning to explore this city we call home.
Note: I'll encourage hotel or Bed and Breakfast stays rather than steering you towards short-term rentals. Our local hospitality industry is eager to provide a genuine Milwaukee experience without displacing our residents.
Best Neighborhoods to Stay in Milwaukee 
Milwaukee neighborhoods have history, things to do, gorgeous parks, and fantastic food and beverage choices. 
In this post, I'll describe a few of our favorite neighborhoods that would be great bases for exploring the city. 
Top Pick: East Town (also known as Juneau Town)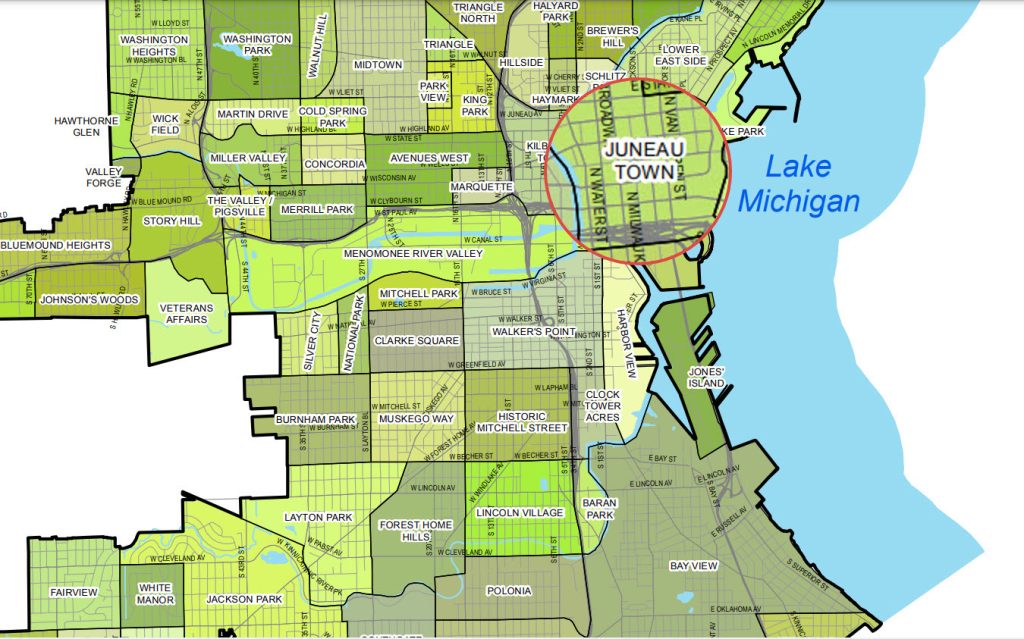 Juneau Town, or as locals affectionately call it, East Town, is an artsy neighborhood that serves as Milwaukee's cultural heart. 
We picked this as our top pick for where to stay when visiting Milwaukee because of its variety of hotel options and its location. While East Town has an abundance of things to offer visitors, it's also close to many other Milwaukee neighborhoods worth exploring. 
In East Town, iconic landmarks like the modernist Milwaukee Art Museum, the engaging Betty Brinn Children's Museum, and the interactive Discovery World are all within walking distance.
East Town's vibrant nightlife is another draw—upscale international eateries like Amilinda and Lupi and Iris. And swanky bars set the scene for memorable evenings. This neighborhood is home to many of the theatres in Milwaukee, including the Marcus Center for Performing Arts and the Pabst Theater offer enriching performances.
Cathedral Square Park, the neighborhood's communal backyard, hosts festivals and a bustling farmers' market, adding to the area's charm.
Places to Stay in East Town
The Pfister Hotel – TOP PICK
If you can swing it, The historic Pfister Hotel would be our top pick in East Town. 
It's more than just a place to rest your head. With its lavish rooms, an indulgent spa, and exquisite art collection, The Pfister offers a truly unique experience. And don't miss the Blu, their rooftop lounge — it's the perfect spot to relax after a day of exploration, drink in hand, watching the city light up as the sun sets.
The Hilton Garden Inn – Budget-friendly option
Don't overlook the Hilton Garden Inn Milwaukee Downtown. Housed in a stunning historic building, it offers budget-friendly convenience without compromising style or amenities. With an on-site restaurant, bar, and fitness center and just a stroll away from key attractions, it's an unexpected gem in the city's heart.
Dubbel Dutch
Dubbel Dutch marries historic allure with modern elegance. Once an 1898 building saved by the Historic Preservation Commission, it's now a unique hotel with ornamental fireplaces in select rooms. Offering a limited number of rooms, this accommodation is a genuinely one-of-a-kind Milwaukee experience.
Saint Kate – The Art Hotel
For an artistic twist on your stay, consider Saint Kate – The Art Hotel. This unique space blends luxury with local art, featuring works from regional artists and creative touches in every room, like a record player, a ukelele, and in-room butcher paper for doodling. Coupled with great dining options, it's a stay unlike any other.
Things to Do in East Town
Milwaukee Art Museum – If art museums aren't your thing, we suggest at least checking out the famous Quadracci Pavilion by Santiago Calatrava.
Nightcap at Blu Cocktail Lounge in the Pfister Hotel
Yankee Hill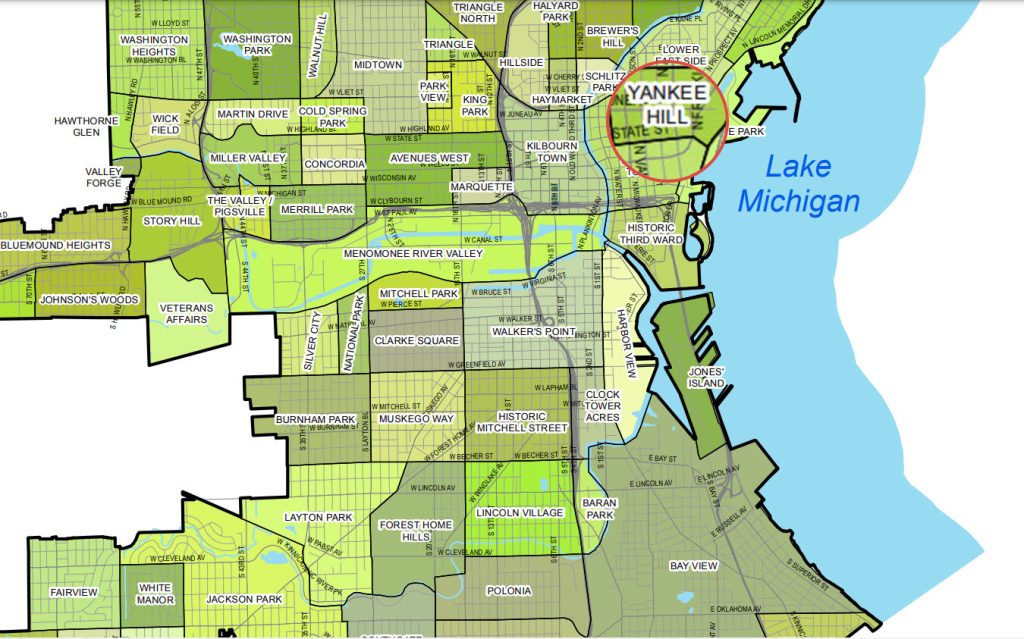 Yankee Hill is one of the smaller neighborhoods in Milwaukee. I include it in this post because it's home to my favorite boutique hotel. And it's super close to the action of the Lower East Side, where there aren't any hotels. 
Places to Stay in Yankee Hill
County Clare Irish Inn and Pub – TOP PICK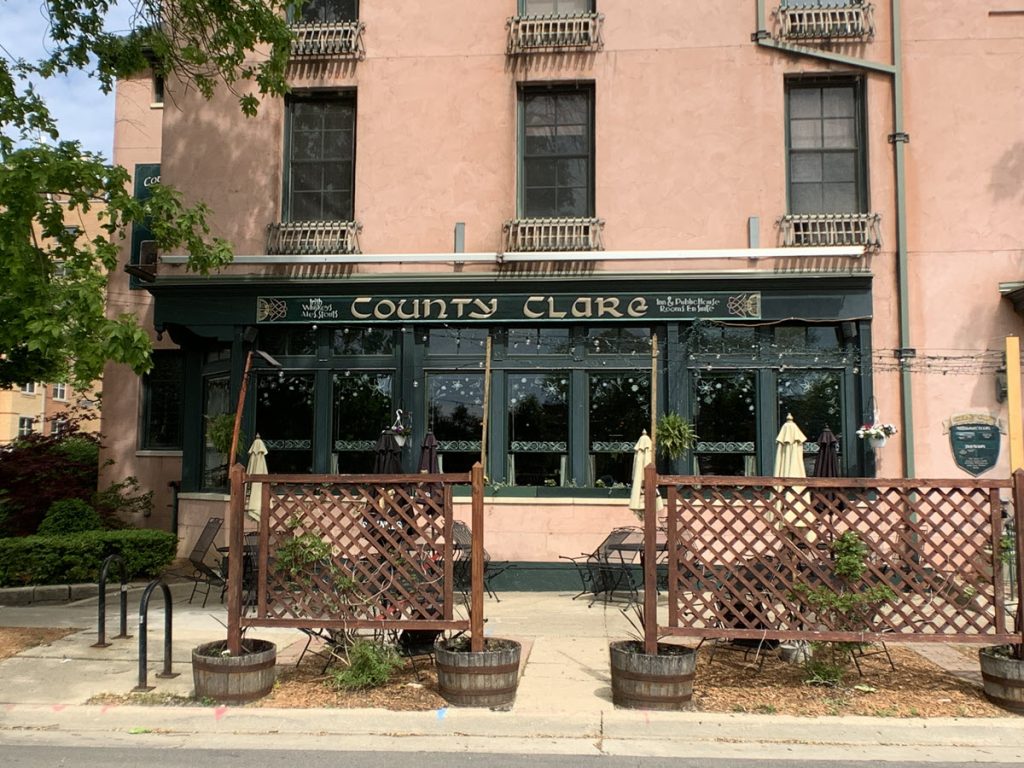 This one is north of the action but worth the extra walking. 
County Clare is a charming authentic Irish Inn and Pub. The quaint, cozy rooms come with whirlpool tubs, and a continental breakfast is served daily.
The Plaza Hotel
The Plaza Hotel is a European-style boutique gem. The hotel offers a unique blend of Art Deco style and cozy, apartment-like rooms with full kitchens and charming 1920s-tile bathrooms. With delightful on-site dining, The Plaza promises a distinct and lovely stay.
Things to Do in Yankee Hill and Lower East Side
Historic Third Ward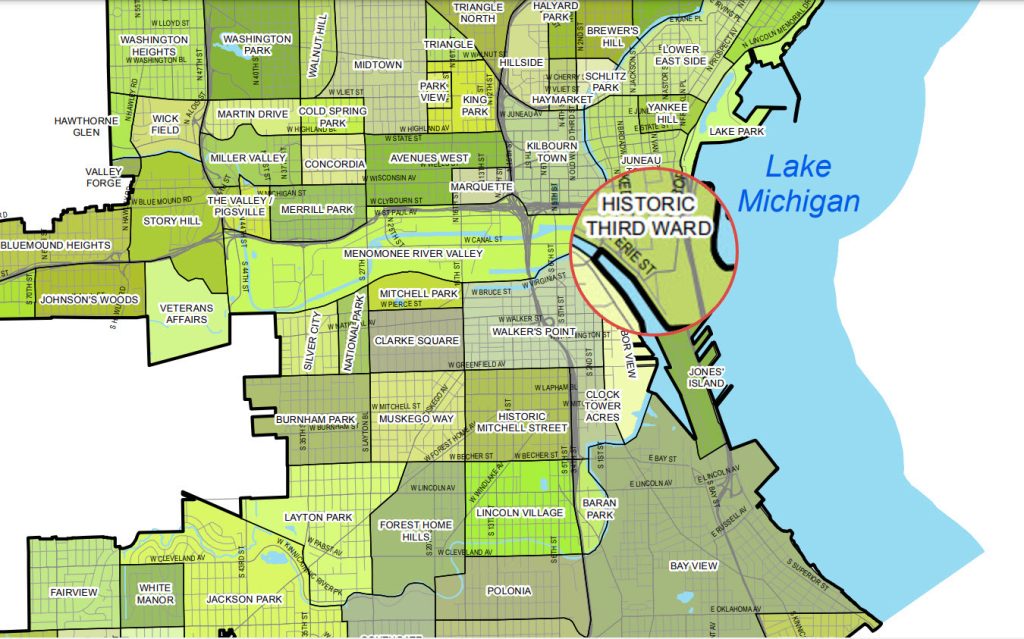 Immerse yourself in the Historic Third Ward, Milwaukee's oldest neighborhood, now a thriving cultural hub listed on the National Register of Historic Places. Its action-packed streets pulse with energy, inviting visitors to explore, discover, and delight.
With its walkability, this neighborhood offers endless possibilities for a weekend getaway. Savor some of the city's best restaurants, nestled amid beautifully preserved historic architecture, transformed into vibrant public spaces over the past 40 years.
Conveniently connected to the city's bus and streetcar lines, the Third Ward provides easy access to other city delights, although its charm might keep you happily local.
Places to Stay in the Historic Third Ward
Kimpton Journeyman – TOP PICK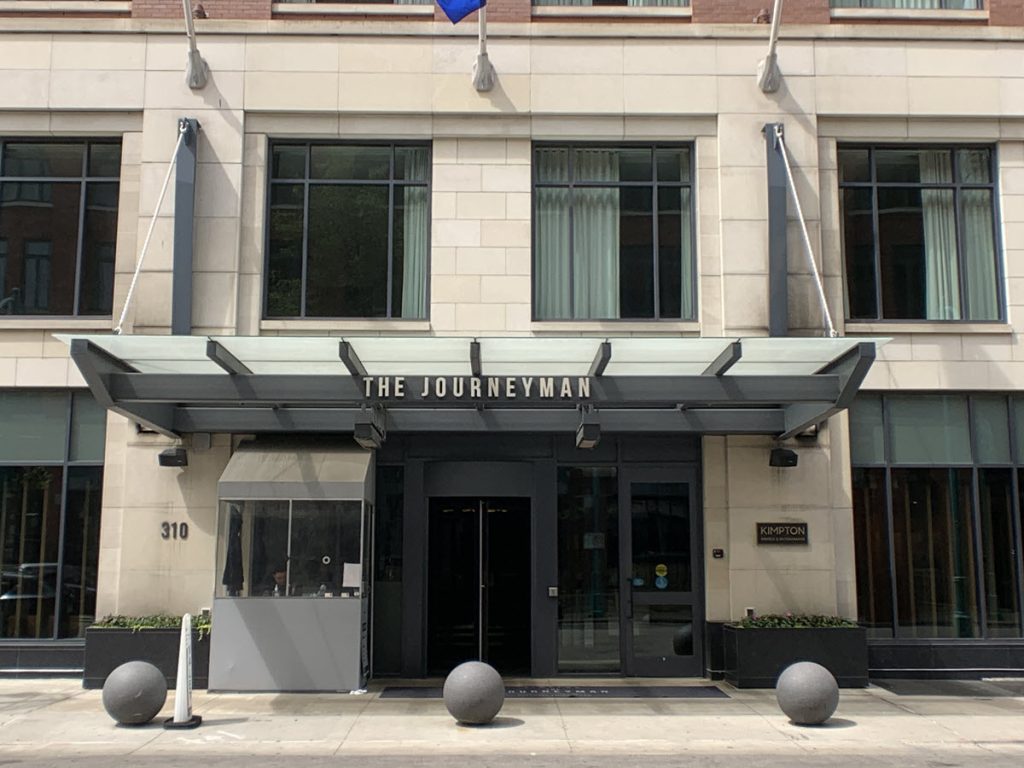 The Kimpton Journeyman is our favorite hotel to recommend to friends. The rooms perfectly blend comfort and style, and the place feels like home. 
But our favorite part is the rooftop bar, The Outsider! It's a lovely spot to unwind with a drink while the city twinkles beneath you.
Things to Do in the Historic Third Ward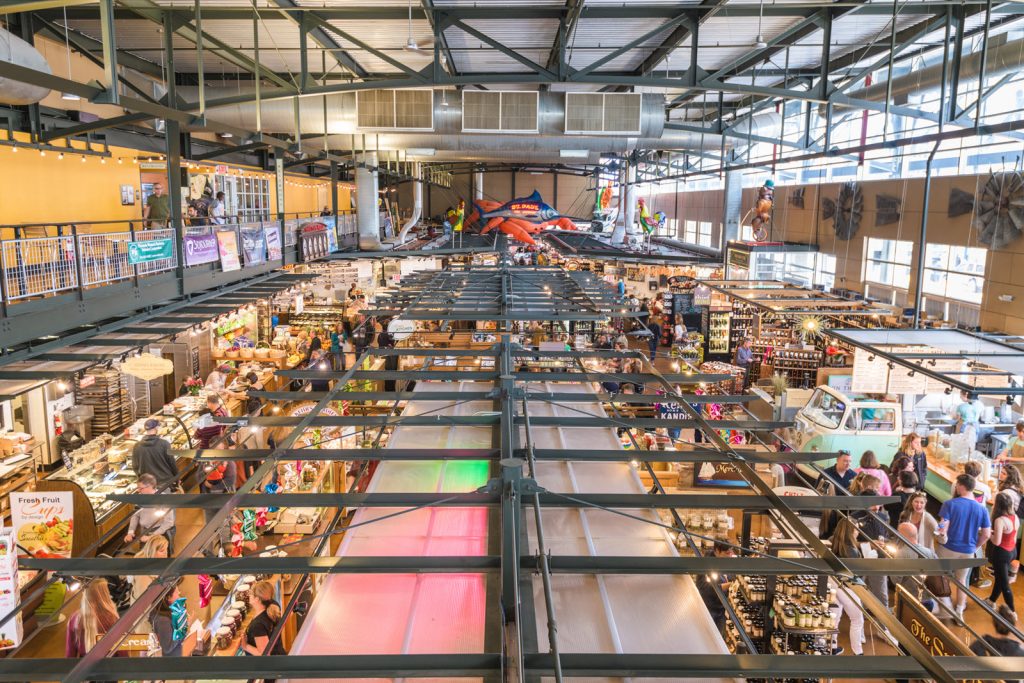 West Town (also known as Kilbourn Town)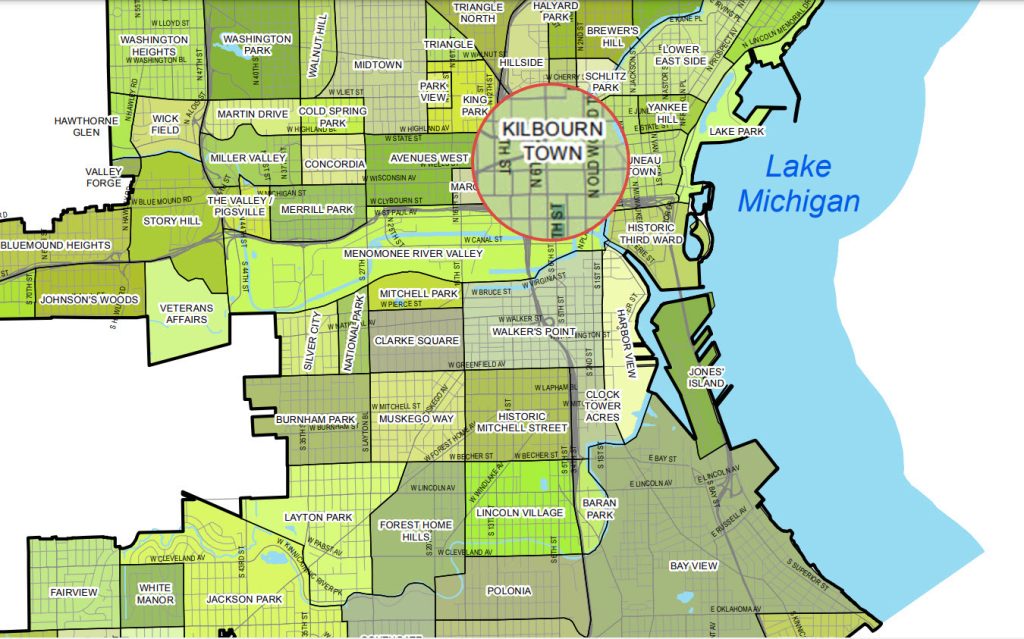 The West Town neighborhood is an excellent option if you want to be close to the Fiserv Forum or for more budget-friendly hotel options.
This is a great neighborhood just west of the Milwaukee River. Many of Milwaukee's attractions are located in this neighborhood, and it's also near many other areas worth exploring in Milwaukee. It's an excellent base for your Milwaukee getaway. 
Places to Stay in West Town
Brewhouse Inn and Suites – TOP PICK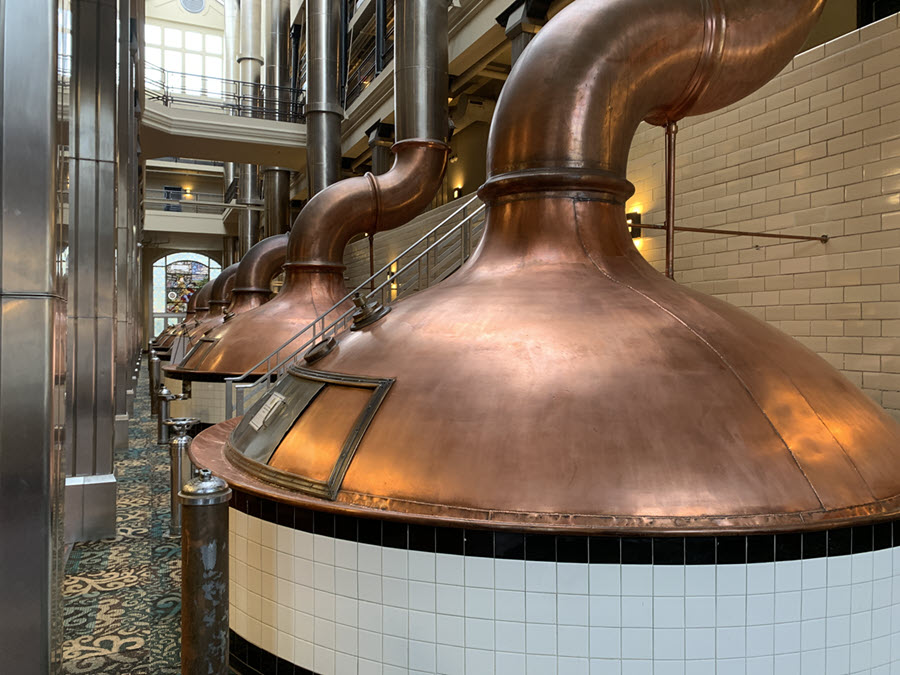 What we love about the Brewhouse Inn and Suites is its tie to Milwaukee's beer history. The hotel is nestled in the historic Pabst Brewery complex. And in the common area sit the original copper kettles used to brew Pabst beer! 
The Trade – Upscale Option
The Trade, a newly constructed boutique hotel in the lively Deer District, is a tribute to Milwaukee's industrious spirit. With cozy, thoughtfully decorated rooms, multiple on-site restaurants, and a beloved rooftop spot offering city views, it's a place where Milwaukee's past meets its vibrant present, making your stay a truly immersive experience.
Springhill Suites – Budget-Friendly
For a more budget-friendly option, look into the Springhill Suites by Marriot. 
It's located near the 3rd Street Market Hall, the Milwaukee Riverwalk, and the Historic Third Ward.
Things to Do in West Town
Walkers Point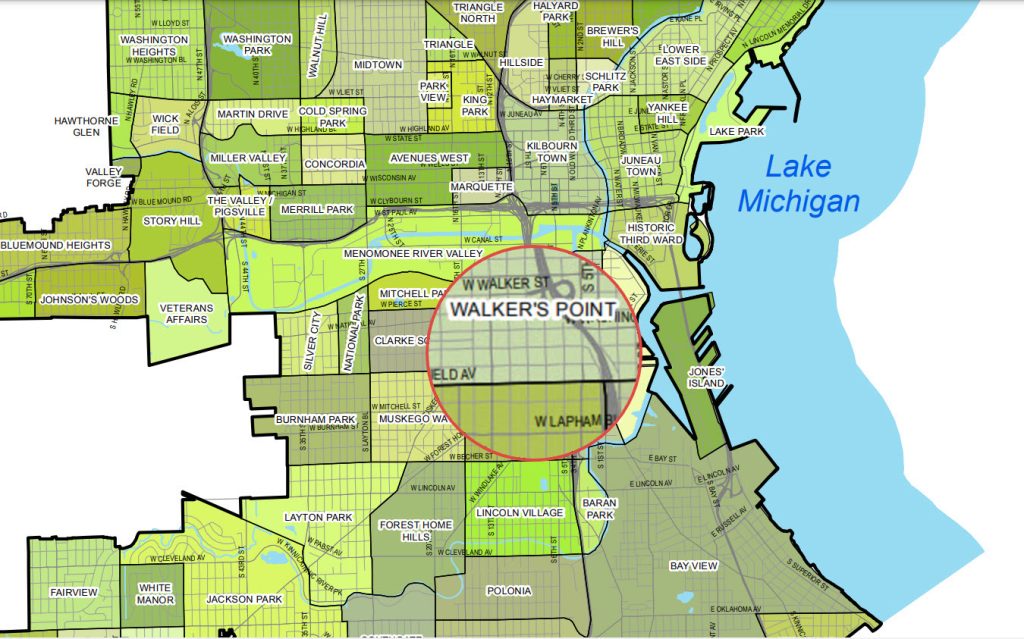 Walker's Point is a vibrant neighborhood that blends the city's historic charm and its present culture. It's one of our favorite neighborhoods to explore and is home to some of our favorite restaurants and bars. 
The area was once home to bustling manufacturing; it's now a hotspot for food and art enthusiasts. The refurbished industrial spaces host a medley of craft breweries, innovative restaurants, and cozy coffee shops. 
With its unique fusion of past and present, Walker's Point is a culinary and cultural gem worth exploring during your Milwaukee visit.
Places to Stay in Walker's Point
The Iron Horse Hotel – TOP PICK
The Iron Horse Hotel offers a unique blend of luxury and "grit." While the hotel caters to motorcycle enthusiasts, anyone will appreciate the rooms' industrial-chic design and modern amenities. On-site dining and one of the best patios for outdoor meals enhance the experience, making it an excellent choice for a unique Milwaukee stay.
Things to Do in Walker's Point
Bay View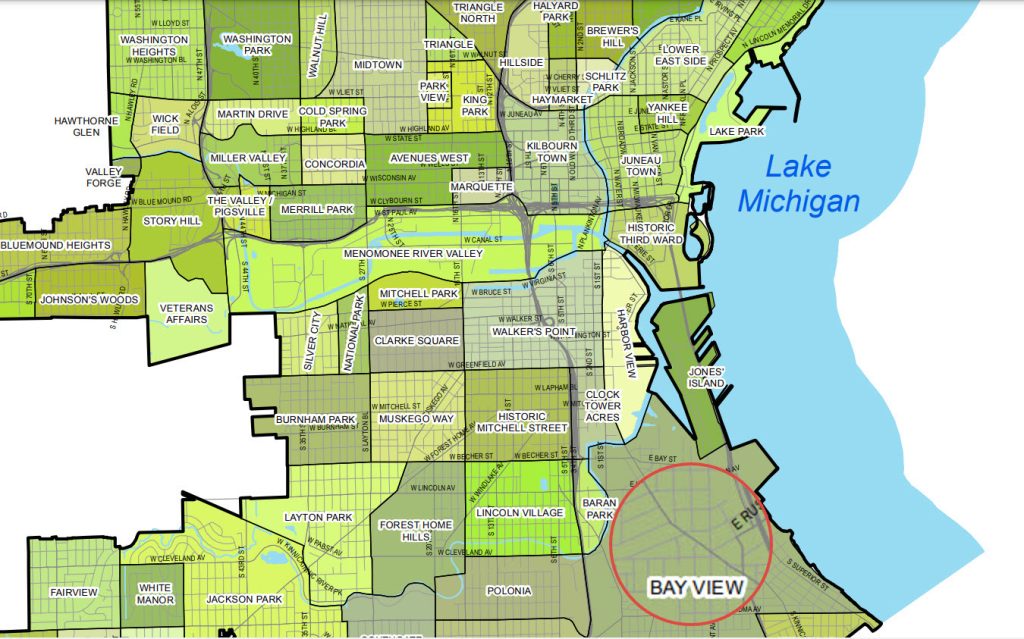 We reside in Bay View, so it has a special place in our hearts. 
I suggest it for visitors if you are looking for a place that feels like a neighborhood and has plenty of things to do within walking distance. It's a 10-15 minute drive to the downtown area but easily accessible via bus line or ride share.
This neighborhood is known for its hip, eclectic vibe, with a diverse mix of eateries, bars, and shops. It's a great option if you are looking for a quieter option.
Places to Stay in Bay View
The Kinn Guesthouse
For a unique experience in Milwaukee's vibrant Bay View neighborhood, consider a stay at Kinn Guesthouse. The guestrooms are thoughtfully designed, offering comforts like keyless access and local hand-made soaps for a truly local touch. It's the perfect pick if you're eager to explore beyond downtown while still being just a short cab ride from the heart of the action.
The Muse Gallery Guesthouse
For a Bed and Breakfast experience, check out The Muse Gallery Guesthouse.  
The Muse Gallery Guesthouse is a delightful blend of historic charm and modern comfort. Each room showcases beautiful 19th-century architectural details, with a standout being Julia's suite, featuring a luxurious two-person soaking tub. Start your day with their hearty breakfast and feel rejuvenated as you explore all that Milwaukee offers.
Things to Do in Bay View